14th October 2020
What is the difference between freehold and leasehold?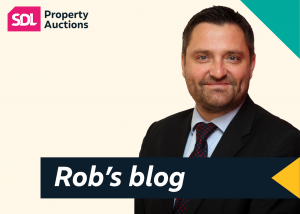 The terms leasehold and freehold can cause some confusion, so here our Head of Auctions East Midlands, Robert Stone, explains the terms and the implications for property owners.
How leasehold works in the UK
The terms 'leasehold' and 'freehold' are used to describe the way you own a property. When you buy a freehold property, you have full ownership of the building and the land it stands on.
A leasehold property is different; you purchase the lease, which gives you exclusive right to occupy the property for the duration of the lease period. A lease is usually 99 years long but can be anything up to 999 years or even longer.
As a leaseholder, you gain possession of the property but effectively rent it from the freeholder, who owns the land. The freeholder is also known as the landlord, which can cause some confusion if you are a landlord yourself and plan to let the property.
In England and Wales, most flats and maisonettes are leasehold properties, and occasionally houses can be leasehold, too. This is most common in the North West; it is rare to find a leasehold house elsewhere.
Scotland has effectively ended leasehold through various acts of Scottish parliament, most recently the Long Leases (Scotland) Act 2012.
A third method of ownership is the newer commonhold, a type of freehold where a development is owned by a commonhold association. Introduced in 2004, this is yet to become popular but The Law Commission has recently published proposals to reform commonhold to make it a more viable alternative to leasehold.
Buying a leasehold property
Investing in any property is a serious undertaking and it's vital to do your due diligence beforehand. At SDL Auctions we pride ourselves on our transparency so you can be sure all relevant information will be available before you bid and we always recommend you read the legal pack carefully.
When buying a leasehold property, there are some extra checks to make so it is important that both you and your solicitor/conveyancer go through the Leasehold Information Form (TA7). These are the main things to watch out for:
Remaining lease term
As the lease begins to run out, the value of the property will reduce. Leasehold can be extended in a process called leasehold enfranchisement but it is complex and there are various conditions. For instance, you must have owned the property for two years.
Once the lease falls below 80 years remaining, the property's value begins to reduce more rapidly. This is because at this point something called 'marriage value' becomes payable to the freeholder if you wish to extend the lease, making it more expensive to do so.
Therefore, most mortgage lenders will refuse to lend on a short-lease property, although there are some specialist providers available. You can read more about the problems of owning a property with a short lease in my colleague Alex Senior's blog here.
If you are selling a property with a short lease, this largely limits you to cash buyers so I would urge you to consider selling through SDL Auctions as we have a wide network of investors, many of whom do not rely on finance.
Ongoing costs
When you purchase a leasehold property, you will have additional ongoing costs which freehold property owners do not face so it is important to check how much these will be. The costs are usually:
Ground rent: This is the fee you pay to the freeholder in return for occupying their land. It may be paid monthly or annually. This can vary enormously from a 'peppercorn rent' which is next to nothing up to quite high sums so do check – and make sure you check how the ground rent will increase in the future; with some leases this can quickly spiral out of control. If the property is a new-build, you may be able to renegotiate terms.
Service charge: This is a contribution towards the maintenance of the building and may be payable every three or six months. It can be a fixed amount or a percentage of the estimated costs for the coming year. You may be asked for additional payments to cover unexpected costs. Notable and controversial examples recently include leaseholders being asked for huge sums to replace dangerous cladding on their apartment block.
Many unexpected costs can be covered if the freeholder has a reserve fund – also known as a sinking fund – so this is something else to look for. There are rules about the management of these funds which the Leasehold Advisory Service explains here.
Other charges
Administration fees: These may also be charged for various services, usually connected to the purchase or sale of the property or to gain permission to carry out works. The Leasehold Advisory Service explains administration charges in more detail here.
Unfair terms
In the past few years, the media has highlighted unfair practices within the leasehold sector, particularly with long-lease properties where the ground rent doubles every 10 years – over time making the ground rent unaffordable and the property unsaleable. While the government announced a clampdown on these practices earlier this year, it is always worth reading the small print carefully as it is always easier to avoid this type of situation than to disentangle yourself from it.
Restrictions
Do the terms of the lease restrict any activities? For instance, can leasehold property be rented out? If you are investing in a flat which you plan to let to tenants, it is vital to check if the lease agreement allows this. Other restrictions may include running a business from the property, having pets or making changes such as installing new flooring.
Should you buy a leasehold property?
As you can see, there is a lot of homework to be done before buying a leasehold property but that doesn't mean this type of investment is not worthwhile. If you do your due diligence and are satisfied with the terms of the lease, owning a leasehold property can have its own rewards.
For example, a leasehold property is likely to be available at a lower price than a freehold property, particularly if it has a short lease. You will share the building maintenance and insurance costs with the other leaseholders and only have direct responsibility for your part of the property. And if you have the time and resources to go through the process of extending the lease or purchasing a share of the freehold (this process is called collective enfranchisement), then you could reap long-term rewards.
Do you have a leasehold property you wish to sell? We have years of experience selling leasehold properties, including those with short leases, so why not get in touch for a free, no-obligation auction valuation? Just click here or call the team on 0800 046 5454.