4th October 2019
Explaining unconditional and conditional auction sales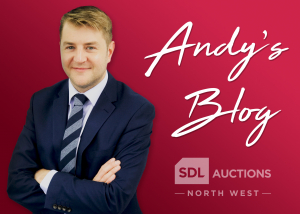 Head of Auctions North West Andy Thompson and Martin Bond, Head of Auction Partners discuss the differences between an unconditional and a conditional sale by auction. 
What are the advantages of buying at auction?
AT: With an unconditional auction sale, also known as a traditional auction, contracts are exchanged on the fall of the hammer and the sale typically completes 15 business days later. This presents buyers with several advantages. Firstly, there is little chance of getting gazumped, the vendor changing their mind about selling or deciding that they want more money as they will lose their deposit money. Secondly, because a seller has to provide and pay for a legal pack, it filters out the people who aren't really serious about selling too.
MB: A conditional auction sale is similar to the above, however the completion period is usually around 40 business days, allowing the buyer time to put their finances in place such as by securing a mortgage etc.
What are the advantages of selling by auction?
AT: It is usually a much quicker sale with an unconditional auction. There is no 'under offer period' which means that once the gavel has fallen, there can be no negotiation and the seller is legally bound to the purchase and a deposit is held as security. Whilst these days it's not uncommon for auction to achieve as much, or even more than, an estate agent for a property, the two driving factors for a seller to go to auction are speed and certainty.
MB: Timescales are usually longer with a conditional sale which gives owner-occupiers a better chance of being successful, rather than an investor who may have their finance already in place. Plus, the longer period of time allows buyers to carry out their due diligence and should mean they feel less pressured and therefore, often more confident in offering that little bit more for a property.
What is the difference between an unconditional and a conditional auction?
AT: With an unconditional auction, at the fall of the gavel, contracts are exchanged and the buyer and seller enter a legally binding contract which sees the buyer pay a deposit. The buyer cannot back out and the completion period is now set at 15 business days from this point.
MB: With a conditional auction, once the deal has been agreed, the buyer has a 20 business day exclusivity period. This allows them to carry out their due-diligence (have a survey, engage with solicitors etc.) and get their 'ducks in a row' as it were, all without the worry of someone else coming in and snatching the deal with a higher offer, or the vendor moving the goalposts. After this exclusivity period, the buyer then has a further 20 business days to complete, in a similar way to a traditional auction completion period.
Will a conditional or an unconditional auction sale get me the most money for my property?
AT: As the property market is always evolving and both auction formats continue to grow in popularity, there is no black and white answer to this. It all depends on the property type, the location, condition and any circumstances attached to a sale.
MB: We always speak to our vendors about both options, find out their circumstances and provide honest and unbiased advice for their situation.
Will an unconditional or a conditional auction get me the quickest sale?
AT: An unconditionall auction would usually get you a quicker sale.
Do you have to be a cash buyer to buy at auction?
MB: No, not at all. You can buy via a conditional or unconditional auction with a mortgage, providing, of course, the property is mortgageable and you adhere to the terms of the sale. When buying with a mortgage, it's crucial to use your time wisely and also ensure that you use the right people, such as a solicitor, to help you get the job done quickly.
What do you need to include in the legal pack for properties being sold by unconditional and conditional auctions?
AT: Legal packs vary depending on the seller and their solicitor. All packs must include the Land Registry register and title plan, a contract or any special conditions and an energy performance certificate (EPC).
With a conditional auction sale, searches must be included in the legal pack to allow potential buyers to apply for a mortgage. Searches are recommended for inclusion in an unconditional legal pack, but it's not a requirement.
MB: It is really important that buyers check the legal pack BEFORE bidding on a property – it sounds obvious but so many people still don't do this.
What sort of properties are suitable for auction?
AT: As the process of selling by auction evolves, more and more properties are becoming suitable for auction (see our previous blog: have you considered a sale by auction?). Gone are the days of only selling 'problem properties' – although we still like these! We now sell properties to first time buyers and families as well as seasoned investors and therefore every type of property should be considered for conditional and unconditional auctions these days.
If you haven't considered selling by auction before, but you now think it might be for you, get in touch with us for your free sales valuation.