21st December 2020
A guide to buying commercial property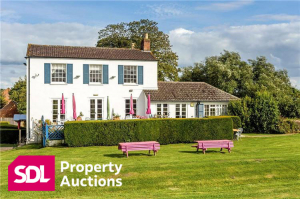 There are two primary groups that seek to buy commercial properties, those that want to buy space for their own business instead of renting and those looking for landlord investment opportunities. Both groups have slightly different priorities, with the first seeking to satisfy their own specific business needs while potential landlords consider a wider field of property attributes in order to attract good tenants.
No matter which category you're in, there are some things that you should keep in mind while searching for the right commercial property for you. To help you narrow down your options, we have collated some of our top points to consider during your property search.
Whether you're looking for a retail property, office space or a warehouse, SDL Property Auctions can help ensure you're on the right track and show you how to buy commercial property.
Retail commercial lots
Commercial property is split up under the Town and Country Planning (Use Classes) Order 1987 into four main classes. The first of these classes accounts for shops and other retail businesses such as hairdressers, post offices, and travel agencies. For this class of commercial property, we recommend paying close attention to three things; location, security and tenure.
The importance of location is not limited to this class of commercial property, in fact, it is as important a factor for land and residential purchases as it is for commercial. Where retail is concerned, however, there are a different set of questions to be asked. Is the property in close proximity to potential customers? Is the storefront visible to those customers? Is there competition nearby? Asking these questions will help you determine whether your business, or the business of your tenants, has the potential to be successful in a specific property.
Particularly important for those buyers with a retail plan in which valuable stock will be held on-site, such as a jewellers or electronics store, security is definitely worth thinking about. Consider any preexisting security systems that could be utilised or, if they aren't comprehensive enough, think about how much it would cost to upgrade the systems in order to protect the store. Even if you aren't purchasing a commercial property for yourself and are looking to rent the space to another, this is still an important consideration to make in order to increase your potential renting income.
Looking at the tenure of any property is important, especially for commercial lots, as this determines whether your ownership is freehold or leasehold. This is a source of confusion to many but, in the simplest terms, leasehold is where you own the property but not the land it stands on, whereas for freehold you have ownership over both land and property. For a more indepth look at this, take a look at our 'What is the difference between freehold and leasehold?' blog post.
To give an example of an excellent commercial property in this class, take a look at 2-6 Mansfield Road, Eastwood, Nottingham, NG16 3AQ. A commercial lot due to be sold in our upcoming auction on 18th December, this property benefits from an excellent location, has an intruder alarm along with CCTV and is freehold.
Office space
While many of the considerations necessary for a retail property are still important, there are some features specific to purchasing office space to look out for, such as location and current tenants.
Of course, location has already been mentioned for retail space, but different questions are to be asked for offices. Instead of considering if customers are nearby, you should ask if a suitable pool of employees are available within travelling distance to the office. These employees must also be able to commute easily, so sufficient parking space and good transport links are also a good feature to look out for. Another consideration linked to location to make, especially in light of COVID-19, is where in the UK is the property? While London has previously been seen as a hub for office space, the coronavirus has caused many businesses to consider offices in smaller, less populated cities. Taking advantage of this by buying property in smaller cities could make for a safer investment in the long term.
Typically, it is usually prospective landlords who find themselves in the market for lots that function as office spaces. In this case, it's ideal to get an idea before purchase of how much rental income the property is worth. Sometimes, a commercial property of this kind will already have tenants seeking to continue their tenancy in the building. This is a great opportunity to look for as having pre-existing tenants in an office building can save you from losing money whilst looking for new tenants and can also save you from any advertising fees associated with this process.
4 Charlotte Street, Ilkeston, Derbyshire DE7 8LH, a beautiful office space in Derbyshire, is a great example of what to look for in buying a commercial property. Well situated and available with freehold ownership, this property consists of five office rooms, a day room, kitchen and three WCs and was sold prior to our December auction.
Warehouses and factories
Commercial properties that are industrial in nature, such as stock warehouses, factories and distribution centres, unsurprisingly don't share many important factors with retail and office lots. Appearance rarely comes into the equation, as size and (once again) location rank as the most important considerations to make while searching for a warehouse commercial property.
Size is a huge consideration to make when purchasing any commercial property, but for warehouses, which require enough space not only for storage and employee working areas, but also for any space required for large machinery, it is particularly important. When searching as a business owner, you're likely to know how much space you will need, allowing for potential expansion of your business, but this can be more difficult as an investor intending to find tenants to rent the space. If this is the case, some research into local businesses and nearby similar properties may be required to ensure you are serving the necessities of the local market.
Once again, location remains important to commercial property purchasing but, as mentioned, warehouses and factories are unlikely to need kerb appeal. Instead, you should consider the specific needs of your business or the business of your potential clients. For distribution centres, for example, certain amenities are required for accepting and sending deliveries such as good accessibility for large vans and lorries and reasonably strong road links.
The Royal Mail Sorting Office, Opal Way, Stone, Staffordshire ST15 0YY is an excellent example of a commercial property that meets these requirements. Not only does it comprise of approximately 6050 sq ft, the warehouse also includes additional office space and a trade entrance along with employee facilities.
Find your next commercial property at SDL Property Auctions
Whatever your goals are in buying a commercial property, or the specific priorities you have in mind for your search, SDL Property Auctions has an excellent range of retail, industrial and office lots to choose from.
To view the lots that will feature in our next auction, or to browse through our commercial property catalogue, please click below.