7th April 2020
How do online property auctions work?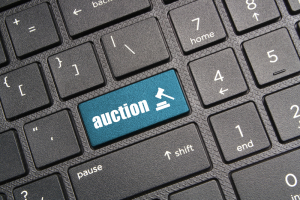 Today, there are very few things that can't be brought into the digital world and be carried out online, and this goes for property auctions too. Particularly during these uncertain times due to the COVID-19 pandemic, more and more businesses are having to adapt their way of working to ensure things are run smoothly while operating remotely. SDL Property Auctions has also risen to this challenge, taking all of its property auctions online via live stream. Online property auctions ensure that those who lead busy lives on the go are still able to take advantage of great property investment without committing to attending a room auction.
Online property auctions mean that you can bid on a property in real time, with the auction open for bids 24/7 until the end of the auction period. Essentially, you can make an investment in a property from the comfort of your home, or wherever you have internet access.
But how does this work? In this guide, we provide a step-by-step explanation of how our online property auctions work to help you understand how you can purchase a new development, home or commercial space without attending a room auction.
Online property auctions explained
Online property auctions enable you to view images of the property, bid on it and buy it, all from behind your computer or phone screen. Bidding online offers all the same benefits of buying and selling as a typical room auction, such as access to a versatile range of unique properties and transparent sales.
There are two ways sellers can choose to auction their property; by unconditional online auction, or by conditional online auction. The difference between these two types of sale is as follows:
Unconditional online auctions
Unconditional online auctions are where the exchange of contracts happens immediately as the 'hammer falls' or as the online time period ends (subject to the reserve having been met or exceeded). Completion is normally set 28 days from that point.
Conditional online auctions
This is where the successful bidder has a little longer to exchange contracts and complete the purchase, around 40 working days. If you're a vendor looking to sell property by online auction, this type of sale can often attract additional buyers as the longer period to arrange finance is often desirable. This is a great way to bring the world of auctions to mortgage buyers.
Whichever method the auction is carried out under, all potential online buyers must provide payment details ahead of bidding to pre-authorise any sales. Inputting payment details ahead of bidding enables the successful bidder to immediately make their deposit payment and guarantee sellers confirmation of sale.
How to sell property by online auction
Step 1: Choose your preferred sales method and set your reserve
So, let's look a little more specifically at how to go about selling a property by online auction. Firstly, choose which method, as outlined above, you wish to sell by. Then, agree a reserve price, which is the absolute minimum amount for which you are willing to sell your property. This ensures that your property will not be sold for a penny less than you are happy for it to.
Step 2: Have all of your legal documents ready
You must have all legal documents in place prior to opening your auction to bids. A comprehensive legal pack should be created detailing title registers, land registry, any special conditions and any other relevant documentation on that property. This should be put together by your solicitor, if you do not have one, then the team here at SDL Auctions can recommend one of our trusted legal partners to do this for you.
Step 3: Set the terms of the auction
You must also set the auction terms and agree how long to advertise your property and accept bids for. This can be up to 30 days from the date that your auction goes online. The longer you advertise your property for, the more likely it is to drum up higher bids, but shorter periods enable you to sell your property quickly if this is necessary.
Once you've carried out all of the above tasks, then you're ready to accept bids. These bids can only be placed in increments and any last minute bids will see the auction time extended slightly to ensure all buyers are given a fair chance.
For unconditional online auctions, when the auction time is up, and the reserve price has been met or exceeded, then the successful bidders payment method will be charged a holding deposit and the exchange will take place. From this moment, you are legally obligated to sell the property for the full purchase price offered by the bidder.
When the auction has come to a close for a conditional online auction sale, the exclusivity period begins and the contracts must be exchanged and the sale completed within 40 working days. The successful buyer will be charged a reservation fee immediately after the auction.
Should yourself as the vendor not meet the deadline, then you will be held liable for any auction fees and the buyer will be refunded the reservation fee.
How to buy property by online auction
Before you can bid on an online auction, you first must register and log in to your account. At SDL Auctions, this is a very simple process and it is completely free to sign up. By creating an account, you are able to bid for properties on our online auctions, access legal documents quickly and easily, view our properties and also watch other online auctions take place.
To sign up, simply provide us with a few details including your email address, title, name and telephone number and create a password – it is much like signing up to any other online portal. Once you've signed up, you will need to add a payment method before you can begin bidding on properties.
If you're not yet ready to make a bid on a property, then on the SDL Auctions website you can make use of the 'Watch this Lot' feature to receive regular updates on the current highest bid to enable you to make a decision at a later date.
There are a few different ways that you can bid on property auctions online:
Live online bidding
Live online bidding is where you watch the auction countdown in real-time online, and place incremental bids against others tuned in via their computers, keeping up to date each time you are outbid and adjusting accordingly to ensure you are the successful bidder at the end of the countdown. As mentioned above, if another buyer makes a bid within  five minutes of the end of the countdown, then the auction is extended by 15 minutes to give all bidders a fair chance to adjust their own bids.
If you are the successful bidder on an unconditional online auction sale, then your payment method will be immediately charged the holding deposit amount, usually 10% of the sale price.
Some online auction properties that are in a good condition and are mortgageable can be offered with an exclusivity arrangement, allowing the buyer to secure a mortgage or another funding method before the exchange of contracts. This is a conditional auction sale.
For conditional online auction sales, if you are the successful bidder, then you will be charged a reservation fee and should endeavour to arrange finance for the full amount and complete the sale within 40 business days. Should yourself as the buyer not meet the deadline, then you will lose your holding deposit and the vendor is eligible to relist the property for sale by online auction.
Online proxy bidding
Online proxy bidding refers to when you're unable to bid in real-time, and so you enter the highest amount that you are willing to purchase the property for and the online system will make incremental bids for you, up to that value. If your highest bid, or a bid entered by the system matches or exceeds the reserve price and is higher than other bidders, then you'll win the auction and your payment method will be charged either the holding deposit or the reservation fee, depending on the type of auction sale.
Buying and selling property by online auction is a great alternative to the private treaty market, and while still offering the same transparent sales process of room auctions, it enables you far greater flexibility.
Take a look at our current online property auctions here at SDL Property Auctions, or get in touch with us today to learn more.