26th May 2023
How do online property auctions work?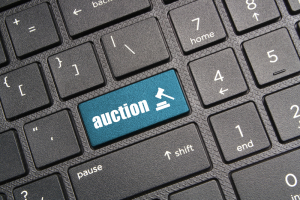 Nowadays, there are very few things that can't be carried out online. Particularly in the post-covid era, an increasing number of businesses have had to change their way of working to ensure things are running smoothly while operating remotely. SDL Property Auctions has long-since risen to this challenge, ensuring all our property auctions are available online, either via live stream for our Auction Events or through live bidding open 24/7 for our Timed Auctions, ensuring everyone has access, regardless of location or availability.
While auctions in the past have been carried out in person, our online live-streamed Auction Events have helped to modernise the industry, providing a convenient option for sellers and buyers from all backgrounds who have other commitments to contend with during auction days. This means that individuals can still make the most of great property investment opportunities, without having to set a large chunk of time aside to travel all the way to an in-person auction.
Having made every effort to ensure our auctions remain available to everyone, we've developed two online ways of participating – Auction Events and Timed Auctions. Our Timed Auctions feature a range of different lots readily available to browse through online and bid-on at any time, our monthly Auction Events are live-streamed with bidders registering before the auction day and bidding remotely with a live auctioneer in real time.
With our Auction Events and Timed Auctions, you can make an investment in a property from the comfort of your own home, or wherever you have internet access. But how do these auctions work? In this post, we'll provide a step-by-step guide to how our online property auctions work to help you understand how you can purchase a new development, home or commercial space without attending a room auction.
What happens at an online property auction?
Online property auctions allow you to see images of, and access information about, the property you're interested in, as well as bid on and buy the property. Whether you're looking to buy or sell a property, online auctions offer the same benefits of buying and selling as an in-person property auction would. For instance, despite the fact that this process is done online, you'll still have access to a range of unique properties and fully transparent sales. Usually, the two ways sellers can auction their property is through an unconditional or conditional auction, and the main differences between these are as follows:
Unconditional online auctions
Unconditional online auctions are where the exchange of contracts happen immediately as the 'hammer falls' or as the online time period ends (subject to the reserve having been met or exceeded). Completion is normally set 30 days from that point.
Conditional online auctions
This is where the successful bidder has a little longer to exchange contracts and complete the purchase (60 days). If you're a seller and you're looking to sell a property by online auction, this type of sale can attract additional buyers as the longer period to arrange finance is often viewed as desirable to prospective buyers. This provides a great way to bring the world of auctions to mortgage buyers, as this will give them the necessary time to apply for the mortgage or organise other funding prior to the deadline.
Whichever method the auction is carried out under, all prospective online buyers must provide payment details ahead of bidding to pre-authorise any sales. Entering payment details ahead of bidding enables the successful bidder to immediately make a deposit payment and guarantee the seller's confirmation of sale.
How does online auction bidding work?
While we've already outlined that we offer both Timed Auctions and live-streamed Auction Events, it's important to understand how these two types of online auction differ so you can choose the best option to suit your buying or selling needs. Whether it's via live stream or through an online Timed Auction, once you've decided on the property you would like to place a bid on, we recommend becoming familiar with the ways you can bid during an online property auction. We've detailed all of these methods below in order to help you decide on the best possible option for you.
Live online bidding
Applying to Timed Auctions only, live online bidding is where you watch the auction countdown in real-time online and place incremental bids against others. You will be able to keep up to date each time you are outbid and adjust your bid to increase your chance of being the successful bidder at the end of the countdown. If another buyer makes a bid within five minutes of the end of the countdown, the auction will be extended by a total of 15 minutes. This will provide other bidders with a fair chance, allowing them to adjust their bids accordingly.
Online bidding via live stream
If you're looking to bid on a property through one of our online Auction Events, this follows the format of a more traditional auction, but is broadcasted online via live stream so you can bid remotely, meaning there is no need to physically attend the auction. On receipt of your bidding registration form, completion of the ID checks and T&Cs, you will be given details of how to log in on auction day. You should use this link to watch the auction live and click if you wish to bid. You will be notified on the screen if you are the winning bidder.
To bid in one of our live-streamed auctions, you'll need to fill in our simple registration form and advise us which lots you're interested in. We will need to complete some identification and anti-money laundering checks and then you'll be given access to bid online on the day. It's free to register and you're not obliged to bid on auction day if you change your mind.
Proxy bidding
Proxy bidding is when the auctioneer will bid on your behalf, making incremental bids up to the amount you state in your bidding registration form. This type of remote bidding is only available in an online live-streamed auction and can be particularly useful if you're unable to watch live due to it clashing with other commitments.
If your bid is the final successful bid, you'll win the auction and your payment method will be charged either the holding deposit or the reservation fee, depending on the type of sale that is carried out.
Telephone bidding
Bidding on the phone is also permitted in live-streamed Auction Events. This is where a member of the auctions team will call you and talk you through the bidding in real-time. You can then place a bid via the phone if or when the price is appropriate. This can often be useful for nervous bidders who don't want to watch the auction live but want to know what's happening and be talked through the process.
How do you buy an auction property online?
Whether you're a keen investor or you're searching for a home for yourself, you can bid on a property online in both our Timed Auctions and our live-streamed Auction Events.
How to sign up for our Timed Auctions:
Step 1: Register for an account and sign in –

This is a very simple process and it's free to sign up. By creating an account, you can bid for properties in our online Timed Auctions, access legal documents quickly and easily, view our properties and watch other online auctions take place.
Step 2: Enter a payment method –

Once you've signed up, you will need to add a payment method before you can start to bid on properties.

If you want to browse your options first –

Use the 'watch' feature on your chosen lot to receive regular updates on the current highest bid. This will provide you with the flexibility to make a decision to place a bid later rather than committing to this straight away.
How to sign up for our live-streamed Auction Events:
Step 1: Registration

– You need to complete our simple Remote Internet, Telephone & Proxy Bidding form, advising us which method of bidding you'd like to carry out and which properties you're interested in.

Step 2: ID verification

– You will receive an email asking you to carry out online ID verification to prove your identity and confirm eligibility to bid.

Step 3: Payment details

– You will receive an email asking for you to provide your payment details. No money will be taken when you register, your account will only be debited if you are the successful bidder after the lot(s) has been offered.

Step 4: Acceptance of T&Cs – only for online bidding

– You will receive an email from Essential Information Group (EIG) – the platform used for online bidding – asking you to log in to EIG and accept the terms & conditions. Once you provide this confirmation, you are ready to bid online.
How to sell an auction property online
If you're instead looking to sell your property through an online auction, our step-by-step guide below will help you understand all the necessary steps involved with this process. From agreeing on a suitable reserve price, to setting the terms of the auction, get to know how online auctions work from the seller's perspective before you sell your home or commercial property:
Step 1: Choose your preferred sales method and set your reserve price –

Firstly, choose which method (

conditional or unconditional

) you wish to sell by. Then, set a reserve price, which is agreed between the seller and the auctioneer, and is the minimum amount you're willing to sell your property for. This ensures your property won't be sold for a penny less than you're happy with.
Step 2: Have all your legal documents ready –

You must have all the relevant legal documents prepared prior to opening your auction to bids. A comprehensive legal pack should be created which should detail title registers, land registry, any special conditions and other relevant documentation based on the property you're looking to sell. This should be compiled by your solicitor, but if you don't have one, we can recommend one of our legal partners to do this for you. To learn more about auction legal packs, read our full blog '

Why do auction properties need a legal pack?'.
Step 3: Set the terms of the auction – This step only applies to Timed Auctions.

For these, you must also set the auction terms and agree how long to accept bids for. This can be from 24 hours to 30 days from the date your auction goes online. It is often the case that properties will be marketed online prior to bidding opening in order to generate interest.
For unconditional online auctions, when the auction time is up and the reserve price has been met or exceeded, the successful bidder's payment method will be charged a holding deposit and the exchange will take place. From this moment, you're legally obligated to sell the property for the full price offered by the bidder.
When a conditional online auction sale ends, the exclusivity period begins. This means that contracts must be exchanged and the sale completed within 60 days. Although the successful buyer will be charged a reservation fee straight after the auction, if you, as the seller, fail to meet the deadline, you'll be held liable for auction fees and the buyer will be refunded the reservation fee.
Online auctions at SDL Property Auctions
Whether you're looking to buy or sell a property with us at SDL Property Auctions, take a look at the properties currently available in our online auctions or request a free sales valuation. Get in touch with us today to learn more.