1st March 2020
A coffee with… Alex Senior, Auction Valuer at SDL Auctions North West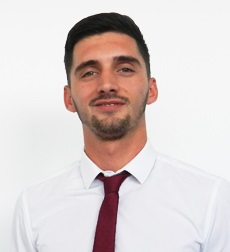 After completing my A-Levels and gaining an NVQ in Business Management, I went straight into the working world. I spent three years working within financial recruitment, which in enjoyed and learnt a lot from, however I've always wanted to within property. My family have always worked in property and from this I have developed a real affection towards the industry. I have worked for SDL Auctions for almost six months now and I am really enjoying it, I love working with Andy Thompson, he has helped and supported me a lot.
What is your business motto?
Work hard, play hard! Always work hard and do your best while at work but make sure to switch off and focus on other things outside of work when possible.
What is the best quality of SDL Auctions, and how is it different to other auction businesses?
We provide the best possible customer service. Whether we are helping vendors looking to sell their property through auction or if its people coming to view properties. I think excellent customer service is very important for our reputation and service.
What is office life like for you and your team?
I work in the Salford office and it is quite quiet compared to the head office in Chilwell, but I get along well with Andy Thompson and enjoy working with him when we're both in the office.
What is your approach to work / life balance?
I like to keep busy outside of work to relax and switch off. I like to go to the gym, play football and socialise with friends. Then when I get back to work, I focus on my job and switch back into work mode.
What is your approach to making contacts which are useful for the business?
I enjoy making calls, introducing myself and the business and then trying to arrange a meeting if possible and worthwhile. Being polite and as helpful as possible goes a long way. I try to help people the best I can.
Who has inspired you most in your business life, and why?
I think my family are a good inspiration for me, they're always working hard and although it may not always be easy, I've learnt to keep going and to persevere in whatever task I want to complete.
What is your proudest achievement in business?
I'm still in the early stages of my career but I'm proud of the work I've done in the past and I'm proud that I'm now working within property, which is an industry I've always had a genuine interest and passion for. So, I am proud of the fact I have achieved my dream job at such a young age, with room for growth in the future.
What drives and motivates you?
Money is a big motivator for me. I hope to have a family and a nice house in the future and therefore money is important to achieve my goals in life. Helping people also motivates me and I am looking forward to helping people to buy or sell properties, which is an important part of people's lives.
If you hadn't been Auction Valuer what would you do instead?
Maybe working within sport, in particular football. I'd like to think I'd be a professional footballer if I didn't suffer from injuries.
What time of day are you at your best, and why?
I wouldn't say I'm not a morning person, but I think afternoons are slightly better for me, once I've already started my day and know what my tasks are.
Do you use Facebook, Twitter or other social media?
Yes, I am guilty of using social media! I wish I didn't, but I think it's a big part of life nowadays and I do think it can be utilised and can be very helpful, especially within business.
If you could have a coffee with anyone, who would it be, and what would be your choice?
I think it would have to be Muhammad Ali, he's one of, if not the best boxer of all time. His attitude and work rate are second to none and he was very clever and wise, I think id learn a lot from him.
How do you relax outside of work?
I have a small but close group of friends and we spend a lot of time together, either in the gym, playing sports or just socialising. Spending time with them helps me to relax.