16th May 2023
How accurate are guide prices at auctions?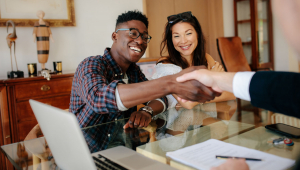 A guide price is a useful figure that can help you to find an auction property within your budget, without having to take a guess at what the lot might sell for. There are many factors that influence how a guide price is generated, and potential buyers may be interested to know what these are, what this means in relation to the property value, and how it can be subject to change to get a better understanding of the accuracy of guide prices.
There are several things that might change the guide price figure in the run up to the auction, and these should be considered when determining whether a property is worth pursuing. These include reserve prices, sold prices, and property valuations that differ from the guide price. Of course, these terms may be new to inexperienced property investors or potential buyers establishing a budget, as such we've put together this guide explaining what each of these terms mean, and how to interpret them to come to a comfortable bidding price for you.
What does auction guide price mean?
A guide price is exactly that – a guide. It is given to assist bidders in deciding whether to pursue a purchase and it can be given as a single figure or as a price range. Generally, the guide price is used as the starting bid at auction, as this acts as a reflection of the property value at the time of entering the auction, as well as the seller's minimum expectations. This is not a fixed price and can be changed at any time by the seller or by the auctioneer depending on the level of interest in the property.
A guide price is accompanied by a reserve price that is confidential to the seller and the auctioneer, and will be within a range of + or – 10% of the guide price. As such, bidding may start at less than the guide price, but if this doesn't meet the reserve price the bid can be rejected and the property unsold. Contrarily, if there is a lot of interest in the property, the bidding may push the price beyond the guide price. It should be noted that a guide price is often set lower than the actual property value in order to encourage bidding.
How is a guide price created?
There are several factors that determine what guide price is given to a lot at auction. This includes the features of the property, the number of rooms, the year built, roof type, renovations and modifications made by previous owners. Additionally, the valuer will consider similar-sized properties within the area that have been sold in the last six months.
In 2014, the Advertising Standards Authority set out new rules for creating guide prices to help potential buyers get a more accurate estimate of the final sale price of auction properties. There is one notable rule in these guidelines that is valuable to those looking at purchasing a lot at auction. This rule states that a guide price must be a single figure or range that is within 10% of the seller's reserve price and cannot be less than 10% of this reserve price. So, for example, you could expect to add 10% to the initial guide price in order to meet what the seller has requested, before taking into consideration other bidders driving up the price.
What are property auction reserve prices?
The reserve price is agreed between the seller and the auctioneer prior to the auction and remains confidential to these two parties. If bidding does not reach this reserve price, then the auctioneer is not authorised to sell the property to the highest bidder and the lot will be withdrawn from the auction. Similarly to the guide price, this may be adjusted depending on the interest generated during the marketing stage of the property, but this price must be fixed before the auction commences. The reserve price may be up to 10% higher than the guide price, so this should be accounted for when deciding to purchase a property.
What are property auction sold prices?
The sold price is what the property has sold for which will be the highest bid, though this doesn't include any associated fees required to purchase the lot. It is useful to look at the sold price if you have missed out on a property, as you can compare the sold price to the guide price to get an insight into how popular the property was, which can act as a rough guide to what you might expect from similar properties.
Are guide prices accurate?
The purpose of an auction is to quickly get a good price for both the seller and the buyer. This is done by setting an attractive guide price to encourage bidding and generate interest, creating competitive bidding which can escalate the selling price of a property. Whilst this helps a seller to quickly get a price on their property that they're happy with, this also offers the buyer a fast and transparent way to purchase at a price they're comfortable with. Additionally, there are many hidden gems at auction which have the potential to be sold at an excellent price, making auctions particularly attractive to prospective buyers looking for their dream property.
At SDL Property Auctions, we aim to keep our guide prices as accurate as possible. They are generated using a number of factors closely aligned with the value of the property. Though it should be noted that, on average, auction properties can sell for 15-25% more than the guide price, but they can also sell for less than the guide price depending on interest in the property. Therefore, it's a good idea to consider a 15-25% buffer in your budget if you don't want to miss out on a specific property. Additionally, as mentioned above, guide prices do not include any fees associated with the sale of the property, so you need to ensure that you don't bid outside of your budget and are left unable to cover the required fees.
For new buyers looking to make a purchase by auction and experienced property investors alike, it is recommended to do ample research in the run-up to the auction day or event. Try to take into account all factors that will determine if you can offer a price you're comfortable with, as it's important to remember that a property will be worth more than the guide price listed and you should be prepared to account for this.
With SDL Property Auctions, we keep our guide prices fair to both the seller and the buyer. When it comes to auction day, prices may be driven higher by other interested parties and ultimately the decision to bid lies with what you're comfortable paying.
To get started with property auction purchases, you might want to take a look at our current and upcoming auction lots in your desired area to get a clearer picture of expected guide prices for different types of properties.