18th December 2020
When is the best time of year to sell a house?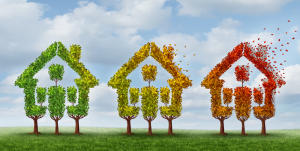 Just like any other market, the property market is forever fluctuating and choosing the best time of year to sell a house can be a challenge to those who have little experience selling. Fortunately, while the property market has certainly been known to take even the experts by surprise on occasion, it usually follows seasonal trends year on year. Familiarising yourself with these trends, and acting on that information, can help you decide when the best time to sell your house is.
If you have a property to sell, and you're looking for advice on how to work out when the best time to sell is, read on to discover our top tips on how to sell quickly, safely, and for the best price possible.
When is the fastest time of year to sell a house?
A large part of deciding when is best to sell your house has to do with how long it takes. Some periods of the year will see you waiting longer for interest to pick up on your property, so if you're selling on the open property market, this is something you will have to consider.
Typically, spring is considered the best season to achieve a fast sale, with the late autumn and winter months ranking as the slowest according to The Advisory. In research they conducted on the average time it takes to sell a house throughout the year, they discovered that while March took 57 days to sell, October through to November took a much longer average of 79 days. While these statistics are only accurate for the year they were taken and will shift year after year depending on other social and economic factors, they are indicative of the usual pattern of selling a house on the open property market.
Alternatively, by selling your property by auction, you can avoid these seasonal delays altogether. Auction sales have limited time windows for the completion of sales and, if a buyer bids on your property, the sale is guaranteed to be completed within a given time frame no matter the rate of sale on the open market. At SDL Property Auctions, for instance, the buyer must pay a deposit on the day, then complete the sale within 20 working days of the auction, if the property is being sold under unconditional terms. Not only is this almost twice as fast as the 59 day average time scale suggested by The Advisory for March, it is also not subject to outside influences that cause the property market to fluctuate, so you can sell your property confidently, safe in the knowledge that your sale will be completed quickly, no matter the time of year.
How to capitalise on supply and demand
While speed is certainly an important factor in deciding when to sell your house, especially if you're on a tight schedule, another key point to consider is the trends in supply and demand. Logically, the best time to sell your property is when demand is high and supply is low as this will decrease competition between you and other sellers whilst simultaneously increasing competition between your potential buyers.
While supply is fairly easy to judge on a monthly basis by utilising monthly housing reports such as those published by the NAEA and by viewing your property's competition on either property listing websites (if you've chosen to sell on the open market) or by viewing the other lots in your auction (if you've decided selling by auction is for you), judging demand is slightly more complicated.
One influence on demand is the rising and lowering of interest rates. If interest rates are low, buyers are more willing to spend more money on a house, due to better monthly affordability on any loans or mortgages taken out. Another influence, which is especially applicable in the current climate, is any changes in stamp duty land tax (SDLT). In light of the coronavirus pandemic, the government introduced a temporary reduction of SDLT in an attempt to boost demand on the property market, meaning that, for properties under £500,000 there is no stamp duty to be paid. With this change remaining in effect until 1st April 2021, any property under the £500,000 limit can be considered under 'high demand' as buyers rush to make the most of the change.
Working out current levels of buyer demand can be a painstaking process but, when selling by auction with SDL Property Auctions, this is less of an immediate concern for sellers. This is due to the fact that we benefit from high attendance levels year-round and carry out extensive marketing for all properties, so the 'bidding wars' that are traditional of auction selling are common no matter what time of year you decide to sell your property. The more bidding competition there is, the higher the sales price your property is likely to achieve.
When to sell according to property types
Continuing to follow the laws of supply and demand, there are times of the year during which certain types of houses are in higher demand, due to the circumstances and priorities of the buyers searching at that time. Just after New Year, for example, you can expect the demand to rise for small one and two-bed houses and flats as first time buyers, couples and expecting parents start searching for their own home. Similarly, families can expect to flood the market outside of the school holidays in an attempt to find three to four-bedroom family homes.
In order to make the most of increasing demands, you should consider what kind of property you are selling and who is most likely to buy it. Once you know your target buyer, you can then plan what time of year they're most likely to be looking for their new home, and tailor your sale accordingly.
While this is a very useful, though considerably time consuming consideration to make when selling on the open market, it is less necessary to do when selling by auction. At SDL Property Auctions, we see a wide range of buyers in attendance, including many property investors willing to buy out of season in order to perform renovations on the property to resell during peak seasons. Because of this, if you're seeking to get a good price for your property in a short time, selling by auction is the best route for you.
Sell your property at any time with SDL Property Auctions
Choosing when to sell your property is a big, and potentially expensive, decision. Everyone wants to get the best price possible for their property and while working out trends in sale time, supply and demand and target buyers are strong ways to narrow down your choices of when to sell, they are time consuming and provide no absolute guarantees.
Instead, we suggest considering selling by auction. Not only is the process of selling your property by auction less stressful, it is also significantly faster, has consistently high levels of competition between buyers and, with investors attending year-round, there's no need to analyse your property's target market.
Interested in selling your property by auction with SDL Property Auctions? For more information, or to request a free, no-obligation valuation, click the link below or call us on 0800 046 5454.