29th April 2021
What is a HMO property?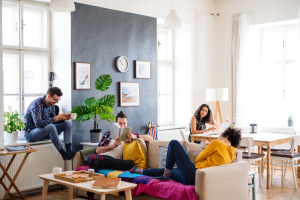 Before we go into detail about the benefits and potential drawbacks of investing in a HMO property, it's important to first define exactly what a HMO property is. Occasionally referred to as a house share, a house in multiple occupation (HMO) is a property which houses a minimum of three people from more than one household. In order for a property to classify as a HMO, the tenants must also share spaces such as a bathroom or kitchen facilities.
When it comes to investing in buy-to-let properties, there are many things to consider and one of the biggest decisions to make is what type of property to purchase. While many will concern themselves with choosing between houses and flats, more experienced investors may recognise the impressive potential that a HMO property represents.
Whether you've never heard of a HMO before or are interested in investing in one, we've put together this blog to give you everything you need to know about HMO properties all in one place. From learning exactly what a HMO property is to asking whether or not the investment is worth it for you, read on to discover more about HMO properties.
What is a HMO property?
There are two classifications for houses in multiple occupation (HMOs), the first being a minimum rule of three tenants from at least two different households. The second classification is a large HMO, which requires space for at least five tenants from at least two different households. In both cases, home facilities including a kitchen, bathroom or toilet must be shared by some or all of the tenants.
Are HMOs worth it?
As you may have already gathered from the definition alone, a HMO property is usually larger than your typical buy-to-let property. The size of the property itself and the number of tenants housed there make HMOs a more specialised investment for landlords than their alternatives but, in many cases, the additional effort can pay off.
To help you work out whether or not a HMO is the right investment for you, we've created a list of pros and cons to take into consideration as you make your decision.
Are HMOs worth it for tenants?
Of course, as a potential investor you're more likely to be concerned about whether or not a HMO property represents a worthwhile investment for you but, in order to answer this question, we must first ask whether or not the HMO in question is worth it for renters.
For many people, renting a room in a shared house represents a cheaper living option than a full flat or studio apartment and the positives don't stop there. HMO properties attract a wide range of tenants, the most common groups include students and young professionals. In both cases, these groups of people are likely to be moving away from home, possibly across the country, and HMOs represent a unique opportunity to meet new people who are likely in the same boat.
Beyond the social and monetary benefits that young professionals and students look for, HMOs are also more likely to offer more customisable rental periods, giving renters the freedom to choose how long they'd like to stay. This is especially attractive to tourists visiting from abroad and even young professionals working an internship for a short period of time away from home.
Are HMOs worth it for investors?
As with any investment, there are a long list of advantages, disadvantages and risks involved with becoming a landlord of a HMO property. As we've already established, there are plenty of benefits from the renters perspective so, provided you purchase a property in an area that is sought after by HMO renters, chances are the demand is already there. As for the rest, we've created a handy list of pros and cons, to help you decide if a HMO is worth it.
Pros of investing in a HMO
Constant earning: After the initial set up period during which the rooms of a HMO remain empty and are being advertised, it is unlikely that you'll ever not have at least one source of income from a HMO. With overlapping contracts and more than one tenant, those expensive periods of vacancy are all but erased, leaving you more secure than a traditional buy-to-let.
Higher yields: While this is not guaranteed as it also depends on selecting an area with a high buy-to-let yield and securing a good price for your property of choice, HMOs are known for their higher yields. If you're looking for some help with this research, check out our 'What is a good rental yield in the UK?' blog for some additional advice on finding a good investment property.
Minimised risk: While it is a rarity, many landlords have had to cope with tenants falling behind on rent for one reason or another. A benefit of a HMO property is that these risks are spread over a number of tenants meaning that, should one fall behind, you still have the rental income from the others to fall back on.
Increasing demand: Demand is increasing for these types of homes and is set to continue in this trend. Not only are shared homes a popular housing option for older students or even first year students looking to avoid busy university halls, but it's also an increasingly attractive way to save money while earning for young professionals waiting to get onto the housing ladder themselves.
With the benefits of investing in HMOs covered, it's time to take a look at the disadvantages. Keep in mind, many of these potential drawbacks won't affect you or, if they do, many can be worked around effectively to ensure they don't do damage to your investment.
Cons of investing in a HMO
Initial costs: Because HMOs are often larger than a traditional buy-to-let property, they are also likely to have a higher asking price on the open market, or receive higher bids if you're going down the auction route. Because of this, buyers should be prepared to invest more money in a HMO property than they would in a standard buy-to-let.
Time consuming: Due to the fact that you'll need to advertise the property according to individual rooms, managing a HMO can be more time consuming than a traditional buy-to-let property. If you have a large portfolio, it may be worth considering hiring a property manager to assist with the running of a HMO.
HMO mortgages: Mortgage rates tend to be higher for HMO mortgages than traditional buy-to-let mortgages but, with the increasing demand for these types of properties continuing to rise, lenders have more competition than they did in the past. The competitive prices have allowed more landlords to expand their portfolios to include HMOs.
What are a HMO landlord's responsibilities?
As with any buy-to-let property, landlords must comply with a list of rules and complete all of their responsibilities. If you're looking for a list of standard landlord responsibilities, this can be found in our recent blog 'A beginners guide to buy-to-let property'.
When it comes to HMO landlord responsibilities, all of the standers duties apply, along with the following additions.
Fire safety: In a large HMO property, it is the landlord's responsibility to ensure that fire alarms and extinguishers are made available throughout the property.
Overcrowding: Landlord's must complete a safety check to ensure that the property is not overcrowded.
Facilities: Tenants must have adequate access to facilities including cooking and washing facilities, as well as a suitable number of bins.
Legionella assessment: Landlords must have evidence of an up-to-date legionella risk assessment on the HMO property.
HMO licence: Where necessary, HMO landlords must have a valid HMO licence for their property.
Do I need a HMO licence?
In England and Wales, landlords may need a licence in order to rent out a HMO property. Finding out whether you will need a HMO licence is for your property, or a property you're considering buying, is a straightforward process that requires checking with the local council. If you're looking to rent out a large HMO property in England or Wales however, you will definitely need a HMO licence.
What is a HMO licence?
A HMO licence gives you the right to rent out your HMO property and gives both the potential tenants and the local authority the assurance that the property is safe for habitation. HMO licences are valid per property, so, if you have more than one in your portfolio, you will need to check whether one is needed per property. Fortunately, once you have secured your licence, it is valid for five years.
HMO licences are awarded upon the basis that a number of initial and ongoing conditions are met. The initial conditions of a HMO licence are that the house, its size and facilities, are deemed sufficient and suitable for the number of tenants and that the manager of the property is 'fit and proper', meaning they have no criminal record and haven't broken any landlord codes. Ongoing conditions of maintaining a HMO licence include sending an updated gas safety certificate on an annual basis to the local council, installing and maintaining smoke alarms within the property and providing electrical appliance safety certificates upon request. Additional conditions can be added to a licence, but this will always be declared during the application process.
HMO licence cost
HMO licences are not free, with most costing between a few hundred pounds to one thousand (though some are even higher). These fees are determined by the local council and can be checked prior to purchasing a HMO.
While it is inconvenient to have to purchase a licence for a HMO property, and it certainly adds to the initial investment needed to purchase one, the consequences of renting out a HMO that requires a licence without one are considerable, so always check with your local council.
Find a HMO property with SDL Property Auctions
At SDL Property Auctions, we have plenty of advice to offer to brand new and experienced property investors alike. If you'd like additional help to guide your property investments, make the most of research such as our 'The UK postcodes with the highest buy-to-let yields' blog.
Ready to begin your property search for a HMO? Browse through the properties we have listed for upcoming auctions and filter according to location and number of bedrooms to find the right investment property for you by clicking below.