24th March 2021
A beginners guide to buy-to-let property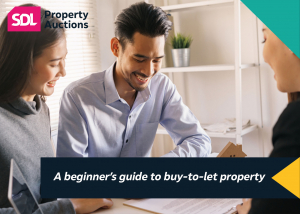 Investing your money into property with the intention of becoming a landlord can be as risky as it is appealing. There are many things to consider, with everything from which type of property to purchase to how to go about securing a buy-to-let mortgage needing to be researched fully before you take the plunge.
If you make the decision to become a landlord, there will inevitably be things you can't control but, with our beginners guide to buy-to-let properties, you'll have a head start in navigating the sometimes tricky, but very rewarding role of landlord. Read on for our top tips on what to look for in a buy-to-let property, what your responsibilities will be as a landlord and more.
What is a buy-to-let property?
Simply put, a buy-to-let property is a property that is bought for the express purpose of being rented out to a tenant or a group of tenants. A residential buy-to-let property can be anything from a small flat to a large family home and, provided you are careful with your decision making, they can provide a stable rental income to savvy landlords.
What is a buy-to-let mortgage?
Just as a standard residential mortgage allows those without the funds to purchase a property outright to live in, a buy-to-let mortgage grants a loan to landlords looking for financial assistance to buy their property.
While the requirements of a buy-to-let mortgage will change from lender to lender, you can expect certain stipulations to be put in place that are different to a standard mortgage agreement. For example, a common requirement that protects the mortgage lender is that the rent you charge on your property must be at least 125% of the monthly mortgage repayments and most lenders will refuse to open a mortgage contract with you if you're asking to borrow more than 60% – 75% of the property's value. These additional considerations are in place to protect the lender from the slightly more risky investment that a buy-to-let property represents, especially in comparison to the relative safety of a residential mortgage.
What to look for in a buy-to-let property
When purchasing a buy-to-let property, either by auction or on the open market, there are some things you should consider before beginning your property search which will increase your chances of securing a worthwhile investment property, these being the type of property, your ideal tenant demographic and the location of the property.
Ideal tenant demographic for buy-to-let property
For most landlords-to-be, your ideal tenant should be the main element that shapes your property search as this will change both the type of property you look for and the area you search in. Every target demographic has their own benefits and disadvantages, so be careful when selecting your target audience.
To help you with your research, we've made a short guide to the common preferences of the most popular renting groups below:
Young couples and families often prioritise finding a rental home that has space to grow, so aim to find a property with a minimum of two bedrooms, and often have a wish list that includes entertaining space such as a spacious garden or a dining room. Additionally, couples with young children (or with plans to start a family soon) often search for properties that are close to a good school, so keep this in mind when searching. Benefits of renting to this demographic include their likelihood to stay in the home for a longer period of time, giving you the opportunity to secure a long term tenant.
Student properties can either be small flats which will be rented by single or pairs of students or, more likely, are shared houses with plenty of space for a group of 4-6 students. The latter of these options will require you to find a property with more than one bathroom and larger bedrooms as these are the type of preferences students will have. Additionally, student accommodation properties will also only be found in university cities and towns such as Manchester, London, Newcastle and so on. A strong benefit of investing in a student share house (also known as a house in multiple-occupation, HMO) is the high rental yields they offer landlords, but they come with their own list of disadvantages too, including the increased likelihood of parties, which result in complaints from neighbours, the need to advertise the space on a yearly basis or even more and the likelihood that some rooms will sit empty during the summer months.
Young professionals are another demographic that often utilise the cheap option that shared houses represent. Instead of needing to be close to a university campus however, young professionals will search for properties with parking facilities and/or good transport links that will allow them to commute easily.
While these are all very popular tenant demographics that are frequently targeted by landlords searching for good properties to invest in, there's one last option to consider; purchasing a property with an existing tenant.
Property types for buy-to-let
As mentioned above, the type of property you search for will depend on your ideal tenant but there are additional options to consider. For example, depending on your time scale and budget you could consider purchasing a repossessed property as they can typically be purchased for considerably less than market value and, with a little additional work, can represent a thrifty investment opportunity. If you're particularly interested in buying a repossessed property but aren't sure what the potential benefits and pitfalls are, head over to our 'Things to consider when buying a repossessed property by auction' blog where we run through everything you need to know to make the best of that type of investment.
Ideal property types for the buy-to-let market include, but are not limited to:
Flats
Large houses with 4+ bedrooms (as highlighted for house shares)
Family homes
Repossessed properties
Renovation properties
One-bed flats or studios
Property location
Once again, the location you search in should be tailored to your target tenant demographic but, as with property type, there are some additional considerations you can make during your search. Firstly, you can perform some research into the top cities in the UK which provide a high rental yield as this will allow you to work out an estimation of how much an investment could be worth to you. If you aren't certain what constitutes a strong rental yield, head over to our 'What is a good rental yield in the UK?' blog post where we explain it in more detail and run over which areas of the UK are known for giving high yields to landlords.
Secondly, smaller things to keep in mind include your own location as it is often more convenient for landlords to live nearby the properties in their portfolio in order to save on travel to the property whenever visits are necessary.
What are the responsibilities of a landlord?
Understanding your full legal responsibilities is an incredibly important part of being a successful landlord and will allow you to protect both your tenant and yourself and, in the process, your investment. Below, we've compiled a list of your obligations as a landlord, including specific stipulations for Scottish landlords where differences occur.
Registering as a landlord: Some local authorities require private landlords to be registered before they can be allowed to advertise their property to prospective tenants, this can be checked prior to the purchase of the property. If you're in Scotland, however, every landlord must be registered by the local authority, with considerable fines and bans in place should you fail to do so.
Leasehold and freehold: If the property you're purchasing is leasehold, you must have permission from the freeholder to rent out the property. You can learn more about leasehold and freehold properties in our blog 'What is the difference between freehold and leasehold?'.
Checking tenants: According to UK law, any landlord caught renting to someone who doesn't have the right to rent a property could be prosecuted and fined up to £3,000 per illegal tenant and even face time in jail. Avoid this by keeping evidence of your tenant's proof of right to rent in the UK.
Tenant documentation: Before your tenants move into the property, you are legally obliged to provide them with the government's 'How to Rent' guide.
Tenant deposit protection: It is your responsibility to protect the deposit paid to you by your tenant/s within 30 days of receiving it by putting it into a governmentally approved tenancy deposit scheme.
Fire safety: One of the most important obligations you will have as a landlord, ensuring your property follows all fire safety regulations is vital and could not only protect your investment from damage, but in the event of a truly damaging fire, also the lives of your tenants. Specifically, it is your responsibility to ensure that your property has clear escape routes, fittings that meet regulation requirements and smoke alarms are on every floor of the property. For properties with fuel burning devices installed (such as solid fuel boiler), carbon monoxide alarms must also be installed, they are however advised to be installed in every home.
Energy performance test: As mentioned above, private landlords must provide all tenants with an energy performance certificate (EPC). A strong rating is also attractive to tenants, so investing some additional money into increasing your energy efficiency prior to the test could also be beneficial. These tests will remain valid for ten years, so you don't have to worry about testing annually as you do for gas safety certificates. Unlike the rest of the UK, properties in Scotland must have an EPC in place prior to the advertising of the property and a copy of the certificate must also be displayed within the property.
Gas and electric: As mentioned, gas safety inspections must be carried out every 12 months, with the certificate being provided to the tenants. For electrical safety, you are only legally required to have safety tests performed on electrical fittings if it is a house of multiple-occupancy (HMO), and this must be done every five years. In Scotland, the rules surrounding electrical safety are slightly different as an Electrical Installation Condition Report must be completed by a qualified electrician at least every five years.
Repairs and maintenance: As a landlord, one of your ongoing responsibilities is to ensure the property remains in good condition throughout the tenancy. This includes ensuring the condition of the property prior to your tenants moving in and maintaining that condition with necessary repairs during the tenancy. For a detailed breakdown of what you are required to do, read the government guidance in the 'How to Rent' guide.
Repairs and maintenance (Scotland): For Scotland, additional regulations are in place regarding your repairing and maintenance obligations. As introduced by the Housing (Scotland) Act 2006, all rental properties must meet the Repairing Standard and the Tolerable Standard, the former meaning that the property meets basic levels of repair (wind and watertight, structure and exterior kept in reasonable condition, all amenities including gas, electricity and plumbing all working properly) and the latter addresses problems that can affect a property (damp, poor ventilation, lack of natural light and breaches of safety standards).
Tax returns: If you're new to the buy-to-let world, declaring your rental income and filing a tax return may be a new experience, but it is vital you complete it accurately.
Find your buy-to-let property at SDL Property Auctions
Property auctions are an incredibly popular choice for experienced and new landlords alike, with benefits including the opportunity to secure a property for under the market value, the likelihood of a faster sale than the open market and an increased chance to find repossessed properties, which provide the perfect opportunity to buy cheap, renovate and rent out.
Ready to start your search? Take a look at the latest properties available at SDL Property Auctions by clicking the link below.