25th October 2023
A guide to 95% mortgages and 5% deposits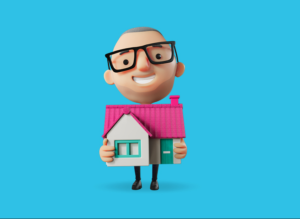 Getting on the property ladder can be a challenging feat for many, with first time buyers often struggling to raise a sufficient deposit to secure a mortgage. However, back in 2021 the government launched a mortgage scheme designed to make more deals available to potential buyers. This scheme saw lenders offer low deposit mortgages for both first time buyers and current homeowners. The scheme is known as either a 95% mortgage or 5% deposit option and has become a popular option for those looking to buy a residential property.
However, there are a few nuances to this scheme which means that it may not be the best option for you, depending on what you're looking for and what you can afford. Keep reading as we discuss these caveats and explain more about this government-backed loan.
What is a 95% mortgage?
A 95% mortgage is exactly that, a loan that covers 95% of the value of the property. The remaining 5% is to be paid as a deposit, meaning that if your property is valued at £200,000 you could borrow £190,000 with an initial down payment of £10,000.
This type of mortgage makes home ownership more affordable to many buyers, as lenders would typically require a minimum of a 10% deposit. Since the average house price in the UK is currently standing at £289,824, this would mean that buyers are required to pay a deposit of £28,982 under a more traditional mortgage offer, making the 95% mortgages a popular choice. However, despite its advantages this scheme is not without limitations. Before deciding if this is a suitable option for you, it's important to weigh up the pros and cons.
Advantages of a 95% mortgage deal
The loan is secured and lenders are backed by a guarantee from the government, meaning more provider options for buyers as many large high-street banks are participating in the scheme.
First time buyers will find it easier to save for a deposit if only 5% is required.
Buyers will have more choices and better interest rates compared to a 100% mortgage
The scheme covers properties up to the value of £600,000
Disadvantages of a 95% mortgage deal
These mortgages are not available on new-build properties.
Typically interest rates will be higher on these mortgages meaning that you will pay back more on the loan.
There is a higher risk of negative equity if the value of your property falls, meaning that you'll be paying back a loan that is more than the property is worth on the market.
You may face lower maximum loan amounts no matter your income or credit rating due to the initial deposit being smaller than the traditional 10%.
How long will 95% mortgages last?
This scheme was introduced with the intention of making it easier for more people to get onto the housing ladder and, as The low deposit mortgage scheme is due to run until the end of 2023, so with only a few months left in the year deals from lenders may start to decline. However, when the scheme was initially launched in 2021, it was due to end in 2022 before being extended for another year. Therefore, it is a possibility that the scheme may be available for longer at the discretion of the government. That being said, lenders still have the option to offer these 95% mortgages without government backing if they see value in doing so. Lenders can also remove these deals before the scheme end date, which is usually as a result of market fluctuations and interest rate volatility.
How can I get a mortgage with a 5% deposit? 
Although anyone looking to buy, including current homeowners, can apply there is an eligibility criteria that must be met to secure a mortgage with a 5% deposit. Since this scheme was launched to make home ownership easier, this type of loan shouldn't be any more difficult to procure than a traditional mortgage. Though it's best to make sure that you meet the eligibility requirements first. As with any mortgage loan, you will be subject to credit checks and affordability ratings. But the following are a few extra caveats that come with a 95% mortgage:
You must be buying a main residential home in the UK, so a buy to let property or second home cannot be purchased with this mortgage.
The property can't be a new build.
The value of your chosen property cannot exceed £600,000
You must apply for a repayment mortgage, interest-only mortgages are not available under this scheme.
Is a 95% mortgage the best option for me?
Given the higher interest rates and risks associated with buying a house with a 5% deposit, the general recommendation is to choose this option only if it's what you need to be able to afford to buy a property. Otherwise, the best long-term money saving strategy is to put down a higher deposit of at least 10% but preferably 20% if you can as the more competitive mortgage options are reserved for those with larger deposits and this will open up more choices for you.
It is also worth noting that 95% mortgages can be used to purchase a property by auction, so long as the eligibility criteria is met and that you have the 5% deposit available immediately when the auction ends. As such, this option may be worth considering if you are looking for an affordable way to get onto the property ladder. For more information on mortgaging an auction property, read our dedicated blog.
Step onto the property ladder with a 95% mortgage
Our Auction Events offer a wide range of properties to choose from, catering for different needs and budgets. It is our aim to make the buying process as simple as possible and provide plenty of options to those looking to get on the property ladder. No matter if you're a cash buyer or using a 95% mortgage, you can click on the button below to start your search.