1st June 2021
The return of 95% mortgages: what you need to know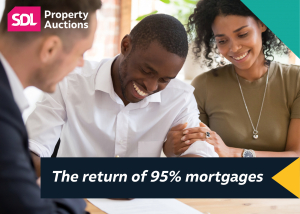 Announced during the latest Budget, a new government-backed mortgage scheme has now been set up and rolled out with the intention of enabling more people to get onto the property ladder. The scheme began supporting lenders on 19th April 2021, allowing them to accept buyers with a 5% deposit, provided they passed regular affordability checks.
This scheme was introduced as a response to concerns that people continue to struggle to save enough money to buy a home, especially when living in rented accommodation. According to government research, 69% of renters and 63% of people living at home said they couldn't find mortgages accepting a low deposit, barring them from any chance of buying a home. This scheme is intended to tackle that problem head on, giving renters and first time buyers the chance to buy a home with a smaller deposit than previously accepted.
Whether you're researching mortgages having found a property you intend to buy or are simply trying to work out how much you could borrow before beginning your property search, read on to discover everything you need to know about the return of 95% mortgages.
What is a 95% mortgage
A 95% mortgage is a mortgage where you borrow a total of 95% of a property's value, having secured it with a deposit of 5%. Typically, lenders expect a higher deposit percentage in order to be approved for a mortgage so, with the lower amount of money needed under this scheme, more people can realistically afford to buy a house with their savings.
This scheme does have some limitations, including the exclusion of properties over the value of £600,000. It is also less likely you'll be able to apply for a 95% mortgage on new build homes, although most new build developers offer alternative Help to Buy schemes. For these properties, a more traditional deposit of 10% – 20% will be required by most lenders.
Can you get 95% mortgages for first time buyers?
Yes, first time buyers qualify for the government-backed 95% mortgages, as well as all other potential home buyers. To quote the Housing Secretary, Rt Hon Robert Jenrick MP, this new government mortgage scheme is open to all buyers in an attempt to turn 'generation rent' into 'generation buy'. This makes this government mortgage scheme more accessible than other schemes run by the government, such as the Help to Buy equity loan scheme, which is limited to first time buyers of new build homes. In recognising that renters, growing families and other potential buyers need more assistance in purchasing a home, the government has taken a step towards assisting a wider range of people.
How long will 95% mortgages last?
The government-backed 95% mortgage scheme is due to run up until December 2022, at which point lenders will no longer be able to access support from the government to offer 95% mortgages. Even without continued governmental support, it is possible that some lenders will continue to offer 95% mortgages to buyers, but this is not guaranteed.
Is it hard to get a 95% mortgage?
This scheme was introduced with the intention of making it easier for more people to get onto the housing ladder and, as such, getting a 95% mortgage should be no more difficult than securing any other. In fact, with the lower funds needed to be gathered to put down as a deposit, most buyers under this new scheme should find it even easier to buy a home, although initial terms and interest rates are always higher on high loan to value borrowing.
Should I get a 95% mortgage?
As with any other mortgage, rates differ from lender to lender so even though large banks such as Lloyds, HSBC, NatWest, Santander and Barclays all offer 95% mortgages, buyers should check each lender individually to find the best mortgage rate. Unfortunately, while more lenders are accepting a 5% deposit, these mortgages are likely to have higher rates, raising the expense of monthly mortgage payments.
Additional risks in taking a 95% mortgage include the possibility of your property dropping in value if the housing market changes, leaving you in negative equity. On top of this, remortgaging for a better rate also becomes a challenge with a 95% mortgage once your deal comes to an end.
As to whether or not you should get a 95% mortgage, the general advice offered would be to use this scheme only if you absolutely need it to buy your property. With rates lowering considerably for most buyers when a higher deposit is put down and the risk of struggling to remortgage down the line, the best long-term money-saving option is to pay a higher deposit of between 10% and 20%.
Can I get a 95% mortgage on an auction property
Yes, the new 95% mortgages are available to those buying auction properties as well as those on the open property market. As with other mortgages on auction properties however, there are some additional rules in place which must be followed in order to secure a mortgage in this way. For more information on these rules, please visit our 'Can you mortgage an auction property?' blog.
Get onto the property ladder with a 95% mortgage
At SDL Property Auctions, it is our aim that all buyers, including first time buyers, movers and investors, find the property they're looking for.
If you're struggling to find a property within your price range, with or without the additional help of a 95% mortgage, it might be time to consider auction properties. With a wide range of residential properties available to choose from, there are plenty of opportunities in our auctions for buyers hoping to get onto the property ladder while the government mortgage scheme is still running. Simply click on the button below to visit our Property Finder and start your search.