11th April 2023
Can you mortgage an auction property?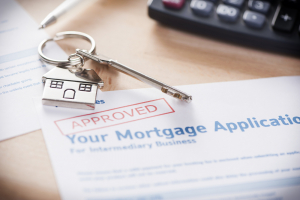 Getting on the property ladder can be quite challenging, especially as housing prices and the cost of living continue to rise. Many people looking to buy a property will head straight to the open market, particularly first-time buyers. However, auction properties can allow you to purchase the property of your dreams for a much better price, and they can be bought using a mortgage.
So, the good news is that auction properties are not just for cash buyers who have the funds to purchase a property outright, but also for those who are eligible for a mortgage. Whilst it is possible to get a mortgage for an auction property, there are a few restrictions and nuances that must be considered. If you're thinking about purchasing a property by auction, keep reading to ensure you have the right information to help you prepare.
How to get a mortgage for an auction property?
Buying an auction property is often a process with a quick turnaround. The first thing that you'll need to do is get a decision in principle from a mortgage provider, sometimes also known as an 'agreement in principle'. This will give you a clear idea of what you can afford, and also act as proof that you'll be able to purchase the property. A decision on how much you can borrow will be made by the lender based on your proof of income and affordability, so make sure you're in a secure financial position and can provide the lender with the relevant financial information – usually salary details, 3-months' of payslips, 3-months' of bank statements, valid photographic ID and valid proof of address.
Once you have secured this decision in principle, you can then start to look at auction properties. Typically, auction catalogues will be available a few weeks before the auction day, so you may wish to use this time to go and view any properties you are interested in. 
It is worth noting that lenders will only offer you a mortgage on mortgageable properties. A rule which applies to all forms of purchasing property, auction or otherwise, this means that, if you're looking to renovate a particular auction property, you may need to look at other options such as a commercial loan, depending on the severity of the property's condition. 
What would make a property unmortgageable? 
In order to ensure that a lender will provide you with a mortgage for your chosen property, there are certain requirements that must be met. For example, if your desired property is too small, does not have a functioning bathroom or a working kitchen, you will not be able to secure a mortgage on that property. Additionally, if your desired auction property has any issues with wet or dry rot, or invasive plant species such as Japanese Knotweed, lenders will not offer you a mortgage and you will need to look at other options to purchase the property. 
If a leasehold is too short, you will also be unlikely to be offered a mortgage. A good rule to abide by is to make sure that the property is both immediately liveable or lettable and is either freehold or has a long leasehold. Ensure that the auction lot has working heating as well as a bathroom and kitchen. It is recommended that you have the property surveyed to avoid any extra repair costs after purchasing. 
How is buying an auction property with a mortgage different from buying on the open market?
So far, this may seem like a very similar process to buying a property that is listed on the open market. However, the full cost of the auction property must be paid within a particular timescale. This is dependent on whether the auction property is conditional or unconditional. As a mortgage can take 2-6 weeks to be arranged, it's important to look at both of these options and how they could impact your purchase.
Unconditional auction sale
If the property is listed as an unconditional sale, you will be expected to pay a 10% deposit immediately on the day of the auction upon your bid being accepted, and you must then pay the remaining balance within 20 days unless otherwise stated. If you fail to do so, you may lose the deposit you paid and may be liable to pay the full cost, and you will have to pay the bill for the resale of the property at an upcoming auction. 
An unconditional sale is not recommended for those that require a mortgage to purchase an auction property, as the turnaround time is too soon for lenders to arrange a mortgage deal. This option is more suited to cash buyers. However, if this is your preferred option, you may be able to get a bridge loan to cover the costs upfront, but this will have a significantly higher interest rate than a mortgage so proceed with caution and aim to use this as a short-term option only.
Conditional auction sale
A conditional auction sale is typically the better option when looking to buy an auction property with a mortgage, as the completion time is longer than an unconditional sale. With a conditional sale, you will be granted an exclusivity period of 56 days to purchase the property (unless otherwise specified in the legal pack).
During this 56-day period, the seller is prohibited from accepting any other offer which will give you a better chance against cash buyers. This time frame also allows you to carry out necessary survey work, secure your mortgage and carry out administration work. If you fail to complete the sale within 56 days, you are likely to lose your reservation fee.
What if the lender can't meet the deadline?
If your mortgage provider is unable to make the quick turnaround, you may want to take out a short-term bridging loan to cover the costs until your mortgage is arranged. A bridging loan can take up to 10 days to complete, so it is typically quicker than obtaining a mortgage. Alternatively, you may need to do some research into the financial options available to you if you are concerned about securing a mortgage for your auction property.
Another thing to note regarding the difference between buying an auction property with a mortgage and buying outright is the bidding process. A lender will only give you the agreed amount, and as with any auction, there could be a large number of bidders. If the bidding goes beyond what the bank is willing to offer you based on the estimated value of the property, and you are the highest bidder, you will be expected to pay the difference. This can impact your application, so it is important to budget accordingly, inclusive of stamp duty, admin, and surveyor fees.
Can I buy a property to renovate and finance it with a mortgage? 
You can't use your mortgage to buy a property that needs extensive renovation. If you have found your dream home or property at auction and it is not mortgageable, as mentioned above, then the best option is to buy with cash or take out a commercial loan to complete the repair works. Once the property is deemed habitable and mortgageable, you can take out a mortgage on the property. This method will require extra budgeting to ensure you can finance the project as these loans will have a high-interest rate and should be kept as a short-term option.
Get ready for auction with SDL Property Auctions
If you're planning to purchase a property at auction through mortgage finance, then you should start to make the necessary arrangements when the catalogue for your chosen auction day is released. This is typically a month before the date. Make sure you allow yourself time to view the properties in person, as well as secure a decision in principle from your mortgage lender. To get a head start on the process, search our upcoming property auction events.