11th July 2022
Can you mortgage an auction property?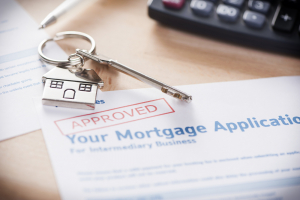 In short, yes, you are generally able to get a mortgage agreement on a property that you buy at auction. However, there is a criteria that you must meet before being able to do so. It's important to note that not all auction properties are eligible for mortgage finance and that the property must meet a certain standard in order to be accepted.
In this post, we detail when you can and can't secure a mortgage for an auction property purchase.
How is it different to purchasing a property on the open market?
As the full cost of the property sold at auction must be paid within a particular timescale, determined by whether the lot is auctioned as unconditional or conditional, you must ensure that you can obtain the full amount of finance before this period comes to an end. As soon as the hammer falls, you are in a legally-binding contract to purchase that property under the terms set out.
Unconditional Auction Sale
On the day of the sale, if you are the highest bidder, then you must supply the full 10% deposit immediately after the hammer falls on the lot, and then secure and pay the rest of the funds within 15 working days (unless otherwise stated in the legal pack). If you fail to pay within this timescale, then you could lose your deposit, may be liable to pay the full amount and will be expected to foot the cost for the resale of the property at a forthcoming auction.
Conditional Auction Sale
A conditional sale tends to be the better option when it comes to securing mortgage finance, as the completion timescale is longer than an unconditional auction sale. With a conditional auction, you will have 40 business days within which to exchange contracts and complete the sale, unless the Special Conditions of Sale contained within the legal pack specify a different time limit. If you fail to do so, you may lose your reservation fee. During the 40-business day reservation period, the seller is not able to accept other offers.
This kind of sale means you have a better chance of being successful as a buyer purchasing a property in order to both own and occupy it, in comparison to an investor wishing to add to a portfolio, who may already have the finance readily available. A conditional sale also gives you more time to secure your mortgage, have a survey carried out, engage with solicitors, acquire buildings insurance, and complete any other admin work required.
How can I secure a mortgage before heading to an auction?
If you're not a cash buyer and require a mortgage to purchase your auction property, then it is incredibly important that you secure a mortgage in principle before you attend the auction. A mortgage in principle means that the lender states that they would be willing to lend you a certain amount of money in principle.
To get a mortgage in principle you will need to provide your bank or building society with proof of your income. A mortgage in principle can give you a clear idea of how much you can potentially afford to pay for a property. Your mortgage in principle can act as your proof of affordability at the auction. The lender is able to back out at any time after supplying you with a mortgage in principle. We recommend having a mortgage valuation carried out on the property before you bid to ensure your lender is willing to lend on that particular property.
It is important to remember that a mortgage lender will only lend you the agreed amount based on the price at which the property has been valued, so proceed cautiously with your bids. If your bid goes over the auction estimate, which is not uncommon at auction, then you will be expected to pay the difference. This may also compromise your mortgage application, leaving you in a difficult situation, so plan a realistic budget and keep to it if you are considering buying a property at auction that will partly be financed with a mortgage.
It is also a good idea to have a survey carried out on the property before the auction takes place. This is to ensure you know exactly what you're signing up for before you make the purchase, so you can avoid any unexpected costs after you move in.
When planning your budget, be sure to factor in all the added extras, such as valuations fees, surveys, legal advice, deposits and anything else outlined in the property's legal pack. With a conditional sale, searches are generally included in the legal pack, so be sure to check these thoroughly prior to bidding.
What happens if the lender can't meet the completion deadline?
Naturally, you may have concerns that your mortgage lender isn't going to be able to keep to the short timescale. If you don't have the funds available immediately and are worried about securing them in the 15 working-day period, then it is suggested that you opt for bidding on a property that is being conditionally auctioned, to give you a much longer period to arrange the required funds.
Typically, a mortgage takes anywhere from 2-6 weeks to be arranged, so you can rest assured that you will have enough time to complete the purchase when you choose a conditional auction sale.
In some cases this can take longer, but there are other financing options available to you while you wait for your mortgage deal to be secured.
A bridging loan can help you in the interim to pay the cost and can be obtained much quicker than a mortgage, usually taking around 10 days. A bridge loan provides you with a short-term solution to buy your property before your longer-term source is cleared. It's important to note that a bridge loan has a significantly higher interest rate than a mortgage and so try to keep the term as short as possible if you must opt for this.
What type of properties am I unable to purchase as a mortgage buyer?
The condition of the property is one of the biggest factors a mortgage lender will consider before agreeing to accept your finance. Lenders will typically only provide you with a mortgage agreement if the property purchased is in a liveable condition and immediately habitable or lettable. This means that if a property doesn't have a working kitchen, bathroom and heating system, then you will not be eligible for a mortgage.
You should steer clear of properties that are in a state of disrepair. Mortgage lenders may not provide you with the funds due to the amount of money you may need to spend redeveloping the site.
And without stating the obvious, you will not be able to purchase an unmortgageable property at auction if you wish to secure mortgage finance. A property can be rendered unmortgageable for many reasons, for example a property that has a short leasehold, properties with no kitchen, more than one kitchen, or properties deemed 'too small'.
You will also be unable to purchase a property that has a non-standard structure, such as concrete. Also a property that has Japanese Knotweed or a property that suffers some kind of defect, like dry or wet rot, will not be available to you.
Can I buy a property to renovate and finance it with a mortgage?
Typically a lender will not agree to give you a mortgage if the property you wish to purchase is in a particularly bad condition. If you wish to purchase a big renovation project, you may need to consider other options, such as a commercial loan instead. Once you have improved the condition of the property, you may then be able to apply for a mortgage. In some circumstances, you may be able to go down this route by arranging it in advance and having your bridge loan switched to a mortgage.
If you're planning on purchasing a property at auction through mortgage finance, you should start to put your plans in place when the auction catalogue has been released. This is typically at least four weeks before the day of the auction. At SDL Property Auctions, you can also view the properties online.
Take a look at some of the properties for sale in our upcoming auctions today.