24th May 2021
The Birmingham Monopoly Board with Real House Prices 2021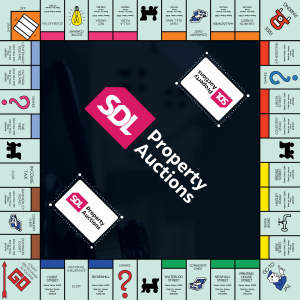 As well as researching the latest insights into the property market for investors such as hot spots in the UK that deliver the best rental yields and the best places to invest in the UK property market at the moment, we occasionally carry out some more light-hearted research just for fun.
Since we regularly sell properties in Birmingham, we thought it would be interesting to take a look at the current local property market through the humble Monopoly board. We've done this by comparing the price of locations featured on the special edition Birmingham Monopoly board to real life average property prices in each location.
As well as calculating the average property prices in each area, we have also included the average Birmingham salary to collect when 'passing go' each year. This is currently £28,726 in Birmingham (£29,536 in the UK). Of course, there is tax to pay on those annual earnings, which we have also included in our board. On a salary of £28,726, you can expect to pay £3,229 in income tax each year, and £2,299 in National Insurance contributions. These tax deductions will leave you with a take home salary of £23,198.
It's no surprise that the board prices of between £60-400 won't buy you much in Birmingham in 2021, but take a look at the full findings of our research below to see just how much the average property would set you back in each area of Birmingham.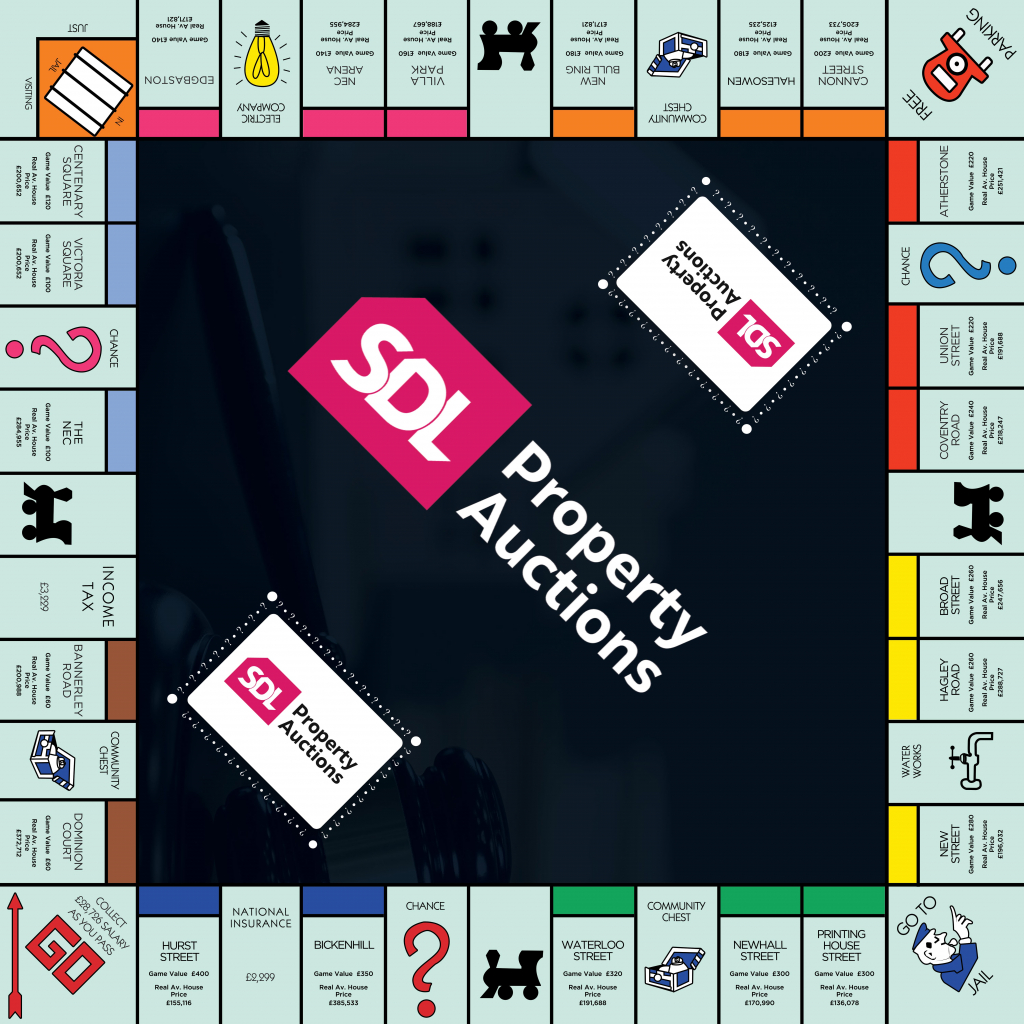 Dominion Court
Board Price → £60 
2021 Average → £372,712
Bannerley Road
Board Price → £60
2021 Average → £200,988
Conversely to the board pricing, Dominion Court very nearly topped our list with the second most expensive average property asking price compared to all other areas at the time of our research. Located just a stone's throw from the centre of Solihulll, Dominion Court is made up of a series of desirable office spaces that rarely come up for sale.
Bannerley Road on the other hand is home to an industrial estate in Garrett's Green. Typically you can find engineering, vehicle servicing and construction businesses here.
The NEC
Board Price → £100
2021 Average → £284,955
Victoria Square
Board Price → £100
2021 Average → £200,652
Centenary Square
Board Price → £120
2021 Average → £200,652
The NEC is more of a destination than a property hot spot. Similarly, Victoria Square is a pedestrianised square where you can find the Town Hall and Council House. Because of its central location between the Bull Ring and Brindleyplace, the property market – whether commercial or residential – is not particularly active. Located on the North side of Broad Street, Centenary Square is also largely pedestrianised and comes alive at Christmas with the Christmas market and temporary ice rink located here.
Edgbaston
Board Price → £140
2021 Average → £171,821
NEC Arena
Board Price → £140
2021 Average → £284,955
Villa Park
Board Price → £160
2021 Average → £188,667
Home to Warwickshire County Cricket Club, Edgbaston is considered to be an affluent suburban area of central Birmingham. The property market here is bustling thanks to the area boasting the Priory Club, Birmingham Botanical Gardens, the Edgbaston Archery and Lawn Tennis Society and a Michelin star restaurant. The very first game of lawn tennis was also played in Edgbaston and its reputation as a desirable area to live has been long standing.
The NEC Arena and Villa Park are both iconic stadiums located in Birmingham. The NEC Arena hosts concerts and events, while Villa Park is home to Aston Villa FC.
New Bull Ring
Board Price → £180
2021 Average → £171,821
Halesowen
Board Price → £180
2021 Average → £125,235
Cannon Street
Board Price → £200
2021 Average → £205,733
Opened back in 1964, the Bull Ring is Birmingham's premier shopping destination and is home to over 200 retail spaces including John Lewis and Selfridges. The Bull Ring is owned by multiple parties, but majority proportions are owned by property company Hammerson (50%), Henderson Shopping Centre Fund (33.33%), CPPIB (16.7%) (source). Cannon Street is also located in the heart of the city centre and is lined with shops including clothing stores, bridal shops and beauty bars.
Moving out of town, Halesowen is nine miles west of the city centre and is a suburban market town that borders green belt land, meaning homeowners here have great access to the countryside. It also has excellent road links as it is close to the M5 (J3). You can expect to find a lot of 1960s and 70s houses here as most of the houses were built after World War II, but you can still find the odd Victorian and Edwardian terraced house if you're lucky.
Atherstone
Board Price → £220
2021 Average → £251,421
Union Street
Board Price → £220
2021 Average → £191,688
Coventry Road
Board Price → £240
2021 Average → £218,247
The Roman village of Atherstone has a lot to offer prospective buyers – which is good news whether you are buying or selling property here. Once a humble town famous for its production of felt hats, due to its central location to pretty much everywhere in the UK, Atherstone's economy has grown substantially. Global companies such as Aldi, 3M and TNT have set up head offices or national distribution centres in the town. This has made it an in-demand location when it comes to property investment – whether to buy or let, commercial or residential.
Union Street is another famous road in the centre of Birmingham. You can expect to see well-known high street chains situated here including Superdrug, The Fragrance Shop and WHSmith. To the East of Birmingham city centre you'll find Coventry Road – a main road running between the city and Birmingham Airport. With its great transport links both local and international, look out for desirable property hotspots either side of this road, such as near Hatchford Brook Golf Club and Elmdon Park.
Broad Street
Board Price → £260
2021 Average → £247,656
Hagley Road
Board Price → £260
2021 Average → £288,727
New Street
Board Price → £280
2021 Average → £196,032
Broad Street is famous for its nightlife. Both commercial and residential properties can be sought-after here because of its famous reputation as such a popular nightspot. With such a central location and lots going on, you can expect good footfall for any commercial properties and apartments in this area can deliver a great yield from both students and young professionals alike.
Situated on one of the main roads into the city centre, every other building on Hagley Road is a hotel or B&B and this is what the road is well-known for.
Yet another shopping hot spot on the board, New Street is home to Birmingham's central train station as well as being one of the city's principal shopping streets.
Printing House Street
Board Price → £300
2021 Average → £136,078
Newhall Street
Board Price → £300
2021 Average → £170,990
Waterloo Street
Board Price → £320
2021 Average → £191,688
Printing House Street is home to just a few buildings. The most prominent of these is the Post & Mail Building, constructed in the 1960s and now a refurbished flexible working and living space.
Quite literally a stone's throw from the city centre, Newhall Street is adorned on both sides with office space and flats. For those that want either a commercial or residential property that is right in the heart of Birmingham, Newhall Street is worth a look.
One of the older streets in Birmingham and boasting some great architecture, Waterloo Street is home to hotels, eateries and great-looking office spaces.
Bickenhill
Board Price → £350
2021 Average → £385,533
Hurst Street
Board Price → £400
2021 Average → £155,116
Holding one of the most prestigious spots on the Monopoly board, Bickenhill also commands a high average asking price for its properties. The top of our list with an average property value of £385,533, the village is located in the Solihull district and has great transport connections, including Birmingham Airport, the M42 and the A45
It's no surprise that the most famous space on the Monopoly board has been taken by a city-centre location. Hurst Street is the main street of the Birmingham Gay Village and is located along the edge of the Chinese Quarter. Packed full of bars and with guaranteed footfall, commercial properties in this area don't come up all that often and above each first-floor commercial outlet is several floors of flats, popular with young professionals and students.
What do you think of the average house prices in Birmingham? Tweet us @SDLAuctions or join the conversation by following us on LinkedIn.

Hoping to find your perfect property? Visit our Property Finder page to browse the properties in our upcoming auctions, you can even filter by location to view only Birmingham properties.