13th October 2021
Landlords – what you need to know in 2021/22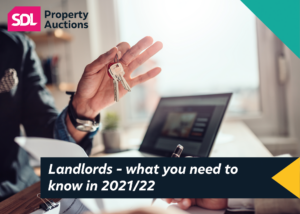 Landlord advice can be challenging to wade through and it can be even harder to keep up with all the changes to rules and regulations around letting property to tenants.
According to the National Residential Landlords Association (NRLA), in 2021 there are currently 168 laws affecting private landlords, a 40% increase in the last decade. One of the most high-profile pieces of guidance in 2021 for landlords is the new model tenancy agreement which was introduced in January and includes steps designed to make it easier for pet owners to rent property – in theory, at least.
Here we explain all the changes landlords should look for in 2021 and what to expect in 2022.
Letting property to tenants with pets
Lockdown loneliness triggered a surge in pet ownership and this went hand in hand with The Negotiator reporting an increase in searches on Rightmove for pet-friendly homes to rent, with the portal reporting a 120% rise in demand for properties where the landlord accepts cats or dogs.
Updates to the model tenancy agreement in January 2021 provide guidance on letting to tenants in England with pets, although it's important to note that the changes are just guidance and not the law.
The updated model tenancy agreement states that tenants wishing to keep pets should seek written consent from the landlord in advance. In response, the landlord:
should not unreasonably withhold or delay a written request from a tenant without considering the request on its own merits;
should accept such a request if they believe the tenant to be a responsible pet owner and the pet is suitable for the property;
should respond to the written request within 28 days of receipt, otherwise consent is deemed to be granted;
must not charge a fee for keeping a pet, although they may increase the deposit as long as it is protected in an authorised tenancy deposit scheme and, in line with the Tenant Fees Act 2019, does not exceed the deposit cap which is the equivalent of five weeks' rent for assured shorthold tenancies up to an annual rent of up to £50,000. (Source: DPS)
This change was tentatively called a "step in the right direction" by Dogs Trust's Lets with Pets campaign, although landlords can still refuse to take pets and don't have to use the model tenancy agreement at all. However, this issue is not going away. There is pressure from cross-party MPs to relax the Tenant Fees Act to allow landlords to stipulate that tenants take out insurance against pet damage, and the proposed Dogs and Domestic Animals (Accommodation and Protection) Bill is awaiting its second reading in Parliament.
Meanwhile, Lets with Pets has created some landlord advice for those considering accepting tenants with pets.
Letting with pets in Scotland, Wales and Northern Ireland
The model tenancy agreement in Scotland was updated in April 2021 to accommodate emergency COVID-19 procedures which will remain in place until 31st March 2022. However, unlike the model tenancy agreement in England, the pet clause has not changed. In Scotland, the model tenancy agreement says tenants must not keep animals or pets without prior written consent from the landlord. Mydeposits Scotland has landlord advice about pet clauses.
One difference in Scotland, Wales and Northern Ireland is that landlords can request an additional pet deposit on top of the tenancy deposit. This can be used at the end of the tenancy for any damage caused by the pet and, like the tenancy deposit, must be protected in a recognised tenancy deposit scheme.
The Welsh Government is currently consulting new draft regulations linked to the Renting Homes (Wales) Act 2016, although the RSPCA has expressed disappointment that the proposals have no specific reference to the keeping of pets.
How has the coronavirus pandemic changed Right to Rent checks?
To minimise face-to-face contact during the COVID-19 pandemic, the government introduced temporary changes to Right to Rent checks in March 2020, allowing landlords to check a tenant's right to rent in the UK remotely. These changes remain in place until 5th April 2022 and any checks carried out remotely will remain valid once restrictions have been lifted. Plans to carry out additional retrospective checks have been abolished.
Further landlord advice is expected from the government about checks which are carried out on or after 6th April 2022, although it has said there are plans to introduce a new digital solution which will enable checks to continue to be conducted remotely with enhanced security.
How has Brexit affected Right to Rent checks?
Following the UK's departure from the European Union, the government has issued new guidance on Right to Rent checks, last updated on 31st August 2021 to reflect the end of free movement. A six-month grace period ended on 30th June 2021 and now European Economic Area (EEA) or Swiss citizens and their family members require immigration status in the UK, the same as other foreign nationals, determined by the new UK points-based immigration system.
The list of acceptable documents has therefore changed and an EEA passport or national identity card are no longer enough to prove a tenant or prospective tenant's right to rent in the UK. They must prove that the Home Office has granted them:
Settled Status, which gives them a continuous right to rent, in the same way as someone with Indefinite Leave to Remain;
Pre-Settled Status, which gives them a time-limited right to rent. In this case, landlords must carry out a follow-up check, as advised by the Home Office online service.
Landlords do not need to carry out further Right to Rent checks on EEA or Swiss citizens who began a tenancy agreement on or before 30th June. Discover more landlord advice using the government's online right to rent service.
Have Right to Rent checks changed for Irish citizens?
Tenants from the Republic of Ireland retain their right to rent in the UK and can prove their status as before, using their Irish passport, Irish passport card, Irish birth or adoption certificate along with another document from the approved list.
How has Brexit affected data protection regulations?
The UK may have left Europe but the rules of General Data Protection Regulation (GDPR) which came into force across Europe in May 2018 still apply, alongside an amended version of the Data Protection Act of 2018.
From a landlord's point of view, tenants' data – including name, address, email address, phone numbers etc – must still only be collected for legitimate, strictly necessary reasons with their consent. It must be stored and processed securely and only for as long as it is required.
The UK now has the option to review the data protection framework and the Guardian has reported that the government plans to do just that.
Which rented properties need an Electrical Installation Condition Report?
It became a requirement to have the electrical installation in rental properties checked by a qualified electrician to ensure they are safe for all new new tenancies from 1st June 2020 and for existing tenancies from 1st April 2021. Tenants should be given a copy of the report.
An Electrical Installation Condition Report (EICR) is now required on rental properties every five years. This applies to all Assured Shorthold Tenancies (ASTs) and Licences to Occupy, including Houses in Multiple Occupation (HMOs). Failure to comply can result in a fine of up to £30,000. There is further landlord advice at Electrical Safety First's website.
What does the new Fire Safety Act mean for owners of apartment blocks?
Landlords who own blocks of flats or apartments should take note of the new Fire Safety Act 2021 which received Royal Assent at the end of April and follows tragedies at Grenfell Tower and elsewhere.
The new Act makes duty holders and owners of residential buildings containing more than one home responsible for managing and reducing the risk of fires. The legislation has been expanded to cover the structure of the building, including cladding, walls, balconies, windows and individual entrance doors – and fire and rescue services can take enforcement action if building owners do not comply.
What does the Building Safety Bill mean for landlords and tenants?
A further response to the Grenfell Tower tragedy is the Building Safety Bill which is coming soon and will apply to high-rise residential buildings. Under the new laws, landlords must appoint a building safety manager for each building of at least 18 metres or seven storeys; deemed to be higher-risk buildings. This person will be responsible for assessing and managing the building's safety risks and obtaining a building assessment certificate.
The bill has implications for leaseholders, too; with reasonable notice they will be obliged to grant access to their dwelling to the landlord or the landlord's agents to carry out safety work. Some leaseholders will also be required to pay a proportion of any building safety charges incurred by the landlord in the form of a service charge.
The building safety manager will have a duty to listen to residents' safety concerns. If residents feel they are being ignored, they can raise their concerns with the Building Safety Regulator, a new regulatory body with enforcement powers. Residents will be able to seek compensation for substandard construction work up to 15 years after the property was built.
The bill is not likely to be passed until 2022 and the legislation is expected to be in place 12-18 months later.
What is the law on smoke alarms and carbon monoxide detectors for landlords?
The current regulations, which came into force in 2015, state that landlords in the private rented sector in England and Wales must:
Install at least one smoke alarm every floor used as living accommodation in their rental properties;
Install a carbon monoxide (CO) alarm in any room used as living accommodation where solid fuel is used;
Ensure the alarms are working at the start of each new tenancy.
In Scotland, private landlords must provide a CO detector where there is a fixed combustion appliance such as a gas boiler or solid fuel stove, although not for gas cookers. Since February 2021, all homes in Scotland – not just rented – must have a working smoke alarm in living rooms, hallways and on landings, as well as heat alarms in kitchens and carbon monoxide detectors in rooms with wood burners or boilers.
Northern Ireland requires carbon monoxide alarms where a new or replacement combustion appliance is installed.
However, landlords in England and Wales can expect the rules to change as the government has been consulting on extending the regulations to social landlords and requiring private and social landlords to install carbon monoxide detectors in rooms containing fixed combustion appliances of any fuel type, such as gas boilers. As a low-cost and easy solution to a potentially deadly problem, it is highly recommended that all landlords follow this guidance, regardless of whether it becomes law.
What EPC rating do rental properties need in 2021?
In 2021, and from April 2020, all rental properties have required a minimum energy performance rating of E on an EPC to meet minimum energy efficiency standards (MEES) unless they have a valid exemption. In most cases, failure to comply with this legislation could result in a civil penalty of up to £4,000.
Unless an exemption is registered, a residential or commercial property must not be let with an EPC rating of F or G and the landlord must improve the property's rating to E or higher before entering into a new tenancy. If there are no plans to let the property, an exemption does not need to be registered.
Landlords are not currently expected to invest more than £3,500 (including VAT) on energy efficiency improvements and if a property cannot be brought up to EPC E within this budget, landlords should spend this amount on improvements then register for an 'all improvements made' exemption.
MEES regulations will be extended to all existing commercial leases in April 2023.
And the government wants to improve the energy efficiency of as many privately rented homes as possible in England and Wales even further. The Domestic Premises (Energy Performance Bill) will require most rented properties in the UK to achieve EPC C or above by 2025. The cap on landlords' spending on improvements is likely to increase, too; the Committee on Fuel Poverty recommends a maximum of £15,000.
In Scotland, The Energy Efficiency (Domestic Private Rented Property (Scotland) Regulations 2020 have been delayed by the pandemic. When these take effect, private rented properties will need an EPC rating of E or higher at the start of a new tenancy starts, with all tenancies eventually complying. In addition, the Scottish government is proposing that all residential properties will be required to achieve an EPC rating of at least C by 2040.
What are the new heat network regulations for landlords?
A small percentage of landlords operate unmetered heat networks and will be affected by changes to the The Heat Network (Metering and Billing) Regulations 2020. They must re-register their heat network with the Office of Product Safety and Standards (OPSS) by 27th November 2021 and repeat this every four years. A cost assessment must be performed and if a meter is required, these must be installed by 1st September 2022.
Has the eviction ban ended?
The ban on bailiff-enforced evictions, designed to protect tenants with rent arrears during the pandemic, has now ended across the UK.
In England and Wales, since 1st August 2021, the notice period for tenants with less than four months' unpaid rent has been reduced to two months. For those with arrears of four months or more, the notice period is four weeks. In Scotland, longer notice periods are in place until 31st March 2022.
Although evictions are once again possible, the government is urging landlords to try to resolve matters with their tenants without going to court and is funding the pilot Rental Mediation Service (RMS) which is free for landlords and tenants to use.
It has also launched the The Debt Respite Scheme, or Breathing Spaces, in England and Wales to provide people in financial difficulties with legal protections from creditors, including landlords, for up to 60 days. Those receiving mental health crisis treatment will have additional protection, with the breathing space lasting as long as the treatment, plus 30 days. This is similar to the Statutory Moratorium available in Scotland.
Is Section 21 being scrapped for no-fault evictions?
Under the Renters Reform Bill, details of which are expected to be announced in the autumn, no-fault evictions and Section 21 of the Housing Act 1988 are likely to be scrapped. This is designed to provide greater security to tenants but has implications for landlords. Details are not yet clear but it is expected that landlords will still be able to retake possession of their properties under certain circumstances, including if they or a family member wishes to move into it, or they wish to sell it.
How does Making Tax Digital affect landlords?
The government is Making Tax Digital and will require businesses to keep digital accounts and send financial updates to HMRC electronically each quarter.
VAT-registered businesses with a taxable turnover over £85,000 are already required to file quarterly digital accounts and VAT-registered businesses with a turnover below this amount will need to start following the Making Tax Digital rules from April 2022, although they can start earlier if they wish.
From 6th April 2023, Making Tax Digital is being rolled out to everyone, including landlords, who earns more than £10,000 a year from self-employment or property. For landlords that means rental income, not profit.
Landlords' mortgage interest relief changes
If a tax return has not yet been filed for the year 2020-2021, landlords should be aware that this is the first full year where they cannot deduct mortgage interest expenses from rental income. Instead, landlords will receive a tax-credit based on 20% of their mortgage interest payments.
Stamp duty holiday ends
Until the end of September 2021, the nil rate band for stamp duty land tax (SDLT) applies to properties up to £250,000, although second home buyers continue to pay the 3% surcharge. From 1st October 2021, standard stamp duty charges return, meaning SDLT is payable on all properties over £125,000, apart from for first-time buyers.
Stamp duty surcharge for overseas investors
In addition, new stamp duty charges came into effect for non-UK residents on 1st April 2021, requiring investors from overseas to pay an additional 2% in stamp duty on buy-to-let properties in England and Northern Ireland. To be classed as a UK resident, the buyer must be living in the UK for at least 183 days during the 12 months before the purchase.
Is Capital Gains Tax (CGT) going to double?
There have been rumours of Capital Gains Tax (CGT) increases for many months and this is one of the reforms the government's Office of Tax Simplification is considering as part of its Capital Gains Tax Review.
In its first report, published in November 2020, the Office of Tax Simplification made a number of recommendations, including alignment of income tax and capital gains tax rates, which could potentially double Capital Gains Tax (CGT) liability for some, and significantly increase CGT for those selling properties.
Currently a basic rate taxpayer pays 20% standard income tax, which is considerably higher than the 10% CGT they pay on disposal of assets, and slightly higher than the 18% CGT due on property.
Higher rate taxpayers currently pay 40-45% income tax, double the standard Capital Gains Tax rate of 20%, and significantly higher than the 28% CGT rate on residential property.
Another change being considered is the extension of the 30-day deadline for filing a UK Property tax return after disposing of a residential property.
The review is still ongoing and this is definitely one to watch in 2022.
Do landlords need Client Money Protection?
This legislation affects landlords in England who use a letting or property management agent and became enforceable from April 2021. Landlords are not directly affected but all letting and property management agents who hold clients' money must join a government-approved client money protection (CMP) scheme by law or face a fine of up to £30,000. The scheme protects tenants' and landlords' money – deposits, rental payments etc – against theft or misappropriation by a letting agent and ensures landlords and tenants can receive compensation if a letting agent cannot repay them.
For their own peace of mind, landlords should only use an agent with client money protection in place. It's easy to find those which comply as they must display their certificate in their office and on their website; they can be fined up to £5,000 if they don't display the certificate or provide it when asked.
How will Regulation of Property Agents affect landlords?
Regulation of Property Agents in England is still under consideration by the government with no date announced for its introduction, having been delayed by the pandemic. Among the recommendations include mandatory qualifications for property agents. Again this does not affect landlords directly but those using a letting agent are advised to be aware of the upcoming changes and check what steps their agent is taking to comply, such as working towards the necessary qualifications.
What next for HMO regulation?
There are already many rules and regulations which apply to Houses in Multiple Occupation (HMOs), plus landlords require a licence from their local authority, which must be renewed every five years.
Further regulation is currently being considered, including:
The Supported Accommodation Bill and the , both of which aim to stamp out HMOs which masquerade as exempt and supported accommodation and are therefore unregulated. Both bills had their first reading in parliament in November 2020 and are still awaiting their second reading.
The Houses in Multiple Occupation Bill, which seeks to amend the law relating to HMO licensing, introducing larger minimum room sizes, preventing landlords from marketing non-compliant HMOs as bed and breakfast accommodation or AirBnBs and increasing penalties for contravention of licences.
Faster broadband for apartment blocks
Under a new law passed in March 2021, the Telecommunications Infrastructure (Leasehold Property) Act 2021, landlords of apartment blocks must now respond to requests from broadband providers for access to the property or risk court proceedings. Network operators require permission from the landowner to access the building to install, upgrade or maintain broadband provision and it was found that around 40% of requests were ignored, a problem which became more urgent in 2020 as many tenants struggled to work from home without adequate broadband provision.
What are lifetime deposits for renters?
The upcoming Renters Reform Bill recognises that tenants may struggle to save for a deposit on a new rental property before receiving the deposit back on their current home. Instead it proposes that tenants can transfer their security deposit to the next property, minus any deductions for repairs. More details of this bill are expected in the autumn.
Rogue landlords database
Another aspect of the Renters Reform Bill is a proposal to make the government's database of rogue landlords available to tenants, agents, landlords and professional bodies. More details are expected in autumn 2021.
Looking to grow your portfolio? Why not use our Property Finder? Or maybe you are worn out by all the ever-changing landlord rules and regulations? If you've had enough and are considering selling some or all of your portfolio, why not click here or call our friendly team on 0800 304 7879 for a free, no-obligation auction valuation.