14th April 2021
How to get finance for an auction property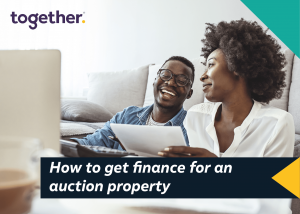 In this article, the first in a series of guest blogs from our auction finance partner Together, we explain what auction finance is and how it can be useful for all types of auction purchaser.
Buying a property by auction is a very exciting process. The properties you'll find are often unique, and you might even spot a bargain. Though because it's a less common way to buy property, many people might be put off because they aren't sure how it works, or how to raise the finances for it.
One of the things that makes property auctions so different, and perhaps more daunting, is the speed at which everything happens. You'll usually have less than one month to complete on your purchase from the moment the hammer goes down, which is faster than most mortgages can be arranged.
But auction finance is built for this very purpose, and we're here to explain how it works.
Auction finance is another term for bridging or short-term finance, which means it's used to complete the purchase of an auction property within a strict timescale. You'll then have 12 months to repay the funds in one lump sum – either by arranging longer-term borrowing (like a mortgage), selling the property on (if you're an investor), or when you've sold a previous property.
In the meantime, one of two things will happen.
You'll make monthly interest payments – which you can choose to bundle any fees into.
Or, your interest will be added to the lump sum you'll repay at the end instead. With Together, this is available if you're buying the property to live in, and means you won't have to make interest payments at the same time as your existing mortgage.
At Together we are a team of specialist lenders who regularly work with bidders buying with SDL Property Auctions. We can often lend to more people on a wider range of properties than other finance providers. Because property auctions should be, and are, open to anyone – not just developers and investors.
Flexible on your income
Together have an open mind when it comes to assessing income, including if you're:
Self-employed (whether it's your full time job, or just a side-hustle)
Receiving rental income
Working more than one job
Claiming a pension or receiving benefits
And any other way you're topping up your income, including child maintenance payments, bonuses and overtime (please note we only accept weekly and monthly overtime payments).
Flexible on property
Together can also be flexible on the type of property you're looking to buy, whether it's a residential property, a commercial property, or whether it's a bit of both (such as a shop with a flat above).
At Together we are also experienced when it comes to unique properties, including:
Non-standard construction (for example, if the property is made of timber, or has a thatched roof)
Properties in a poor or uninhabitable condition
Properties requiring a change of use classification, or conversion
Properties needing dividing up into several, smaller units
Land – with or without planning permission
In our next few blogs, we'll talk you through which scenarios are most likely to call for auction finance, and the process of applying for one. In the meantime, if you'd like any further information take a look at our auction finance page or contact the team at Together here.
*Any property used as security, including your home, may be repossessed if you don't repay your loan.