24th October 2023
How do live-streamed auctions work?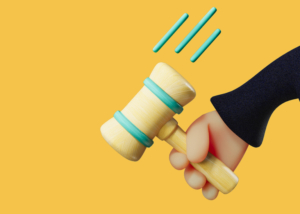 In the post-covid era, most tasks can now be completed online, removing the need to travel anywhere in person. This extends to our live-streamed property auctions, which have seen a high level of success and increasing demand for a number of years, as their easy accessibility allows individuals to participate from anywhere. This saves them from forking out on travel expenses to physically attend an auction house, opening opportunities for more bidders and creating more interest for sellers.
Whether you're a prospective bidder, seller, or you're simply interested in observing, our Auction Events seamlessly blend the traditional auction experience with modern technology and expert advice. This helps our clients find success from our live-streamed property auctions, maximising the value obtained for their properties while widening the range of exciting lots available for buyers to bid for.
Our auctions see hundreds of residential and commercial properties, as well as plots of land, sold every month for all kinds of clients. In this post, we'll provide advice on how to join our Auction Events, give more information about what you can expect from these, as well as guidance on bidding or selling a property in our live-streamed auctions.
Can I watch a property auction live?
Yes! Whether you're looking to register to bid or sell at our live streamed property auctions and want to see what the process involves before you commit, or you're simply interested in seeing how it all works, you can watch any of our Auction Events. These are broadcasted on our website at 10am on the final Thursday of each month from our exclusive auction studio by a live auctioneer. You also don't need to log in to watch our live auctions, and viewing the stream is completely free, so there's no need to prepare or commit to anything ahead of time.
To watch our live-streamed auctions, head to our Auction Events page, click the auction you would like to watch and click 'watch auction live.'
If you're interested in viewing the range of lots available for a particular auction before it commences, these can be viewed online before the event starts. You can do this for our next live-streamed auction by browsing through our catalogue. Here you can find a whole host of property types including vacant and tenanted properties, mixed-use and retail lots, commercial spaces and developments, land and building plots, project homes and ready-to-move houses.
How to bid on a property in a live-streamed auction
From developers to investors, and those simply looking for a home, our live-streamed property auctions see a wide range of bidders. If you're looking to take part in one of our live-streamed property auctions, you will need to register to bid remotely through filling in our remote bidding form, stating if you'd prefer to bid by phone, internet or by proxy. This can be done any time until 5pm on the day before the auction. Once you've filled in our registration form, you will need to complete the following steps:
List all lots you're interested in on your registration form: This will need to be done if you're interested in more than one lot listed for a particular auction. Once we have received your form, you will shortly receive an email from Credas, our secure identity verification system.
Verify your ID through the Credas app: To provide us with your ID verification, you will need to download the Credas app. The app supports Apple or Android phones or tablets.
Enter your payment details: Once you've downloaded the Credas app, we'll request your payment details, but you won't be charged anything at this stage. The reason for this is to ensure the process runs smoothly and payment can be taken immediately after a successful bid is made, with no issues or delays after the auction.
Tune in to the auction: Although our live-streamed auctions begin at 10am, we recommend joining around 10 minutes early to ensure you don't experience any technical difficulties and you're ready to start bidding. Once the auction commences, you can watch as the lots are offered in lot number order and make your remote bids in real time. If you can't watch the live auction, you can make remote bids on the phone or by proxy if you've been set up to do so.
Contracts exchanged and deposits taken for successful bids: For unconditional property sales, the deposit and any fees will be taken immediately, and there will be a 30 day period available for exchange of contracts. For conditional sales, the buyer has a 60 period in which to organise their affairs and financing, pay their deposit and complete the sale.
Can I view a property before the live-streamed auction?
Yes, you can view most of our properties prior to the auction. This is done through attending a physical viewing of the property, or watching a virtual viewing, which can be completed through the following steps.
Physical property viewing:
Where access allows, we offer physical viewings of properties listed in our auctions. Prospective buyers are requested to register interest prior to arriving at the property so, if you're interested in viewing a lot, this needs to be booked ahead of time by following the steps detailed below.
Go to the property listing – A physical viewing can be booked online through selecting 'book viewing' on your preferred property listing.
Select preferred dates and times – Once you've selected this, there will be a list of dates and times provided and you should choose the one that works best for you.
Request viewing if needed – In instances where there are no dates, you'll be given the option to request a viewing for that lot and we'll contact you once we have more information. There are also occasionally instances where viewings aren't possible, so a virtual viewing will need to be carried out (see below).
Once you've submitted your preferred dates and times (where this is possible) you'll be sent a confirmation email. For viewings on any auction property, we would recommend that you bring someone along with you.
Virtual property viewing:
We would always recommend watching the video viewing of a property before you go to view this in person by selecting 'virtual viewing.' These viewings are also available in instances where viewing the property in person isn't possible.
How to sell a property in a live-streamed auction
A fast and reliable way to sell a property, or plot of land, we can help you sell your commercial or residential lot at an upcoming auction event. No matter the property you're looking to sell, the majority of dwellings can be sold at our live-streamed auctions. Whether it's your first-time selling a property and you're looking for some guidance, or you have a question about an upcoming auction, our team can help to support you through this process from start to finish.
If you're looking at selling in our live-streamed auctions, you can find out more about this on our selling page. However, selling at a lived-streamed property auction generally involves the following:
Request a free sales valuation: to sell at one of our auction events, you will need to request a free, no obligation sales valuation. This involves filling in a form stating your property type, address, property details and providing your contact information. Once you've filled in the form, we'll aim to get back in touch within 24 hours.
Choose your preferred sales method: If you decide to join us as a seller at one of our live-streamed auctions, we can help you choose which method (conditional or unconditional) to sell by. You can read about the difference between a conditional vs unconditional auction sale on our blog.
Set your reserve price: When you're happy with the sales method, we can also help you set a reserve price.This is the minimum that you would be willing to sell your property for, and is usually agreed between the seller and auctioneer.
Prepare legal documents: The legal pack, which contains essential property information for the buyer, should be put together by your solicitor. Alternatively, we can recommend one of our partners to compile this for you. To learn more about how this works – read our full guide to auction legal packs over on our blog.
Once you've completed the above steps, you'll be ready to sell your property at one of our live streamed auctions. However, if you have any further questions about selling with us, feel free to contact our team.
When is our next live-streamed auction?
Attended virtually by all kinds of buyers, sellers and spectators, keep up to date with our auctions by heading to our live-streamed auctions page to view all upcoming dates. If you're bidding, we recommend carefully browsing the lots then registering to bid through your preferred method (internet, phone or proxy) ahead of the day to give you enough time to get prepared.
Live-streamed auctions at SDL Property Auctions
Whether you're looking at buying or selling in one of our upcoming auctions, or you're simply interested in finding out more about the process by observing how it all works, take a look at our upcoming auction events and find a lot, register to bid, or request a free sales valuation today.