16th September 2021
How do our live-streamed property auctions work?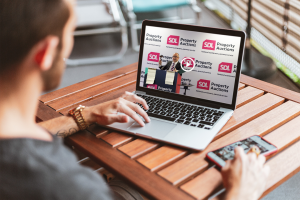 In the wake of the coronavirus, we've had to do things a little differently here at SDL Property Auctions. Unable to hold large gatherings, as is the nature of a room auction, we quickly adapted and moved to a behind closed doors model. While unable to invite bidders to physically join us, much of what happens on auction day has remained the same, with one of our auctioneers conducting the property auction live from our auction studio.
Although initially we weren't sure what the outcome of this new way of working would be, we were prepared to make the necessary changes and we've found it to be quite the success. We've achieved growth in terms of the amount of lots we've offered for sale by auction, and we have raised over £300m for our sellers since the pandemic began. We now claimed the position of the most successful live-streamed property auctioneer in the UK!
And the fantastic opportunities to buy haven't stopped there, we're consistently seeing new sellers approaching us and exciting residential and commercial properties coming in for you to take advantage of as a buyer.
All our regional Auction Events have been broadcast live on our website for over ten years, so we knew we could make our new live-streamed monthly National Property Auctions work well. We have been successfully operating bidding online, by phone and by proxy for a decade and have an entire system in place to allow for seamless remote bidding. This made us comfortable that we could successfully achieve excellent results for all involved via a live-streamed auction, as we had the best possible technology and an expert team of people all dedicated to making it work.
In this post, we outline exactly how our live-streamed National Property Auctions work and how you can be involved to hopefully make your winning bid.
How can I find property that is being sold in a live-streamed auction?
When looking for a property to purchase in a live-streamed auction, you can view the lots for sale on our website. Try using our handy Property Finder. The properties sold in our auctions are widely marketed before going under the hammer. To find out more information about a particular property that will be sold during a live-streamed auction, you can read the detailed description online which includes all key features of the property. You can also view the legal pack, which contains important information about title deeds, local authority and environmental searches, a fixtures and fittings list, as well as more details about the seller and any relevant leasehold information.
Can I view a property before the live-streamed auction?
Yes, you can now view a property ahead of our auctions. Initially due to the coronavirus pandemic the Government banned all property viewings, we are once again able to offer safe viewings.
Dates and times are now published on our website property listings with the option to book viewing directly online. Following this booking you will receive an email confirmation. In the cases where we have not yet set up viewing times you will be given the option online to request viewing. We will then contact you once the dates and times are established. For some land lots and properties where we are unable to gain access it will state no viewings on the property listing.
Our accompanied viewers will meet you at the property and will be wearing a mask. They will enter the property to open windows to ensure it's fully ventilated prior to commencing the viewing.
Wherever possible we will post a video tour of each lot to the online property details, and we encourage all potential bidders to watch this ahead of booking an in-person viewing at the property.
Register to bid remotely 
Firstly, you must pre-register to bid remotely, either online, on the phone or by proxy. To do this, you can use our remote bidding form here. Please be sure to inform us of the amount you are prepared to bid up to if filling in your form for a proxy bid.
If you are interested in more than one lot in an auction, then you must fill out a separate form for each property you wish to bid on. Once we have received your form for processing, you will then receive an email from Credas, our identity verification system, within 30 minutes. To provide us with your ID verification, you will need to download the Credas app on a smartphone or tablet.
We will then request your payment details, but you will not be charged anything at this stage. This will help us to ensure you don't experience any issues or delays post-auction.
Unless something changes regarding the lot(s) you plan to bid on, then you are unlikely to hear from us again ahead of the auction so please be sure to set up a reminder for the live stream. If you have requested a proxy bid and you wish to change your maximum bid amount, then please contact us via remotebid@sdlauctions.co.uk.
Watch the live auction
Once you are all set up for remote bidding, simply sit back and tune in to the live-streamed auction. You can then watch as the lots are offered in lot number order and make your remote bids in real time. If you're not able to watch the live auction, you are still able to make remote bids on the phone or by proxy, if you have been set up to do so.
You don't need to be a seller or a bidder to watch any of our live auctions. Simply head to our website or click here. Our auctions begin at 10:00am, but we recommend tuning in a little early to ensure you don't experience any technical difficulties and you're ready for bidding with enough time to spare.
What happens if you're the successful bidder?
If your bid is successful, then on the fall of the hammer, contracts will be exchanged by our team on your behalf if the sale is unconditional, or if the sale is conditional, you will enter a reservation agreement and have a 20 day period to get any affairs in order before exchanging contracts. Your deposit will be taken from the payment method you provided in your remote bidding application. A member of the SDL Property Auctions team will then contact you to provide you with all the information necessary and will pass on copies of the legal pack to your appointed solicitor.
Completion of the sale
The completion work can then begin. This process is exactly the same as always, with a completion period of 20 working days from exchange with an unconditional sale and for a conditional sale it's just 56 days to exchange and complete.
What do our sellers and attendees have to say about the live-streamed auction experience?
Not only have the team at SDL Property Auctions found our live-streamed auctions to be a success, but our happy sellers and buyers are also satisfied with the service they've received. Take a look at our Trustpilot reviews.
When is the next live-streamed auction?
Our live-streamed National Property Auctions take place on the last Thursday of every month and include properties from across the whole of the UK. To see all our upcoming auction dates, head here, and be sure to register ahead of the auction day so you can place your remote bids.
If you require any help or advice with our live-streamed auctions, then contact our friendly team on 0800 064 5454 or email heretohelp@sdlauctions.co.uk.