22nd June 2021
How auctions can ease the retirement flats bottleneck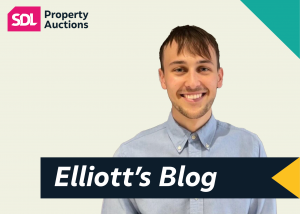 The SDL Property Auctions team is experiencing an influx of enquiries from people selling retirement properties. Here Auction Expert Elliott de la Fuente-Parker explains the reasons for the surge and how SDL Property Auctions can help.
We are receiving a high number of calls from people asking us to value a retirement apartment – which is unusual for such a niche market.
These enquiries are yet another result of the coronavirus pandemic which has seen the retirement property market freeze for almost a year and a half, with very few people moving into apartments of this type. Now, as pandemic restrictions are being eased, a year's worth of stock is flooding the market so we are experiencing a bottleneck, with clusters of properties for sale in the same development.
This is certainly the case in the prestigious Larmenier Retirement Village in Blackburn, where we are offering a ground-floor apartment in a Buy It Now sale for a fixed price of £80,000. Apartment 15 in Southworth House features a kitchen, lounge, one bedroom and walk-in shower room, while outside there are secure communal gardens with an area for owners to grow their own plants. On-site facilities include a hairdressing salon, coffee bar, games rooms, reading rooms, activity rooms, a cinema and a private chapel.
Another example is a second-floor flat in the West Midlands, which we are selling in partnership with Dixons. Flat 35, Pendene Court, 253 Penn Road in Penn is being sold in a Timed Auction with an attractive *guide price of £50,000+ as the owner is keen to sell. Close to amenities and accessed by a lift, the property, in a development for the over 55s, has an entrance hall, living room, kitchen, two double bedrooms and a shower room.
As is common with many properties of this type, both flats are within purpose-built developments with communal areas and gardens. And while retirement properties such as these are usually marketed at the over 55s, they are often occupied by people who are much older. Therefore it is somewhat inevitable that there have been lots of people vacating these properties. Residents may have had to go into hospital or a care home, and of course there has sadly been an increase in deaths among people in the 70+ age category.
This means that on the whole, enquiries about selling such properties come from bereaved relatives. Of course, we appreciate that selling a property after someone has died can be distressing so we are always careful to treat people sensitively, and do our best to make the sale as swift and trouble-free as possible.
We are mindful that the seller may not live close to the property and that they may be attempting to reach an agreement with siblings or other family members before the property can be sold. These factors – on top of the grief – add extra stress and, while we can't take away the feeling of loss, we can do our bit to help by eliminating hassle with a fast, secure and transparent auction sale.
For instance, relatives who cannot agree on a value can have their disagreements resolved by letting the bidders decide how much the property is worth, safe in the knowledge that there is a reserve price set for security and peace of mind. And we are experienced in selling properties for owners who live at the opposite end of the country or even abroad, so offer a fully remote selling experience.
We realise that private buyers don't always consider auctions but this is gradually changing. Many sellers have been frustrated when their property doesn't sell on the other market, or when a sale falls through at the last minute. This is where we can step in and help.
But increasingly auctions are being seen not as a last resort but as the sensible way to get a quick result. With the market for retirement flats being saturated, there could be a long wait to find a buyer on the open market. Owners could postpone the sale until demand rises but this could mean an even longer wait – and during this time, the property will be sitting empty while still costing money and creating work. It will need to be heated and maintained, and will continue to incur service charges, which could be around £200 a month.
A wiser move would be to seek closure by considering the much faster and more certain route of an auction sale. A high level of commitment is required from buyers, meaning any sale will complete in either 20 or 40 working days, and the risk of it falling through is reduced to almost zero. It's an extremely efficient way of getting a difficult job done.
If you have a retirement property to sell, you can find out more about selling by auction by calling our friendly team on 0800 304 7879. Alternatively, please click here to request a free, no-obligation auction valuation.