22nd February 2019
Debunking the myth: Selling a property by auction is NOT more expensive than using an agent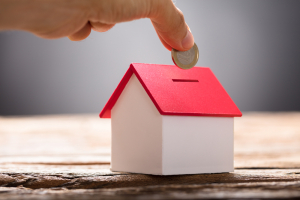 It's a common misunderstanding that selling a property at auction means that you'll get less for your property and that the auction process will cost more than selling with a traditional estate agent. This however, isn't always true. When selling a property by auction, you can expect to incur similar fees to those when selling traditionally, and there is in fact scope to achieve an even higher sale price than the property's estimate.
Estate agent vs auction house tactics
In the initial stages, a traditional estate agent will often suggest a listing price that is slightly higher than the  amount that the agent anticipates the property will sell for.
After a short while, if there is little interest generated, the agent will dip the asking price below the value of the property, and will continue to do so until some interest is achieved. An estate agent may also advise lowering the asking price in order to quicken the sale so that they are able to gain their commission sooner.
Ultimately, this tactic can cost you time and money, as buyers expect offers below the asking price to generally be acceptable, meaning that it has become increasingly rare for sellers to receive the asking price for their property. Recent results published by Rightmove back this up. The difference between final listed asking prices and agreed sale figures has increased from 2.8% to 3.3% over the past two years, with sellers currently achieving 96.7% of the final asking price. This is a difference of more than £10,000 for the average homeowner.
An auctioneer however, takes a completely different approach to marketing and selling your property. At auction, the initial guide price will be attractive to generate interest from a wide range of buyers. The guide price will be within 10% of the reserve price that you wish to set. For those who aren't sure, the reserve price refers to the minimum amount you are willing to sell your property for. If, on the day of the auction, your property does not reach its reserve price, then it will be withdrawn from the auction as unsold, so you don't have to worry about your property selling for a penny less than the minimum price you want to achieve.
By beginning with an attractive price, this encourages buyers to set their sights on your property and, once this interest has been generated, it is likely that they will be willing to battle it out at auction to ensure that their bid is the successful one. This means that as the auction price increases throughout the bidding process, the final sale price your property achieves might surprise you.
Of course, there are fees involved in selling a property at auction, including commission on behalf of the auction house and your solicitor fees. However, the efficient process brings with it savings too, as your property will be sold chain-free and quicker than on the traditional market, which in the current climate can see lengthy delays.
As an example, if your home takes six months to sell using an agent, then the cost of paying bills and other property payments can quickly mount up to thousands of pounds. When selling at auction, the winning bidder enters into a legally-binding contract to pay the funds within just 28 days (depending on the method of sale you choose), meaning you have fewer home bills to pay.
Wider potential market
By selling at auction, you also broaden the potential market. Not only will there be individuals there wishing to purchase your property to live in, there will also be interest from investors, landlords, developers and property dealers. The more interest and the wider the audience involved, the more likely it is that the guide price will increase further and more quickly.
Because of this wide range of buyers, properties that need a little work, completely renovating altogether or are simply just a little unusual could actually be of even greater interest. Buyers at an auction tend to have a keen eye for a project, and will be willing to pay to get their hands on a good one. This means that if your property needs some work, then it is likely it will achieve far more at an auction than it would via an estate agent.
Benefits of selling at auction
When you sell at auction, you're also gaining a vast range of benefits that an estate agent cannot provide.
Marketing and advertisements
You can rest assured that your property will be marketed extensively and appropriately to suit your individual property. We always ensure to advertise all properties in the most positive light possible in accordance with its state. At SDL Auctions we advertise your property widely, both regionally and nationally, for at least four weeks. Not only will it be advertised in the auction catalogue that is distributed to thousands of potential buyers, but it will also be available online too to generate even wider reach. We will also advertise your property in local press if it is to be auctioned at an auction event, on Rightmove and through our social media channels which have a national reach.
Sale security
Another benefit that can lead to cost savings, is that when you sell by auction there is no chance of buyers gazundering you, lowering their offer or pulling out at the last minute. Should this happen to you, this can then mean you will need to pay for more of your solicitors time and your property will need to remain on the open market. This could then cause further delays and when a property spends lengthy periods on the market, it can cause its value to lower.
Quicker way to sell
Selling by auction is a quicker, more definite route. Once the gavel falls, the deal is done. The buyer cannot back out and must pay you your 10% deposit upfront and the remaining 90% within 28 days (depending on the type of sale you have opted for, you can learn more about the different types of sale here). This means the sale will never fall through, causing you further costs. Your property will achieve a good price and this is what you will get.
Reserve price
Selling by auction puts you in full control of selling your property as you are able to set a reserve price that you are happy with. The amount at which you set your reserve price is completely up to you, however the auctioneer will discuss this with you and give you their expert advice during the valuation of your property. Deciding the reserve price early enables the auctioneer to set the guide price, however you can alter the reserve price before the auction should you wish to.
At SDL Auctions, we ensure that your property will never sell for less than you are willing to accept, advising you on the right price and working incredibly hard to get you a positive sale. The reserve price will always be kept confidential and is only disclosed to the public if for any reason the property does not sell on the day.
It's important to note that not all properties will be suitable for sale at auction. We will always be completely upfront with you about selling your property and advise you on whether auction is the best option for you or not.
If you're interested in reaping all the benefits of selling a property at auction, then get in touch with us today to receive your FREE sales valuation.