17th December 2019
A guide to renovating an auction property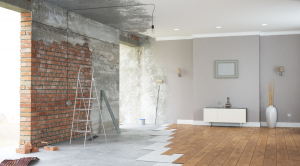 The idea of finding a property in need of TLC and turning it into a home is often any property investor's motivation. Not only is it a great sense of achievement when the project is finished, but you're often also able to turn a decent profit on the price you initially snapped up the run-down home for when selling.
However, it can often be difficult to track down a property with great potential through the open market, as estate agents are far more likely to advertise the attractive properties in their portfolio over those that require a lot of work. This is where property auctions can be very useful to investors, as unique opportunities come along far more frequently, with plenty of bargains to make a profit on to be discovered too.
In this article, we uncover how to buy a project property at auction and how to renovate it following a successful bid, whether the aim is to create your dream home, to lease to a tenant or to achieve a profit.
Consider your maximum budget
It's important to remember when looking to buy a property in need of work at auction, to set a maximum budget. Having a budget in mind can ensure that you only purchase what you can afford, which is important when it comes to making a profit, achieving a good rental yield or being able to meet mortgage payments.
During the renovation stage of the project, investors typically tend to spend more than initially forecast and so it's important to set a budget for the property itself, the renovation works and a contingency budget to account for this. Be sure to factor in any fees involved.
Before you bid on a property 
Before you bid on a property, it's advisable to view it first. This ensures you have a full idea of how much work is required and also helps you to forecast costs as you can begin to form a potential schedule of works. Not only this, but you will also be able to determine whether or not the property meets your level of capability and your budget too.
Be sure to take a look at the area in which the property is located and that it will meet your needs or the needs of any potential tenants. You should also take a look at the current state of the market in that area, should you plan to sell the property upon completion. As the saying goes, you should look to buy the worst house on the best street, as this can be a great indicator of how well the property will fare, regardless of the circumstances under which you're buying.
After you've successfully won a property at auction
Once you have made the winning bid and paid your deposit, it's time to begin to build that schedule of works, leaving no stone unturned.
Should you require planning permission or listed building consent, then getting your permissions and paperwork in order should happen before work on the property begins.
Once you have attained these crucial permissions, a typical schedule of works can be found below. This plan will allow you to schedule who will be carrying out the work, when and how much each element is going to cost, helping you to stick to that all-important budget. (Please bear in mind that this is simply an indication and that each renovation project is different and may vary slightly from this, dependent on the needs of each individual property).
Carry out a current condition assessment
Acquire the required permissions (where applicable)
Choose your main contractor, or trades if you plan to manage the project by yourself
Have the structural stability of the property assessed
Take out the appropriate level of insurance required for the building and for the planned works on the building
Conduct any demolition work
Treat any damp or mold issues
Fix any drainage issues
Assess site access and safety
Begin any major building work if required
Change any windows and doors as required, as well as any fixes to the roof and insulation throughout the property to ensure a watertight, weatherproof structure
Carry out any other external works
Have works signed off by building control (where applicable)
Now you can begin cosmetic works inside the property, starting with plastering
Fix any issues that may affect the flooring and this can then be added
Decorate the property and clean down once complete
Assess the property and whether it is now fully habitable, ensuring waterworks are operating as they should and there is a heating supply
Carry out a snags test and make amends accordingly
Move in, advertise for tenants or list your property for resale
If you'd like further advice about bidding on a property in need of renovation, please call one of our friendly team members on 0116 254 9654, we're always happy to help.