31st August 2023
A guide to renovating an auction property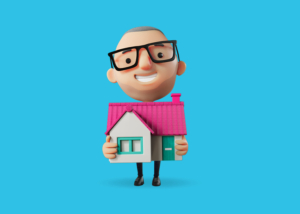 Whether you're a seasoned investor looking to make extra income from selling or renting your property portfolio, or you're looking to step onto the first rungs of the housing ladder, a renovation project can be a rewarding way to create your ideal building. 
The idea of refurbishing a home is an appealing one to many, as property renovations hold a lot of potential and can be highly profitable when done correctly. For others, it's a way to save money whilst building a forever home that's tailored specifically to the buyer. Despite their many benefits, houses in need of renovation also pose certain challenges. This guide serves as a way to understand how to approach a property renovation before diving straight into bidding and committing to your project. Keep reading to learn how to find the perfect property for you, and what to do once you've secured it. 
How to find a renovation property 
When it comes to finding your dream renovation property, auctions are an excellent place to look. Auctions provide a wide range of property types and sizes so that you can find one that suits your budget and your preferences. Whilst some lots at auction will require a complete renovation and require you to start from scratch, some lots are already liveable and do not require as much work. Either option provides ample opportunity to create your ideal space however, before you register for an auction or place a bid we highly recommend downloading the legal pack and attending a viewing of the property.
To start the search process, you can view currently available properties on our Timed Auctions and upcoming Auction Events pages. Alternatively, you might also wish to view our unsold lots which are available to buy now under auction conditions. Whilst renovating your property may seem like a daunting task, buying by auction is a simple process that makes securing your ideal project easy, transparent, and faff-free. To ensure the purchase goes as smoothly as possible, there are a few things you should consider both before and after you start bidding. 
What to do before the auction
Renovating a property requires an extensive amount of research, especially if you plan to earn income by renting or selling the property once it has been completed. As mentioned, a viewing of the property is strongly advised as this will help you to understand the scope of work that is required and estimate costs, as well as determine whether the area is suitable for the needs of yourself or your potential tenants. You might wish to bring a builder or structural engineer with you to the viewing if possible, as they'll be well-placed to provide some professional advice before you decide to bid on the property.
You should also look at the market in the area, and aim to buy an underdeveloped house on a popular street, as other sale prices can be an indication of the potential of the property regardless of its current condition. Whilst you are researching the property and surrounding area, it is essential that you make sure you're aware of anything that might affect your renovation, such as listed status, planning permissions, structural issues or any access restrictions.
Most importantly, you'll need to set an absolute maximum budget that you are willing to spend on your property. It can be tempting to stretch your budget in order to secure the property you're bidding on, but you will need this money for your renovations and to pay for any legal or administrative costs associated with the lot. 
What to do after the auction
If you have successfully bid on an auction property for renovation and paid your deposit, you can start work on your project. The first step is to secure approval for any work you want to perform, and get the planning permission paperwork in place. This should all be kept and carefully updated as you go, as you'll need this when re-selling the property if that's your goal. You'll also need to carry out a condition check and stability assessment, as well as take out an appropriate level of insurance to cover the building works. Insurance is especially important to protect your property if it will be sitting empty for a while, as these properties are more vulnerable to vandalism or theft. 
Once all of your administration work is completed, you can start the process of hiring a contractor or tradespeople to carry out the work. Remember that the work required will vary depending on the property, and it is important to conduct a thorough check to eliminate any problems such as drainage, damp, or mould which could negatively impact its re-sellability.
At this stage, and before starting any cosmetic renovations, you should ensure any external work is carried out. This includes construction or demolition, changing doors or windows, and fixing the roof. Once this is done, you can start renovating the interior by starting with the plastering and the flooring. If you plan to live in the property yourself, you can take your time finishing your interior decorating to stretch your budget further, just ensure that the home is habitable and comfortable to live in while you do so.  Alternatively, if you're planning to sell your property, hire some experts to come and value your property after the renovations are complete.
How much does it cost to renovate a property?
It is impossible to predict exactly how much it will cost to renovate an auction property, as this depends on the size of the lot and the amount of work required to make it liveable. The figure also depends on whether you're looking for basics or luxury in your essential fittings, and what kind of look you want to create. It is estimated that a complete renovation of a three-bed property including new heating, wiring, kitchen expansion or remodelling, and labour costs would come to a total of around £77,000. However, this number could of course be much less if your property doesn't require a top-to-bottom refurbishment. Alternatively, it could be more if you have a larger property or a property that requires structural work. Whatever your estimated figure is, it is advisable to include a 10-15% buffer in your budget to cover any unexpected problems or contingencies. 
Can you get a mortgage for an auction renovation property?
If you're unsure about how to finance your renovation project, it may be useful to know that most auction properties are mortgageable. This means that you don't need to be a cash buyer and then fork out for the renovation work all at once. However, there are a few restrictions to be aware of. An auction property can only be mortgaged if it is habitable, which means that a lot that is in disrepair and requires extensive renovation cannot be mortgaged. Though a home with a working bathroom, kitchen, and heating and no significant problems such as invasive plant species or structural issues is likely to be approved for a mortgage. Our blog 'Can you mortgage an auction property?' covers this topic in more detail, and we would advise you to read it if this is an option you're considering.
Renovating for profit
Many of the best savings on fantastic properties can be found at auction. As such, this method of securing a property is excellent for those who want a project that can turn a profit. As long as adequate research is carried out, you know the market, and you stick to your budget, you should have no problem getting your hard work to pay off. 
Of course, you'll need to have a buyer in mind and target their needs when tackling refurbishment. If this is a first-time renovation we would also advise that you opt for a property that requires minimal work, for example, a new kitchen and a change in the cosmetic interior design. This will also give you a sense of whether this is something that you'd like to do again, whether you'd prefer to take on more skilled renovation challenges, and whether you'd be willing to expand your property portfolio in this way. 
Remember that if you're renovating for profit you need to keep your fixtures and fittings practical and efficient, targeting the needs of the potential owners. You'll also need to think about the location, if your potential buyers are a family is there a school nearby? If you're targeting young professionals the space should be modern with easy access to commuter transport links. It's only by taking this tailored approach that you're likely to secure healthy profits when re-introducing your renovated property to the market, either as a flipped lot or as a rental. 
Kickstart your renovation project with SDL Property Auctions
If you're eager to get started on your renovation, buying a property by auction provides a quick and transparent way to secure a building. The process is simple, and with such variety in the types of properties, it won't take long for you to find your dream lot. 
Our upcoming auction dates, complete with their respective lots, are available to view online so that you can start brainstorming renovation ideas to build your property portfolio. If you have any questions about the auction process or need further information, contact a member of our team with your enquiry and we'll be happy to help.