28th July 2020
Would you like to feature on BBC's Homes under the Hammer?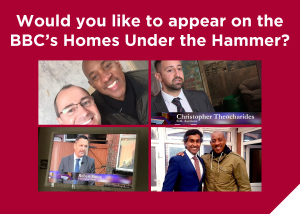 One of BBC One's most loved daytime property shows is looking for successful auction purchasers to appear on the programme.
If you have your eye on that dream home, are looking to renovate a property to sell on, or you are simply looking to build a property portfolio – we want to hear from you.
If you are a successful bidder in one of our auctions and are interested in hearing more about appearing on the show, please get in touch.
Contact homesunderthehammer@liontv.co.uk or call 0141 331 6416.
Alternatively if you're happy, someone from our team can take your contact details and pass them on to our team to get in touch.