9th February 2021
Why you should sell your empty commercial property before business rates turn it into a millstone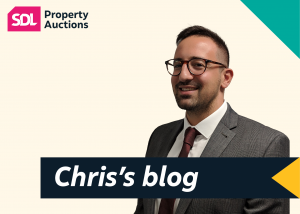 Owners of commercial properties in England and Wales could soon face a hefty bill as the business rates holiday is due to end. Commercial Auction Valuer Chris Theocharides urges frustrated landlords to take action now to beat the inevitable rush.
The business rates holiday has been a much-needed safety net for commercial property owners, enabling businesses to keep going during the most challenging economic period of our lifetimes.
But business rates are set to return in England and Wales with the new tax year in April. I specify England and Wales because a three-month extension has been announced in Scotland for hospitality, leisure and retail businesses, which have arguably been the worst hit.
Despite Scotland's move, and despite campaigns south of the border for a similar extension, so far there has been no announcement and we may not know any more until the Chancellor's next budget on 3rd March.
If an extension isn't granted, this has huge implications for businesses. And if you're the owner of multiple vacant commercial premises which you cannot let due to lack of demand, then you'll be facing a huge bill once your empty property relief comes to an end. This is usually three months, but can be for six months for industrial premises, with further reliefs available for listed buildings, charity-owned properties and others.
Read the government's guidance on empty property relief here. 
Here at SDL Property Auctions we are selling plenty of tenanted commercial properties, many owned by people who want to future-proof their portfolios. Their tenants' businesses are currently being propped up by government grants and reliefs and when this life support stops, they will struggle to keep their businesses going. Many will inevitably go bust, leaving commercial landlords with empty properties – and liable for their own business rates.
I speak to lots of owners of empty commercial buildings who are worried about the future. Some of them are even letting their properties for nothing or a peppercorn rent, as long as the tenant can cover the business rates. One landlord I spoke to was letting to a charity with a view to selling in the future. Even in normal circumstances, charities get up to 80% business rates relief, so this seems a good short-term solution if you want to keep your asset ticking over.
But do consider if your asset is worth hanging onto. When the pandemic is over and businesses have to stand on their own two feet, will there be enough tenants to go round? We've already seen a drop in tenant demand for commercial properties and this will only fall further.
I appreciate that many people are reluctant to sell their assets for less than they paid for them but capital gain is never guaranteed and it's important to remember your properties have worked hard to produce an income for you over the years. If that's unlikely to continue, it makes sense to balance any capital loss already experienced against the risk of values falling further, along with the cost of ownership in future.
In short: you might want to cut your losses now before your asset turns into a liability.
Most of our recent enquiries from commercial property owners have been from those with tenants but I guarantee that when business rates return, we'll experience a big rush of owners of vacant properties – and then the market will be saturated. Another great reason to sell now.
If this all sounds rather gloomy, it doesn't need to be. Yes, the economy is going to suffer in the short-term future, but things often have to get worse before they get better. And we can help you ride the storm by selling your empty commercial property quickly and with no hassle – before business rates return. There is no shortage of demand for this type of property; while tenants may be thin on the ground, investors are always keen to get their hands big empty properties for conversion to alternate uses.
If you are considering the future of your commercial property, please talk to our expert team at SDL Property Auctions. Just get in touch on 0800 046 5454 or click here.