16th December 2020
What is a regulated tenancy?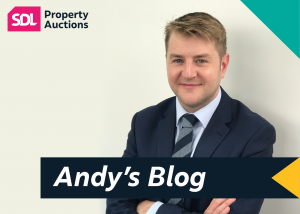 Andy Thompson, Head of Auctions North West here at SDL Property Auctions explains all about what a regulated tenancy is.
At SDL Property Auctions, we are fortunate enough to sell a wide variety of properties and are always excited to see our unique and slightly unusual properties succeed in our auctions.
Often, the posting of a particularly rare property will also result in an influx of questions by potential buyers, prompting us to share our expert knowledge on the subject. This was the case for a terraced house in Chinley, Derbyshire, which you can see by clicking here. This particular property prompted questions as to what, exactly, a 'regulated tenancy' was.
In this post, we will be going over what potential buyers of a property that has a regulated tenancy may need to know, and taking you through the pros and cons of buying a property of this kind.
What does regulated tenancy mean?
A regulated tenancy is a long-term agreement between a tenant and a private landlord. These agreements date-back to before 15th January 1989 and offer the tenants a right to remain in the property for life.
Often the rent can be much less than current rental values for the same kind of property with an Assured Shorthold tenancy (AST) in place, and therefore offers a different investment model to a landlord. In fact, I've known of regulated tenants in the past only be required to pay £1 a year in rent!
How long is a regulated tenancy?
Because the rent is usually below market value and the tenant(s) can remain in place for life, the value of the property should be considerably lower than if it was bought vacant or with a more mainstream tenancy in place – you're effectively getting a discount for the restrictions that comes with the property at the time of purchase.
So where is the investment then?
If you were to buy a regulated tenanted property today, you will probably be inheriting a tenant that has lived there for many years and as such, from my experience, the tenant tends to treat the property as 'their own' and thus less likely to pick up the phone to the landlord every time a minor repair is needed. It goes without saying that a landlord should still always ensure that the property and tenant are suitably looked after, but generally, it's a 'quieter' investment than that of a property with an AST in place.
Whilst like with AST's, the terms of a regulated tenancy vary depending on the individual agreement but often, the landlord is responsible for any structural and external repairs plus the maintenance of gas and water supplies. It is also usual for the tenant to take responsibility for the internal cosmetic requirements – as you would with your own home.
Regulated tenancy properties appeal to landlords who aren't yield-driven but instead focus on the long-term capital growth of a building. Once the tenancy ends, the property will naturally adjust in value to that of the market price for such a vacant property. So, for example, you might pay 40% less for a property with a regulated tenant in place today and then, if in say, 10 years it becomes vacant, you will benefit from the 40% uplift of it now not having the previous restrictions, plus the general capital growth of the property over those ten years (providing the market does of course increase).
Can a regulated tenancy be passed on?
Right of succession
Another factor to consider when looking at buying a property with a regulated tenant in situ is whether there are any rights of succession. Depending on the particular agreement, in some cases the next of kin can acquire a right of succession where they take over the tenancy on an 'assured' basis. Whilst this does require them to now pay market rent, they will continue to hold the right to remain in residence for life.
Like with all investment models, there are pros and cons to buying a property with a regulated tenant in place and further information can be found in this Government handbook – but as always, it is important that you carry out full due-diligence to understand the specific circumstances of what exactly it is that you are buying.
Find your next investment property at SDL Property Auctions
Whether you are intrigued by the possible benefits of purchasing a property with a regulated tenancy, or would prefer to invest your money into a vacant property, you can find a wide range of properties at SDL Property Auctions.
When searching our auction properties, you can use our advanced search options to filter by 'tenanted' or 'vacant' properties to help find the right property for your preferred investment type. To browse through our upcoming auction lots, please click below.