23rd January 2020
Unique Airbnb opportunities at property auctions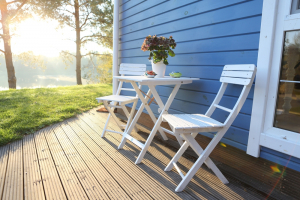 In recent years, Airbnb has quickly become one of the key ways that travellers book accommodation when heading on holiday, taking a staycation or even for somewhere to stay when on business. Since its launch in 2008, Airbnb has hosted more than 400 million guests worldwide, and so far, UK households alone have earned £854m in extra income through renting their rooms and properties on Airbnb.
With the rise in the use of this app, it's no surprise that letting your property out as an Airbnb holiday home can see you earn a significant additional income. Because of this, more and more investors are looking into the short-term lets market as a way to earn a profit on their purchase.
And it's certainly an appealing alternative to traditional buy-to-let investing, due to the differences in legislation. With a holiday rental, you're able to offset mortgage interest expenses, meaning less tax to pay. Pair this with the fact that you can typically earn in a week what you may get in a month when renting long-term.
In the UK, the average nightly cost of an apartment rental is around £119 in peak season (Home to Go), making that around £3,332 a month of extra income. The average cost of an apartment or flat to buy in the UK is £297,053 (Zoopla), meaning that when achieving the average cost per night of £119, you can achieve a yield of 13% if your property is fully-booked year-round – which is a significantly high yield and should  see you make a good profit on the property in little-to-no-time.
Taking a look at Airbnb's current listings in the UK, the most expensive property (for 5 people or less) achieves £8,222 per night. If fully booked for a month, this property would achieve £230,216, with a potential annual income of ~£2,762,592 if booked consecutively for the whole year. This is very extravagant, but making this relative to your own scale can demonstrate the lucrative potential that this method of property letting can have.
If you're already a seasoned investor, then branching out into the short-term let market is a great way to diversify your portfolio, broadening your offering to a wide variety of tenants and expanding your income potential greatly. It could also be a great way to make the most of a property in your portfolio while it's vacant – such as between tenants moving in.
Of course, turning a property into an Airbnb or holiday rental isn't an easy feat, and there are many things that you must consider first. There is a reason that you can achieve so much more with this type of let as opposed to a traditional annual rental property. There are certain drawbacks, such as the necessity to regularly clean the apartment after each guest has stayed, you must be available to answer any queries from guests at all times and you must ensure that keys are easily accessible. Then, there is of course the potential additional costs of replacing lost keys, fixing any damage caused by guests and ensuring the upkeep of your property is maintained to a very high standard – as further bookings are dependent on positive reviews.
The competition is also fierce in this market, with 543,447 properties currently listed as holiday or short-term lets in the UK and so you must work to ensure your property stands out. By keeping a well-decorated, stylish apartment that is squeaky clean and in a good location, you are almost certain to be successful in this market.
The UK is fast becoming a tourist hotspot too, meaning you can maximise your potential income by purchasing a property in a sought-after location. People travel to the UK for any number of reasons, and more and more people are taking 'staycations' with the number of self-catering holidays booked in England increasing to 7.23 million.
With beautiful architecture, a rich history and a range of modern tourist attractions too, there are plenty of things to pique the interest across the UK, which in-turn will help you to market your holiday rental as a fantastic place for visitors to stay.
Many of the properties listed for auction at SDL Auctions are transformed by investors into lucrative rental opportunities and this includes the holiday let market. Take a look at the great properties we have for sale to find your next project and turn it into an amazing place for visitors to stay.
If you're considering making an investment in a short-term let property and need any help or guidance, then please feel free to give one of our friendly team a call on 0800 304 7879.