22nd March 2021
Tips for selling a tenanted property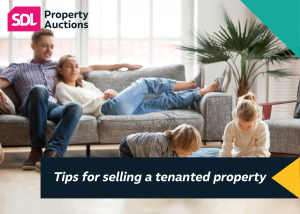 When it comes to selling a buy-to-let property, either by auction or on the open property market, there are two primary ways to sell; tenanted and vacant. Unsurprisingly, the most common method of selling is vacant, but that's not to say that selling a tenanted property doesn't have it's own considerable advantages that make it an attractive choice for both landlords looking to sell their property and landlords looking to add to their portfolio.
Slightly more complex than a vacant sale, there are some additional rules to follow and complications to be avoided to ensure the process moves forward smoothly but, with our helpful guide to selling a tenanted property, you'll be able to navigate the field easily and go on to secure yourself a stress-free sale.
Benefits and disadvantages of selling a tenanted property
Whether you're in the process of selling a tenanted property or are still considering whether or not to do so, our list of top tips on how to capitalise on the benefits and minimise the disadvantages will help guide you through the process.
Disadvantages
Capital gains tax: A potential, although not guaranteed disadvantage of selling a tenanted property, is that the higher price you are likely to achieve at the sale as a result of the attractive attributes of a tenanted property could also result in higher payments of capital gains tax. Of course, as with any sale of an investment property, if you have made capital improvements during your ownership you will be able to offset some of the tax liabilities.
Viewing complications: Legally, a landlord cannot enter the residence without permission from the tenant with at least 24 hours notice given, except in the case of an emergency and, as a viewing does not constitute an emergency, the landlord technically has no legal right to conduct viewings without prior permission, even with a viewings clause in a tenancy agreement. To avoid risking being accused of harassment by a tenant, viewings must be pre-approved and should be completed in a way that respects the tenant's right to quiet enjoyment of their residence. The best way to do this is to talk to your tenant before organising viewings, ask them how they'd be most comfortable moving forward, checking their schedule and, if possible, assuring them you'll be present during the viewings. Acting in a fair and reasonable manner will go a long way to avoiding viewing complications.
Problem tenants: Understandably, finding out that their landlord is selling their property can be a distressing situation for many tenants and many won't react well to the news and can cause problems. Fortunately, these potentially problematic situations can often be diffused proactively by approaching the tenant and speaking honestly and openly about what's happening. Worries over their future in the property can often be the primary source of conflict, so taking the time to explain the process and reassure them can go a long way to ensuring their compliance down the line.
Benefits
More attractive opportunity for buyers: While properties that have previously been used as a buy-to-let property can be resold as traditional residential lots when they are vacant, it is unfortunately true that tenanted properties are advertised to a significantly smaller pool of potential buyers. Though it is possible that a property may take longer to build interest, which could in turn result in a slower sale, especially on the open property market, this risk is largely counteracted by the attractive qualities of a tenanted house on the part of the buyer. Not only do these properties represent the chance for the new buyer to gain instant rental income but they also negate the need to spend money on the property during the process of readying it for new tenants, both of these qualities are likely to attract buyers who may be willing to pay more than if it were vacant.
Money-saving option for sellers: Just as a buyer will recognise the chance to save money and gain instant rental income on a tenanted property, the seller will also benefit from this as there will be no lost earnings during the sale. Additionally, just as capital gains tax may be a small concern for the seller, the buyer will likely benefit, further increasing their likelihood of purchasing the property.
Good tenants: The dream of every landlord is to find a great low-maintenance tenant to rent their property and, if your buy-to-let property has a great tenant in situ, you're more likely to sell it quickly as interest rises from other landlords hoping to secure both the property itself and the good tenant.
Additional considerations and documentation required to sell a tenanted property
In selling your buy-to-let property, you are effectively making the new buyer the landlord of said property and, as a result, they will need to follow all the legal obligations of a landlord for the tenant. Because of this, they will need to be provided with all the documentation you collected at the beginning of their tenancy which are as follows:
Furniture inventory: For furnished properties, it is the current landlord's responsibility to provide the buyer with a full inventory of included furniture as, realistically, this furniture should be included in the tenanted property.
Rental deposit: The tenant's deposit will need to be passed on to the new buyer along with proof that it has been properly protected underneath a governmentally approved tenancy deposit scheme.
Right to rent evidence: It is the legal responsibility of the landlord to collect and keep all necessary evidence that the tenant has the right to rent a property in the UK and, upon the sale of the tenanted property, this information must be passed on to the new landlord.
Signed tenancy agreement: Along with the right to rent evidence, a copy of the signed tenancy agreement, which must be inclusive of all the terms of the tenancy, should also be passed to the new landlord.
Safety certificates: Safety certificates such as Gas Safety Inspection Reports and Electrical Installation Condition Report should be passed to the landlord. These must be in date, with information included on when they will need to be renewed. An up to date energy performance certificate (EPC) should also be provided.
Legal notices: Copies of any legal notices served to the tenant alongside any relevant additional information, such as how they were issued, should be provided to the landlord as they will be needed in the event of issuing further notices or an eviction.
Repair information: You should provide the new landlord with information regarding any ongoing repairs or any outstanding repairs that have been requested by the tenant.
Sell your tenanted property with SDL Property Auctions
At SDL Property Auctions we are experts at marketing and selling a wide variety of properties and, with a large portion of our buyers being experienced landlords and property investors, successful tenanted property sales are a regular occurrence.
If you're looking to sell your tenanted property and would like further advice from our dedicated team contact us today on 0800 046 5454 or click the link below to request a free, no obligation valuation of your property.