5th March 2021
Things to consider when buying a repossessed property by auction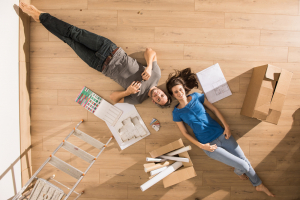 Buying any kind of property can be an exciting, nerve-wracking experience full of difficult decisions and, unless you're well versed in property auctions, there are likely to be a few bumps in the road. Of course, this is more true for some lots than others, especially for purchasing repossessed properties. 
A little different to your usual property, a repossessed property is a home that has been seized by a lender upon the event of missed mortgage payments. Because of this, repossessed properties are most often in a poorer condition than regular lots, and as a result, they can also be bought significantly below typical market value.
If you're looking to purchase a repossessed property in the hope of saving some money, or simply looking for the perfect fixer-upper investment, we've created a checklist of everything you should consider when purchasing this type of property by auction to help smooth out the process as much as possible.
Benefits and disadvantages of buying repossessed property
While bidding on a repossessed property can be a bit of a minefield as you try to make sure it's worth the investment, every drawback has a corresponding benefit and, with careful considerations in place, can be effectively sidestepped. Below, we've laid out the primary benefits and disadvantages that are associated with this type of property to help you make a balanced and informed decision.
Fast sale
Repossessed properties, by nature, are an inconvenience for lenders. Not only have they lost money through the previous owner's broken contract, but every day that property stands empty means more losses for them. Due to their eagerness to sell the property quickly so that they can recoup their monetary losses, these lots are often sold incredibly quickly. Of course, auctions are famous for speedy sales regardless of the type of property but, with repossessed properties especially, bids made prior to auction are more likely to be accepted, making them the perfect option for those looking to purchase a property fast.
Money saving
The most obvious benefit of purchasing a repossessed property is that they represent the opportunity for buyers to save a significant amount of money, with current estimates suggesting they're sold for up to 30% under their typical market value. While this degree of saving is not guaranteed, and there remains the risk of having to reinvest those savings into the property to restore it so that it meets living standards, the prospect of turning a profit is often enough to make buyers take the plunge.
Increased competition
Between the prospect of a faster sale and the chance to purchase under market value, repossessed properties can quickly become a hot commodity in an auction, with bidding wars likely to ensue. Because of this, we recommend considering a number of properties instead of pinning all hopes on one and, to ensure you aren't carried away in the moment, to set a strict bidding limit on the day.
Poor condition
A common characteristic of repossessed properties is the poor condition they have been left in by the previous owners. Of course, this is not always the case, but as a general rule of thumb, we recommend viewing any property you're considering to identify and assess any damages in order to help your budget planning process. Typically, these properties suffer from missing fixtures and fittings, but they can also need larger refurbishment projects in order to make them liveable. To avoid any surprises, we also recommend having a thorough survey done on the property, allowing you to make your decision based on all the available information.
Things to keep in mind when considering the purchase of a repossessed property
With the common benefits and disadvantages of purchasing a repossessed property covered, it's time for us to impart our advice on how to turn a risky decision into a promising investment. 
Finance: Just as you would for any other property auction purchase, ensure that you have finance in place, whether that be a mortgage in principle, a bridge loan or cash, before bidding.
Budget planning: Unlike a regular property, repossessed properties often require extensive renovation, such as the reinstallment of necessary fixtures and fittings, so ensure this cost is considered in your budget before bidding.
Consider utilities: Again, as the property has previously been left empty, utilities such as gas, electric and phone lines will not be in place before you collect your keys. This can be easily righted with calls to the relevant utility companies but, for services such as phone lines, this can come at a cost.
Watch the post: Because of the previous owners debts, it is possible that you may receive red debt collection letters intended for them. Should this happen, do not open them, simply contact the relevant companies and inform them of the change in ownership of the property.
Credit checks: Don't worry, this is purely a precautionary measure as this mistake is rarely made, but noticing quickly can improve the speed with which it is corrected. After you have been in the property for a few months, check your credit rating to make sure no debt has been incorrectly registered against your name by accident.
Find a repossessed property at SDL Property Auctions
Purchasing a repossessed property is a big decision and, while the potential pitfalls of such an investment can be considerable, with our advice guiding you around them, many remain worth the risk.
Looking to save money by investing in a repossessed property? Keep an eye on the properties we currently have for sale by clicking the link below.