14th September 2020
These are the steps to take when dealing with problem neighbours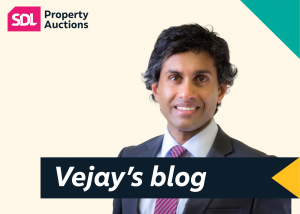 In the latest in our series of blogs focusing on property problems, Vejay Pal, head of auctions West Midlands, takes a look at difficult neighbours, and how you can work to restore harmony.
Neighbours. Everybody needs good neighbours… Sounds familiar? Sadly, not everyone has neighbours who become good friends. And some neighbours will do anything within their power to make your life a misery.
This is true whether you are a property owner or a landlord. As a landlord, if your tenants are experiencing neighbour issues, they are unlikely to stay in your property for long – and you'll have to find new tenants over and over again. Eventually, word may get round and you could struggle to find tenants at all.
As a landlord, if your tenant reports neighbour issues, the first thing to establish is the cause. Could it be that your tenant is aggravating the neighbours and they are retaliating in kind? If this is a recurring issue reported by a series of tenants in the property, you'll know it's the neighbour at fault, but it's always worth doing a bit of investigating before making any assumptions.
Common issues include noise, light pollution, mess, parking and boundary disputes – although it's important to note they really must be ongoing to be classed as a problem. One or two noisy parties a year can be tolerated, but persistent loud music can be distressing, especially if it disturbs sleep. The sounds associated with normal daily life – such as a crying baby or walking up and downstairs – do not count as a nuisance.
What to do about the problem
Step 1: Talk to them
Your first step should be to talk to the neighbours politely, if you feel safe doing so. They may not even have realised their behaviour is causing distress and in an ideal world, will change their ways. With luck, you could nip the problem in the bud before it escalates.
Step 2: Write a note
If this doesn't work – or if you are uncomfortable approaching them in person – you can write them a polite note explaining the issue and asking them to resolve it. Local authorities are reluctant to step in until they know you have attempted to solve the problem informally, so be sure to keep a copy of any correspondence as evidence that you have taken this step – you can snap a photo of a handwritten note on your phone camera if you don't have a copier. Similarly, keep copies of any correspondence you or your tenant receives in return.
Step 3: Find out if others are suffering
It's a good idea to talk to other neighbours, too, to find out if they are having similar issues. That way, if you need to take the problem further, you will have a stronger case.
Step 4: Keep a diary
If the problem persists, ask your tenants to keep a diary as you will need this as evidence before you can take the matter any further. Ask them to record the date, time and details of each incident, ideally at the time of it occurring so it is fresh in their minds.
Step 5: Mediation
If you can't come to an agreement with your problem neighbour, you could enlist the help of an independent mediator to help you sort things out. You will have to pay for this, although it should work out cheaper than hiring a solicitor and taking legal action. You can search for a mediator here:
Your local authority may also offer mediation services.
Step 6: Report the problem
If the problem neighbour is a tenant, you can complain to their landlord – if you know who it is. If you don't know, or if they are a private homeowner, you can report the problem to your local authority's environmental health department. You can find your local council here.
Information you'll need to provide:
Your neighbour's name, if you know it
Your neighbour's address
The nature of the problem and its frequency
How the problem affects you
Details of steps you have taken to attempt to solve the issue
Details of who else you have reported it to, if applicable.
You will also need to provide your details, as anonymous reports are not usually accepted, but the council will treat your complaint in confidence. Be aware, however, that if the complaint leads to legal action, you are likely to be required to attend court.
If you report the problem by phone, make a note of the conversation, its date and time. Ideally, report it in writing so you can keep a copy.
The council may ask you to keep a record of the nuisance so if you have your diary already, this may help. However, don't be surprised if you are required to repeat this exercise on their own forms.
If the authority decides the problem does constitute a statutory nuisance, they may serve your neighbour with an Abatement Notice under Section 80 of the Environmental Protection Act 1990. If the neighbour disagrees with the notice, or does not comply, then the case may go to court.
Which problems can be reported to the local authority?
Local authorities class a problem as a statutory nuisance if it can be proved to "unreasonably and substantially interfere with the use or enjoyment of a home or other premises" or "injure health or be likely to injure health".
Your council has a duty to investigate any statutory nuisance and the following issues may be considered as such:
Noise
Smoke
Smells
Artificial light (from premises, not street lamps)
Insect infestations
Rubbish.
When to involve the police
Some problems are too serious for the local authority to handle and should be reported to the police. These include:
Abusive behaviour or threats of violence
Sexual harassment
Harassment based on your sexuality, religion or ethnic background
Criminal activity.
Sometimes a new owner can break the cycle so if you can't resolve the problem or don't have the time and resources to go through all the steps, you may wish to consider selling the property. You will be required to disclose an ongoing dispute on the Property Information form (TA6) but with an auction sale, this is unlikely to act as a deterrent to buyers.
We have a wide network of investors who are willing to take on any challenge so why not get in touch with our auction team to request a free, no-obligation auction valuation? You can find out more by clicking here or calling the team on 0800 046 5454.