4th August 2023
The Monopoly board with real house prices 2023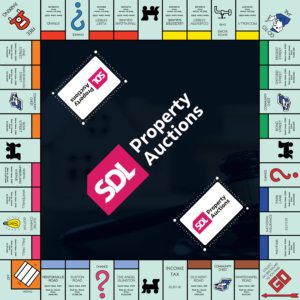 First released in 1935, the standard UK edition of the classic Monopoly game is widely regarded as one of the most popular board games from the last century. Featuring the iconic streets of London, including tourist hotspots like Piccadilly and Oxford Street, the London board's locations have remained the same over the years and, with the exception of the Monopoly: Here & Now edition, so too have the prices.
In light of the countless economic changes we've seen since 1935, and the ever-increasing real life prices these premium London postcodes demand, it's unsurprising that the board's traditional property prices, taxes, and penalties have become outdated. As property enthusiasts who are interested in all things related to the UK market, we've researched the real value of the London Monopoly properties and created our own realistic board. In this post, we'll discuss the average sale prices of these iconic areas of London, as well as fill in some more spaces on the board with modern figures, including the utility properties, tax spaces and how much you would really get for passing go.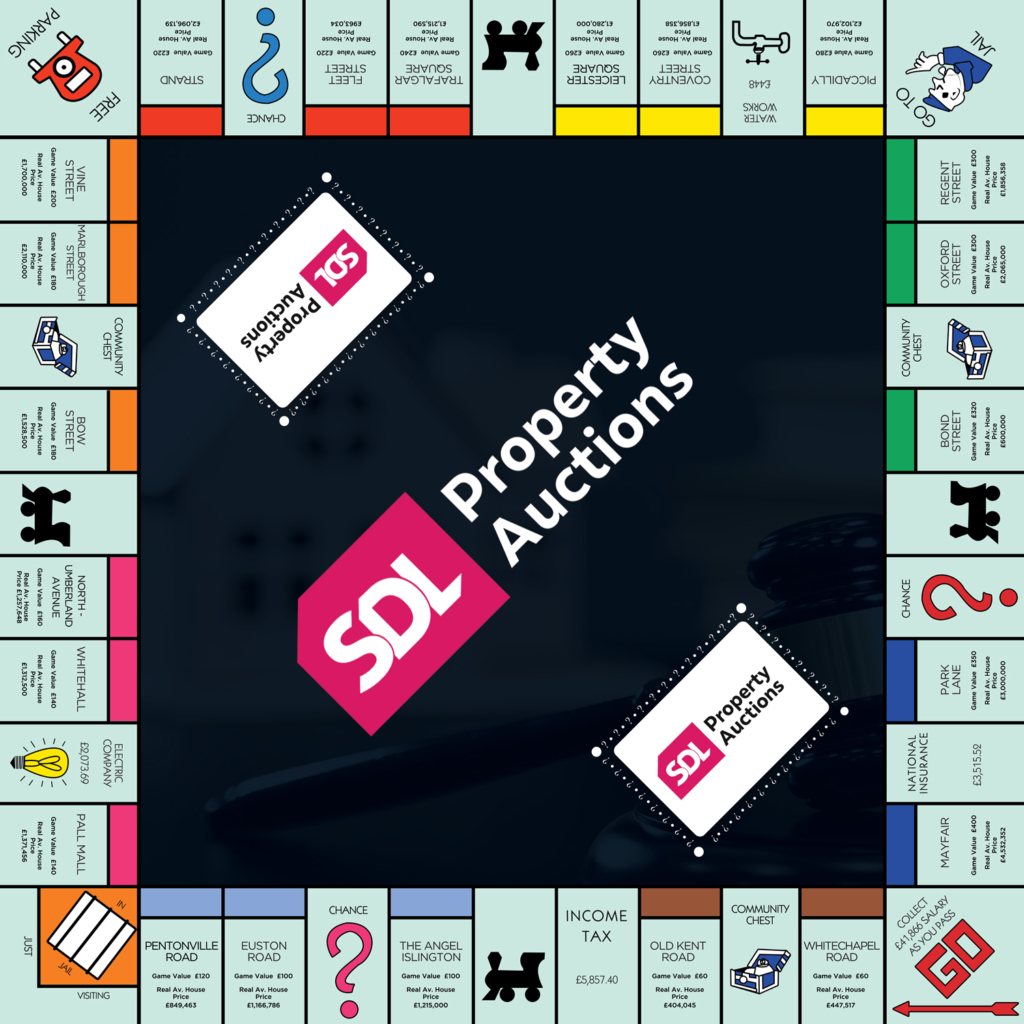 Whitechapel Road
Board Price → £60
2023 Average → £447,517
Old Kent Road
Board Price → £60
2023 Average → £404,045
Colour-coded as brown in the traditional game, Whitechapel Road and Old Kent Road are the cheapest on the board, both in terms of Monopoly's pricing of £60 each, and in relation to the real life value of properties for these streets. Looking at the sales themselves, lots sold on both streets typically consist of flats of between 1-3 bedrooms, helping to explain the lower cost in comparison to other areas of London. Even so, the £400,000 – £450,000 average sale price still far-exceeds the average house price for the UK as a whole, which came to £286,000 in April 2023.
The Angel Islington
Board Price → £100
2023 Average → £1,215,000
Euston Road
Board Price → £100
2023 Average → £1,166,786
Pentonville Road
Board Price → £120
2023 Average → £849,463
Sky blue in colour, the next-most expensive properties on the Monopoly board are that of The Angel Islington, Euston Road and Pentonville Road. Regularly achieving sales above £1 million, with the average prices over the last five years remaining above this milestone for both The Angel Islington and Euston Road, there is a sharp jump up from the brown properties, despite many of the sales also being for apartments.
While Pentonville Road is the most expensive light blue property on the board, this isn't reflected in the real prices. The Angel Islington (which we've used Islington High Street prices for) has only seen two sales in the last five years, while Euston Road has seen 14, all of which were apartments within the highly sought-after St Pancras Chambers and Lizmans House buildings.
Pall Mall
Board Price → £140
2023 Average → £1,371,456
Whitehall
Board Price → £140
2023 Average → £1,312,500
Northumberland Avenue
Board Price → £160
2023 Average → £1,257,648
Neighboured by some of the most prestigious and beautiful buildings in London, including Buckingham Palace, The London Library, St James's Palace, Chatham House and His Majesty's Theatre, it is no surprise that properties sold in Pall Mall achieve a high price tag. With an average sale price of £1,371,456 in the last five years (a figure which rises to over £1.5M if you remove an outlier sold for £80K) it is the most expensive of the pink Monopoly properties.
The nearby street of Northumberland Avenue, which is labelled as the most expensive pink property on the game board itself, comes close to this status, with the inclusion of a few flats (sold between £300K – 400K) pulling down the significantly higher house sale prices of between £1.3M – £2.1M.
Bow Street
Board Price → £180
2023 Average → £1,528,500
Marlborough Street
Board Price → £180
2023 Average → £2,110,000
Vine Street
Board Price → £200
2023 Average → £1,700,000
Showing a jump up in prices from the pink properties, it's within the orange spaces of Bow Street, Marlborough Street and Vine Street that the real house prices first break the £2M mark. This is done for the Marlborough Street location (which in London is actually called Great Marlborough Street, with the board location instead being named after the Marlborough Street Magistrates Court). Though the average price is already exceptionally high, this would be even higher (closer to £8M) if we'd included the outlier sale of £20M which was achieved in December 2018 the 'Sixth Floor Flat' building on this street.
Strand
Board Price → £220
2023 Average → £2,096,139
Fleet Street
Board Price → £220
2023 Average → £963,034
Trafalgar Square
Board Price → £240
2023 Average → £1,215,590
Despite the increase in property prices on the Monopoly board from the orange to red lots jumping from £180 – £200 to £220 – £240, the real-life values in these areas are lower, with only the famous Strand properties seeing an average sale price above £2M. Over the last five years, sales on the Strand have been numerous and range between £580,000 to £7,185,400, showing the impressive range of lots available in this highly sought-after spot. This isn't too surprising however as, with neighbours including Somerset House and the iconic Savoy hotel alongside several top London theatres that are within walking distance, there's no shortage of nearby attractions for buyers.
Leicester Square
Board Price → £260
2023 Average → £1,280,000
Coventry Street
Board Price → £260
2023 Average → £1,856,358
Piccadilly
Board Price → £280
2023 Average → £2,102,970
All labelled as yellow properties, the real value of the Leicester Square, Coventry Street and Piccadilly locations show a minimal increase from the previous red set, with Piccadilly having the highest average sale price. Rather than being a specific street, Piccadilly is more of an 'area' of West London, with £2,102,970 being the average value of properties sold in the Piccadilly W1J postcode over the last five years.
Regent Street
Board Price → £300
2023 Average → £1,856,358
Oxford Street
Board Price → £300
2023 Average → £2,065,000
Bond Street
Board Price → £320
2023 Average → £600,000
Moving round the corner on the traditional Monopoly board past the 'Go to Jail' square, we find the next set of properties: Regent Street, Oxford Street and Bond Street. The last of these green properties presents an unusual case for finding real house prices, as there is no actual 'Bond Street', rather there is both a 'New Bond Street' and an 'Old Bond Street'. In the last five years, there has only been one sale across these streets, which came to £600,000. When we look at all-time sales recorded by HM Land Registry, however, this average changes dramatically, with a sale in early 2018 being recorded as an enormous figure of £22,250,000, and one in 2001 coming to just £212,000.
Park Lane
Board Price → £350
2023 Average → £3,000,000
Mayfair
Board Price → £400
2023 Average → £4,532,352
The most expensive spaces on the Monopoly board at £350 and £400 respectively, Park Lane and Mayfair live up to their reputation in real life. Park Lane has seen 12 sold properties over the last five years, with even small flats with one bedroom achieving a sale price of over £1M. Mayfair pushes past even this, with an average of over £4.5M.
Passing Go
Board Price → £200
Average London Salary → £41,866
When 'passing go' in traditional Monopoly, the player is entitled to collect £200 from the bank. The salary equivalent for this in London is £41,866. With the cost of living and owning property in London considerably higher than that of the rest of the UK, it's no surprise that this is also higher than the UK average salary of £33,000.
Of course, there are taxes to pay on those annual earnings, which we've also included in our true-to-life board. At this salary, income tax would come to £5,857.40 each year, and National Insurance contributions would take another £3,515.52.
Electric Company
Board Price → £150
2023 Average → £2,073.69
Water Works
Board Price → £150
2023 Average → £448
Though it won't be the usual buyer who purchases an electricity company or water provider, everyone will need to consider the cost of running a home. Taking the averages for a medium- sized household, homeowners in London can expect to pay just over £2,000 for their annual gas and electricity bills (assuming usage equates to Gas: 12,000 kWh Electric: 2,900 kWh). The forecasted average bill for 2023 for water and sewerage is much lower at £448, according to predictions made by Discover Water.
Find auction properties in London
If looking at the average sale prices of properties in these iconic locations reveals anything, it's that prime postcodes demand considerable investment. At SDL Auction Properties, we sell lots all across the UK, including those in some of the most popular areas of London.
If you're considering purchasing a property in London, whether that be to build a home or as an investment opportunity, start your search by browsing the lots we have available on our London property auctions page.