7th September 2023
The Manchester Monopoly board with real house prices 2023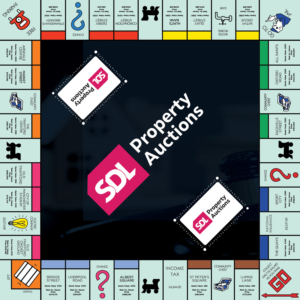 A classic board game which has evolved over the years to have countless special editions, in its lifetime the Monopoly franchise has celebrated cities all over the world, and Manchester hasn't missed out. Drawing attention to its iconic landmarks, attractions, streets and world-famous sporting clubs, the Manchester Monopoly board was first released in 2000 and has remained popular ever since. The game allows players to purchase famous properties like Old Trafford, Strangeways Brewery and even the fictitious Coronation Street, but what, exactly, would it cost to do that in real life?
In this blog, we'll be answering that very question by comparing the in-game price tags with the real life house prices of Manchester's Monopoly places. We'll also consider how much you could expect to get from 'passing go' by looking at the average salary for working in the city, what payments landing on the tax squares would demand, and how much you'd need to pay for the utilities places of Water Works and Electric Company.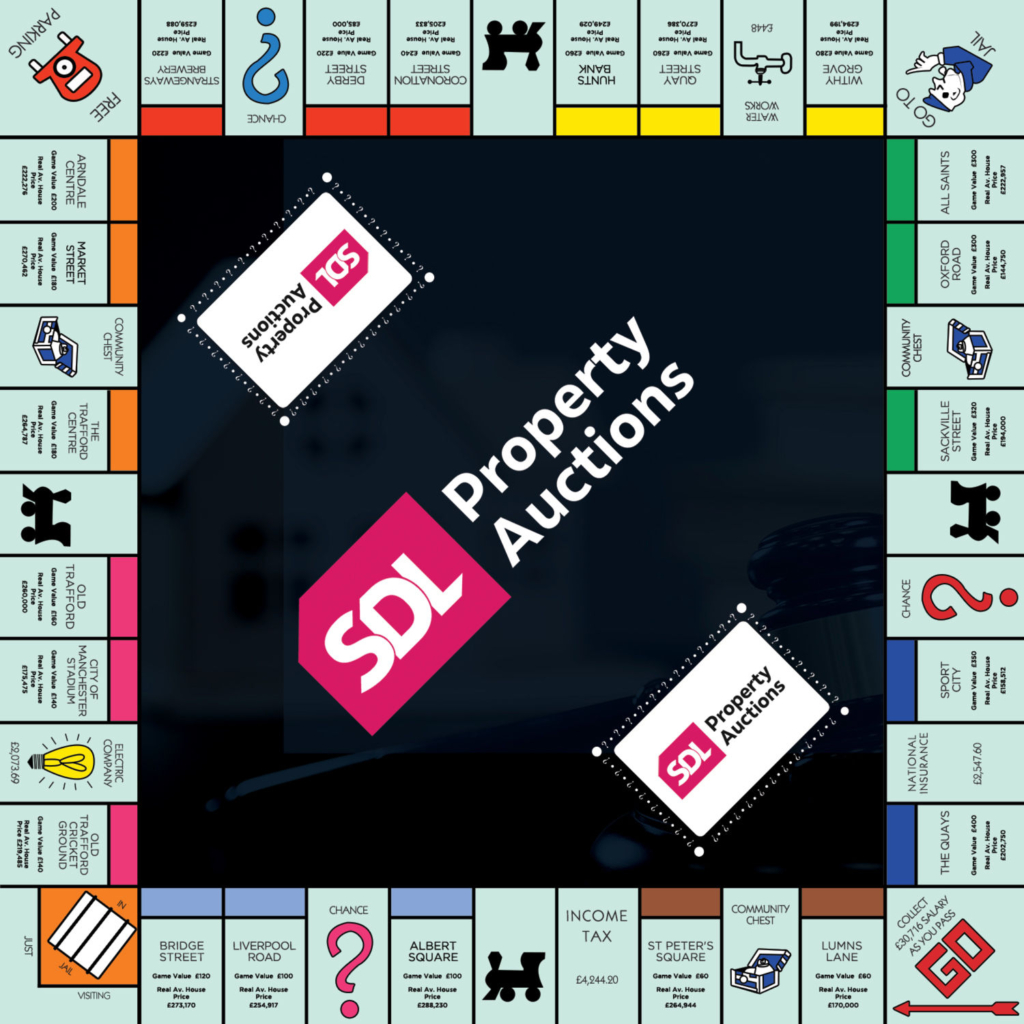 Lumns Lane
Board Price → £60
2023 Average → £170,000
St Peter's Square
Board Price → £60
2023 Average → £264,944
The cheapest properties on the Manchester Monopoly board, Lumns Lane and St Peter's Square make up the pair of Brown properties. Despite their in-game affordability, however, their real-life counterparts are not as cheap as you might expect. While the Lumns Lane location is on the lower end of the places on our list when it comes to price, with only one property sold in the last ten years (a two bed semi-detached bungalow which went for £170,000), St Peter's Square achieved an average sale price of £264,944 over the last year. Due to the prime location of this square, which is home to the Manchester Central Library and the esteemed Midland Hotel, properties coming up for sale are few and far between. As such, we've taken sales within a quarter of a mile of the iconic square when conducting our research.
Albert Square
Board Price → £100
2023 Average → £288,230
Liverpool Road
Board Price → £100
2022 Average → £254,917
Bridge Street
Board Price → £120
2023 Average → £273,170
Despite the light blue properties being one of the cheaper Monopoly sets to purchase and complete, the real house prices for these locations are actually the most expensive on the board. Albert Square has the highest average sale price of these lots, with properties within a ¼ mile radius of the square coming to an average price of £288,230 over the last year. Properties around Bridge Street fall just below this at an average of £273,170 (again within a ¼ mile radius). Both of these Manchester locations host primarily commercial lots, so while residential properties are rare, investors and business owners may be able to get their hands on office space, bars, restaurants and shops.
In contrast to the Albert Square and Bridge Street locations, the last light blue Monopoly space of Liverpool Road is more residential, and all of the properties sold in the last 12 months were flats. With an average sale price of £254,917, this street is home to the sought-after M3 Building apartment block which is well located and perfect for professionals.
Old Trafford Cricket Ground
Board Price → £140
2023 Average → £219,485
City of Manchester Stadium
Board Price → £140
2023 Average → £175,475
Old Trafford
Board Price → £160
2023 Average → £260,000
Known for its impressive sporting history, the Manchester Monopoly board celebrates three of the city's most iconic locations in the pink property set; the Old Trafford Cricket Ground, City of Manchester Stadium, now known as the Etihad Stadium, and Old Trafford. While these locations aren't the most developed in terms of residential properties, the Old Trafford Cricket Ground has taken the most strides, with the new Insignia and Kinetic apartment buildings springing up further down on Talbot Road. These new flats have brought the average sale price of the street to £219,485 over the last two years. Contrastingly, Manchester City's Etihad Stadium and Manchester United's Old Trafford have had fewer sales, with the former's average coming to £175,475 after only two sales, and the latter to £260,000 after one sale.
The Trafford Centre
Board Price → £180
2023 Average → £264,787
Market Street
Board Price → £180
2023 Average → £270,462
Arndale Centre
Board Price → £200
2023 Average → £222,276
While countless tourists, businesses and individuals flock to Manchester every year to witness their cricket and football games, even more head there to enjoy the city's famous shopping districts. As Manchester's retail hub, The Trafford Centre hosts over 250 shops and restaurants, and achieved an average sale price of £264,787 over the last year. Market Street's average price was even more than this at £270,462 which, given its prime location near Piccadilly Station, isn't too surprising. The Arndale Centre's average fell lower than both of these properties, despite it being the most expensive of the orange board squares at £222,276.
Strangeways Brewery
Board Price → £220
2023 Average → £259,088
Derby Street
Board Price → £220
2023 Average → £85,000
Coronation Street
Board Price → £240
2023 Average → £205,833
The red properties on the Manchester Monopoly board take a strange turn, each in different ways. The Strangeways Brewery, which was famous for being the original birthplace of Boddingtons Bitter, was closed in 2005 and demolished in 2007. A historic location for the city, this area is slowly being built up, and achieved an average price of £259,088 over the last year. The Derby Street location is an unusual inclusion again, being a primarily industrial area just outside of the centre of Manchester. The nature of the properties on the street make sales few and far between, with only one lot sold in the last two years, achieving a sale price of £85,000.
Last among the red properties, and again entirely unique, Coronation Street isn't actually a real location in Manchester, and is instead the fictitious setting of the well-loved soap opera which shares its name. As this location doesn't exist in real life, we've looked at properties sold around Manchester's MediaCity, the studios at which it's filmed, to get the average sale price of £205,833.
Hunts Bank
Board Price → £260
2023 Average → £249,029
Quay Street
Board Price → £260
2023 Average → £270,386
Withy Grove
Board Price → £280
2023 Average → £294,199
Next up we have the yellow set of properties on the Manchester board, which actually have the most expensive combined total in real life. Due to listings being particularly rare there were no properties sold on Hunts Bank in the last year, but when we widen the parameters to a ¼ mile radius, the average comes to £249,029. The same can be said for Quay Street and Withy Grove, the former of which is known as the city's business district while the latter is a predominantly public street. Looking at the wider area, Quay Street's average came to £270,386, while Withy Grove has the highest average sale price on the board at £294,199.
All Saints
Board Price → £300
2023 Average → £222,957
Oxford Road
Board Price → £300
2023 Average → £144,750
Sackville Street
Board Price → £320
2023 Average → £194,000
Around the corner from 'Go to Jail' lies the three green properties of All Saints, Oxford Road and Sackville Street. The All Saints area of Manchester is occupied primarily by students, due to Manchester Metropolitan University being located here, and the majority of sales are for individual flats and larger buy-to-let properties perfect for converting into student or young professional HMOs. Oxford Road is similar in its residents with both Manchester Royal Infirmary and The University of Manchester in close proximity. Despite both locations being attractive to the same buyer demographic however, there's a big difference between them in price, with All Saints having an average of £222,957, while Oxford Road properties go for around £144,750.
Sackville Street is the odd one out of the Manchester green properties. A predominantly commercial space located in Manchester's Chinatown, this street has plenty of office buildings and some residential spaces above storefronts, and achieved an average of £194,000 for sold properties. While this is relatively high, it is a 24% decrease from the previous year, and 26% down from the peak price of £261,238, which was achieved in 2011.
Sport City
Board Price → £350
2023 Average → £158,512
The Quays
Board Price → £400
2023 Average → £202,750
The last set of properties on the board, the dark blue squares, are the most expensive spaces to purchase in the game itself, but real prices tell a different story. Sport City, which is located in close proximity to the Etihad stadium, achieved an average sale price of only £158,512 over the last year. While this is lower than you might expect for a dark blue square, this average is 10% higher than that of the previous year, showing that the area is becoming more sought after.
The Quays, while by no means the most expensive location on the board in real life, did achieve more than its blue companion, with its own average sitting at £202,750 over the last year. Based in Salford, The Quays is known as Manchester's contemporary waterfront destination, and is home to striking apartment buildings including the N V Building, Millennium Tower and Imperial Point. Particularly desirable to affluent young professionals, The Quays is also growing in popularity and value, with this year's average sitting 12% higher than the previous year.
Passing Go
Board Price → £200
Average North West Salary → £30,716
While passing go on the Monopoly board will give you an extra £200 with which to grow your property empire, the salary equivalent for the North West area would see you earn £30,716 each year. This is slightly lower than the average UK salary of £33,000, but with many exciting areas in Manchester offering affordable options, purchasing a property on this salary is by no means an unachievable goal.
On top of this, there's also the tax squares to consider when working out what your real take-home salary could be in this area. We've calculated that, on the North West average of £30,716 per year, you'd expect to pay £4,244.20 in income tax, and your national insurance contributions would come to £2,547.60. These payments would bring your estimated take-home salary for 2023 to £27,008.20.
Electric Company
Board Price → £150
2023 Average → £2,073.69
Water Works
Board Price → £150
2023 Average → £448
Not something the average home-buyer or investor would consider purchasing in real life, unless of course they had considerable funds and an interest in the home utilities sector, the Electric Company and Water Works spaces are the last to consider in our research. To give you an idea of what you'd have to pay when landing on this owned square, we've calculated the average gas and electricity bill to be £2,073.69 and average water payment at £448 per year. This is based on the majority of houses sold in Manchester over the last year being semi-detached properties, which, as a UK average, consume 12,000 kWh of gas and 2,900 kWh of electricity annually for an estimated occupancy of 2-3 people.
Find auction properties in Manchester
Manchester is a thriving city which continues to grow year after year, and property opportunities are plentiful. If you're considering taking the plunge into property investment in the area, or want to move to the area yourself, make sure you head over to our Property Auctions in Manchester page to browse our latest lots. From commercial properties to beautiful homes that are ready to move into, we have a wide range of lots to choose from, and, if you're new to this method of buying, our auctioneers are on-hand to answer any questions you may have about the auction process. Just get in touch by calling 0800 046 5454, or sending an email to enquiries@sdlauctions.co.uk to learn more.