5th May 2021
The Manchester Monopoly board with real 2021 house prices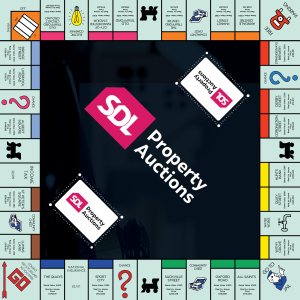 If you've ever played the Manchester version of Monopoly, you may have wondered how the board prices differ from real life today. Is The Quays truly the most expensive location in Manchester? Do Lumns Lane and St Peter's Square really deserve to be categorised as low value brown properties? Well, we've been comparing the average house prices in areas featured on the special Manchester Monopoly board with the average price you would pay in these locations today in order to find out.
To make this more relatable, we've also included the average salary earned in Manchester in 2021 to 'collect' as you 'pass go'. The current average salary for those based in Manchester and the wider areas is £27,575 (£30,420 in the UK as a whole).
Bear in mind that you also have taxes to pay on this sum – which we have also featured on the board. With this average salary, you can expect to pay £2,999 Income Tax and £2,161 National Insurance, a total of £5,160 leaving you with £22,415 net salary.
As we're sure you can imagine, the prices are quite a far stretch in reality to those reflected on the official board, but take a look at our findings below to see how your salary would fare when purchasing a property in each area of Manchester.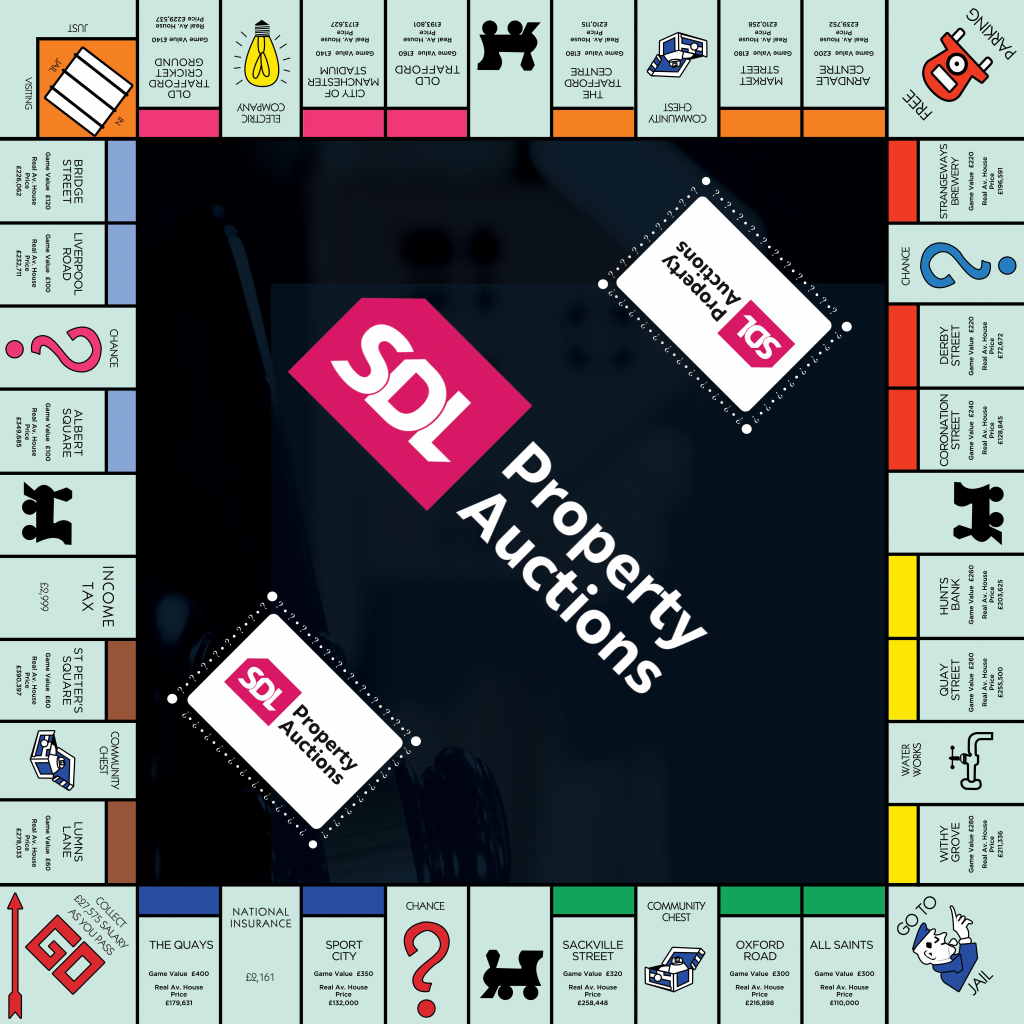 Lumns Lane
Board Price → £60
2021 Average → £278,033
St Peter's Square
Board Price → £60
2021 Average → £390,397
St Peter's Square might be one of the lowest priced properties on the board at £60, but in reality it is the most expensive area on the board at the time of our research, with an impressive average property value of £390,397. Located in the civic quarter of Manchester, the area is home to the Manchester Central Library and the esteemed Midland Hotel.
Lumns Lane however is far more industrialised as the epicentre for eco waste management, housing the Recycle for Greater Manchester – Lumns Lane Recycling Centre. Despite this however, Lumns Lane still achieves an average house price of £278,033.
Albert Square
Board Price → £100
2021 Average → £349,685
Liverpool Road
Board Price → £100
2021 Average → £232,711
Bridge Street
Board Price → £120
2021 Average → £226,062
The second most expensive plot on the Manchester monopoly board after St Peter's Square is Albert Square at £349,685. This doesn't come as a surprise as some of the most prestigious buildings in the city are located here, including Manchester Town Hall. You're unlikely to purchase a residential property here as it's a public square, but you could be in for some commercial space.
Located on Liverpool Road is the former railway station, the Museum of Science Industry and some commercial spaces too. The street features the sought-after M3 Building apartment block and residential properties above the street's bars and restaurants too.
Manchester's bustling Bridge Street is again a predominantly commercial space, with plenty of office space, bars, restaurants and shops.
Old Trafford Cricket Ground
Board Price → £140
2021 Average → £229,537
City of Manchester Stadium
Board Price → £140
2021 Average → £173,627
Old Trafford
Board Price → £160
2021 Average → £193,801
Based in the Stretford area on Talbot Road is the Old Trafford cricket ground, which is surrounded mainly by industrial properties and office space, and Trafford College too. Moving further along the road is a stretch of semi-detached residential properties, none of which are on the open market at this time.
Taking the previously rundown area of Ashton New Road and building its heritage up is the City of Manchester Stadium, now known better as the Etihad. House prices are still relatively low in this area compared to other areas in Manchester but the introduction of the stadium has accelerated regeneration in this area, with the average house price rising over the last two years from £127,346 to £173,627. This increase of almost £50,000 just goes to show what a little investment can do to house prices.
Sir Matt Busby Way hosts Manchester United's football ground, Old Trafford, but also many residential properties just a short walk from the stadium. The price of property in this area was at the lower-mid range on the board itself, and sits in a similar standing not far below the £198,678 Manchester average.
The Trafford Centre
Board Price → £180
2021 Average → £210,115
Market Street
Board Price → £180
2021 Average → £210,258
Arndale Centre
Board Price → £200
2021 Average → £239,752
The retail hub of Manchester, The Trafford Centre hosts over 250 shops and restaurants including John Lewis, Primark, Waterstones and many more. The Trafford Centre was purchased by Intu in 2011 for £1.65 billion and has since passed to new management at the end of 2020 after intu went into administration. Market Street is also one of the most renowned streets in Manchester for retail, located just a stone's throw from Piccadilly Station.
Also in this vicinity is the Arndale Centre, another large shopping centre established in the 1970s. Surrounded by and filled with big name brands, this area is more a hub for commercial space rather than a spot to keep your eye on for property.
Strangeways Brewery
Board Price → £220
2021 Average → £196,591
Derby Street
Board Price → £220
2021 Average → £72,672
Coronation Street
Board Price → £240
2021 Average → £128,845
Just north of the city centre, was Strangeways Brewery, famous for being the creators of Boddingtons Bitter. It was closed in 2005 and demolished in 2007, but the area remains an iconic spot. Development stalled for a while here during the recession, but is slowly recovering with house prices in this area falling just short of the Manchester average.
Derby Street is an industrial area located about a mile from the centre of Manchester, hence the price being dramatically lower than the average in Manchester as residential properties are few and far between here.
The fictitious street that many bring into their homes through the week, Coronation Street is featured at Manchester's MediaCity, where houses would sell for around £130,000.
Hunts Bank
Board Price → £260
2021 Average → £203,625
Quay Street
Board Price → £260
2021 Average → £255,500
Withy Grove
Board Price → £280
2021 Average → £211,336
Hunts Bank hosts the famous Manchester Victoria Station and Chethams School of Music. Located right in the centre of the city, it's unlikely for property to come up in this area.
Quay Street is again right in the heart of the city and is known as the city's business district. While there are some residential properties on this street, they don't come up for sale too often. Withy Grove is again a predominantly public street close to the Northern Quarter, host to The Printworks entertainment centre.
All Saints
Board Price → £300
2021 Average → £110,000
Oxford Road
Board Price → £300
2021 Average → £258,448
Sackville Street
Board Price → £320
2021 Average → £214,775
The All Saints area is predominantly a student base, with Manchester Metropolitan University located here. This area is predominantly filled with student accommodations and commercial spaces.
Oxford Road is again a central area, close to the city centre, Manchester Royal Infirmary and The University of Manchester, making it an ideal spot for students and young professionals.
Sackville Street is the location of Manchester's Chinatown, and is predominantly a commercial space with plenty of office buildings around thanks to its central location.
Sport City
Board Price → £350
2021 Average → £132,000
The Quays
Board Price → £400
2021 Average → £179,631
While these destinations are listed as the most affluent on the board, the average prices in 2021 don't reflect this. Sport City is a complex of venues that the Etihad Stadium also belongs to. This area is becoming more sought after due to the cultural community that has been formed by Sport City.
Based in Salford, The Quays is known as Manchester's contemporary waterfront destination, with plenty of attractions and leisure places. The Quayside is a very desirable area of Manchester for affluent young professionals and the average house price of £179,631 reflects this. Properties can often move quickly as this is such a popular spot for professionals earning decent city-centre salaries to rent.
One of the fastest growing cities in Europe, especially with regards to the tech industry, Manchester has become a very desirable location, with prices varying dramatically across the area, and of course, wildly from those given on the Monopoly board.
Not only is one of the cheapest in-game areas, St James's Square, actually the most expensive in terms of real house price numbers, but the opposite end of the board is similarly skewed, with Sport City and The Quay's having comparatively cheap properties.
What do you think of the average house prices in Manchester? Tweet us @SDLAuctions or join the conversation by following us on LinkedIn.
Interested in viewing properties in Manchester? At SDL Properties Auctions, we have a wide range of property types including industrial, residential and commercial in the Greater Manchester area. Browse through our upcoming auction properties using our Property Finder. Alternatively, if you're looking to sell your property, click on the link below for your free valuation, or call us today on 0800 046 5454.