6th January 2016
SDL Bigwood acquired by SDL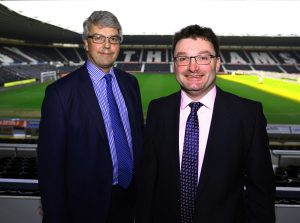 SDL Bigwood, the Birmingham-based property and auctions business, has been acquired by one of the UK's fastest growing independent property groups, for an undisclosed sum.
Shepherd Direct Limited (SDL), the national property services group with interests in surveying, valuations, lettings, mortgages and estate agency, has made the acquisition to further enhance the group's financial strength and to help SDL Bigwood build nationally.
SDL Bigwood is an established top ten UK auction house and the largest in the UK north of London. The firm's residential service charge property management operation is also in the top ten in the UK.
Estates Gazette's Top Agents League Table ranks SDL Bigwood as 27th largest agent in the country.
SDL Bigwood Senior partner Rory Daly, who will remain with the business as SDL Bigwood chief executive officer, said: "This marks the next step in the evolution of SDL Bigwood and will further enhance our position as a major player in the auctions and residential service charge management sectors.
"The acquisition will boost not only auctions and property management but also our commercial agency, residential sales & lettings, professional services and building surveying work.
"Being part of SDL will provide a significant boost to the SDL Bigwood business and allow us to accelerate our growth plans."
SDL Bigwood formed when Bigwood merged with Curry & Partners in 2011 to set about building a national property services group, has origins dating back to 1854 and today delivers £80 million of property auction sales per annum and has more than 25,000 properties under management.
The combined group will now generate over £60 million turnover per annum with 400 staff across offices in Birmingham, Glasgow, London, Loughborough, Southampton, Stratford-upon-Avon and the group headquarters in Nottingham.
Group CEO Paul Gratton said: "SDL is a fast-paced, successful growing property services group which has quadrupled its turnover in the last five years and remains extremely ambitious."
Launched in 1989, SDL now boasts a client list including most major mortgage lenders including a 26 year relationship with HSBC, and currently manages over 140,000 mortgage valuations a year, through 150 panel firms and its team of 70 employed surveyors.
SDL also includes the 50 branch estate agency Century 21 UK, with franchised branches from Liverpool to Southampton, including 20 offices in and around London and offers a residential lettings and management service to both institutional landlords and on an outsourced basis to independent estate agents, with current mandates to manage in excess of 5,000 properties.
As part of its ambitious growth strategy, in 2015 SDL also acquired a significant stake in the national mortgage broker network Stonebridge to facilitate its growth, which now has more than 400 mortgage advisers and arranges in excess of £4 billion of mortgage lending annually.
Rory Daly said: "The operations of both groups overlap without competing and by working together we will be able to secure additional benefits and operating efficiencies."
"The financial strength, entrepreneurial prowess and logistical support provided by SDL will enable us to develop further our already market leading proposition as well as to continue the significant growth we have achieved in recent years."
Paul Gratton added: "Rory Daly and his team have done a hugely impressive job of building a mature and successful business at SDL Bigwood."
"We are really looking forward to working with them to help support their ambitious growth plans both organically and through selective mergers and acquisitions as well as using the combined group's reach in terms of winning new corporate partnerships and building deeper relationships with current business partners."