11th March 2019
SDL Auctions Graham Penny highlighted for best practice in Parliamentary Review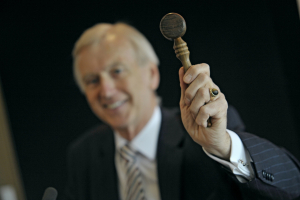 Leading property auctioneer Graham Penny has featured in the latest housing edition of the Parliamentary Review, a bespoke publication which aims to share best practice from the industry.
Graham, who founded Graham Penny Auctions, now part of SDL Auctions, was invited to contribute as a specialist representative to the industry. In his article he highlighted the benefits of selling a property at auction and called for regulation changes to make the process even more transparent.
Graham, now a consultant to SDL Auctions, credited the BBC television series Homes Under the Hammer for raising the profile of auctions said he hoped that one day sellers would become as popular with sellers in the UK as it is in other parts of the world where it's the preferred method of sale.
He wrote: "Property auctions are a genuine alternative to private treaty sales and in some cases can realise a better sale price. It's an accurate barometer of the market at the point of sale; if you offer a property for sale to an audience of competitive bidders, you will secure the best price."
Over the course of his many years in the industry, Graham has seen numerous changes, including guidelines introduced in 2014 which state that the guide price must be no more than 10% above or below the reserve, providing a more accurate benchmark for buyers and preventing auctioneers from pricing properties low to draw in bidders.
He wrote: "When I conducted my first auction there were no guide prices and this introduction has definitely improved the understanding and trust in our industry."
Graham has also seen the auctions industry evolve to introduce conditional sales, where exchange of contracts is delayed to give the buyer time to secure finance if required. This broadens the pool of potential buyers as auction room sales require the full purchase price to be paid within 28 days.
SDL Auctions has embraced this change to become one of only a few auctioneers to offer both conditional and unconditional sales, via room auctions and online auctions, providing more options to sellers and buyers.
However, further improvements could be made in the business, he said and, while he welcomed the introduction of compulsory legal packs for auction properties, he called for these to be more detailed. There is currently no minimum content requirement but Graham feels they should be brought further into line with the packs which are obligatory in private treaty sales. He says they should include, at a minimum, Land Registry data and a property information form detailing services and boundaries.
Graham is understandably a firm believer in auction as a fast, efficient and decisive method of selling property and attributed the success of the company – which is now the fifth largest property auctioneer in the UK – to its commitment to transparency and honesty.
He wrote: "We have always offered realistic advice both in terms of the likely sale price and whether an auction sale is the right method. This transparency created solid and trusted foundations for our business and helped us secure the position of number one property auctioneer in the Midlands every year since 2006."
The Parliamentary Review is a series of independent publications covering a range of sectors, including housing. Chaired by Lord David Blunkett and Lord Eric Pickles, the publications aim to share best practice among policymakers and business leaders.
Co-chairman of The Review, Lord Pickles, has noted that this year's Review provides "content from a wide range of organisations – small and large; new and old; those at the peak of their powers and those who have peaks to surmount", all of whose voices must be listened to by those in power.
You can read Graham's full article in The Parliamentary Review here: https://www.theparliamentaryreview.co.uk/organisations/graham-penny-estates-auctions.
To find out more about selling by auction, or to request a free auction appraisal, click here.