26th February 2021
Property auction successes bust the cash buyer myth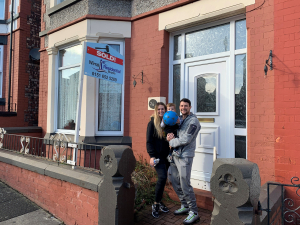 SDL Property Auctions and one of its partner agents WRB Auctions have observed a growing trend of customers buying properties with a mortgage, busting the myth that you need cash to buy at auction.
It is even a route which is becoming more popular with buyers taking their first step on the housing ladder.
One couple who took advantage of the speed and certainty of an auction sale were first-time buyers Tom Mangan and Becky Beardsmore, who bought a four bedroomed family home in Merseyside.
The pair spotted a house in Laburnum Road in Oxton for sale by conditional online auction through SDL Property Auctions in partnership with WRB Auctions, but were initially put off as they believed – as many do – that auction properties are for cash buyers only.
Tom said: "We never dreamed we'd be able to afford a four bedroomed house so when we found this one it seemed too good to be true. We nearly gave up on it when we realised it was for sale by auction but our lender said it wouldn't be a problem so we put in an offer which the seller accepted and ended the auction early.
"Even with the buyer fees, we've got ourselves an amazing house at a great price, and without any of the usual hassle. The property needs some updating but that allows us to decorate it just how we want it, to make it our own."
Another happy Merseyside homeowner is Lee Walker, who bought his second home with partner Kelly Hare through SDL Property Auctions in partnership with WRB Auctions.
They bought the spacious three bedroomed semi-detached home in Cedar Avenue in Bebington at the end of last year via the Buy It Now method and moved into the property this month.
Lee said: "The difference between buying my second home through auction and buying my first home in the traditional way was incredible. The auction was much quicker and trouble free and I'd highly recommend it."
In December, SDL Property Auctions sold three properties on behalf of WRB Auctions by three different methods; one in a live-streamed Auction Event, one via a Timed Auction with round-the-clock online bidding and one by the Buy It Now method. Around a third of WRB Auctions' properties sold in the past 12 months were purchased with a mortgage.
WRB Auctions director Ray Purchase said he was delighted to see a growing number of private homeowners turning to auctions but that the trend was no surprise: "I think with so much uncertainty in the world and the property market at the moment, the only way to have a secure and fast sale is auction. So I think that is why so many sellers and buyers are choosing the auction method."
The auctions are powered by SDL Property Auctions, one of the UK's most successful auctioneers which works with more than 1,000 agents nationwide to provide fast, hassle-free sales. These partnerships have proved a lifeline to many agents during three national lockdowns over the past 10 months.
Andy Thompson, Head of Auctions North West at SDL Property Auctions, said: "It's rare to find a deal where everyone's a winner but we believe our partner programme fits the bill. Buyers, sellers and our partners are all happy to achieve fast transactions with almost zero risk of the sale falling through.
"The success of WRB Auctions is a real credit to the flexibility of our auction offering. We are proud to be able to provide sellers with a choice of sales methods to suit their timeframe and circumstances – and we're helping our partner agents keep some income flowing at an incredibly challenging time."
For more information about selling a property by auction, or becoming an estate agent partner, please visit www.sdlauctions.co.ukor call the SDL Property Auctions team on 0800 046 5454.