18th July 2022
Properties of all shapes and sizes available in SDL Property Auctions' July catalogue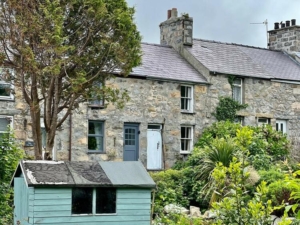 Temperatures aren't the only thing heating up as SDL Property Auctions launches its July catalogue, with over 175 properties of various shapes, sizes and conditions going under the hammer in this month's National Property Auction.
Anyone looking to take advantage of the thriving Airbnb market in Caernarfon is sure to be interested in 3 New Street, a terraced two bedroomed cottage, packed with plenty of character. Situated in the village of Trefor on the doorstep of the Llyn Peninsula, the property benefits from having a number of independent shops, public houses and other amenities on its doorstep, making it a great solution for anyone looking for a holiday cottage – for themselves or to let out. With the additional potential to gain a refurbishment grant from the local council of between £15,000 and £30,000 this is a great investment opportunity at a guide price of £59,000+ plus fees.
Managing Director and Auctioneer Andrew Parker said: "It'd be no surprise, that with the weather being as hot as it is this week, if we saw many consumers looking for holiday property opportunities closer to home this month, with this property being a great example of one. With great potential to either become a Airbnb style holiday-let or your own holiday home, I'd imagine its proximity to the coast would be very alluring during a heatwave like this."
It'd also be likely easier to cool off from within the Former Allestree Methodist Church in Derbyshire, a large and imposing former place of worship, with its internal floor area extending to over 2,000 sq. ft. Originally built in or around 1895, the building is a single storey and sits in a very popular location with a wide range of amenities nearby. There is potential for residential or commercial conversion, subject to the appropriate planning consents being obtained, making its guide price of £155,000+ plus fees, incredibly attractive.
Another rare and unique opportunity is also available in Derbyshire, this time with Rough Heanor Farm. This is a substantial, brick built Georgian former farmhouse, set in just over 10 acres of land with a range of outbuildings. Having been partially restored, the building retains a number of its original features and requires some further improvement and upgrading. The property has real potential to be developed into a wonderfully characterful family home, with the property's land adding extra development opportunities too, and is being offered at a guide price of £685,000+ plus fees.
A slightly smaller characterful cottage can be found in Brent in Devon, as 2 Church Street goes under the hammer. This two bedroomed, terraced cottage sits within the town centre and is close to all necessary local amenities and services, with the additional benefit of being on the south edge of Dartmoor National Park. Retaining some period features such as barn-style doors and a stone fireplace, this is a real opportunity at a guide price of £134,000+ plus fees.
If the North West is your area of interest, then 5a Elworth Street in Sandbach may be right up your street. This three bedroomed terrace is in need of some refurbishment, but would make a great investment opportunity in this popular residential area. While the property benefits from central heating and partially double-glazed windows, it'd be the property's cellar that'd be coolest during weather like this. With a guide price of just £105,000+ plus fees, it's definitely not one to be missed.
Andrew continued: "The beauty of auction is how we can bring such a wide range of properties to market and this month is no different. With holiday homes, churches and pieces of history going under the hammer, it's sure to be an exciting sale this July."
These are just a few of the opportunities being sold in July through SDL Property Auctions, with the July National Property Auction featuring a great range of homes, apartments, commercial properties, land and more, suiting every requirement and budget.
The National Property Auction on Thursday 28th July will be live streamed via the SDL Property Auctions with bids placed online, on the phone and by proxy. Bidding registrations must be submitted before midday on Wednesday 27th July by clicking here. For more information on any of the properties, click here or call the team on 0800 046 5454.