22nd September 2021
Paying council tax on empty homes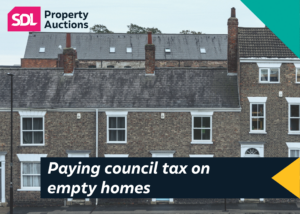 Are you paying council tax on an empty home? Owning a vacant property can cause the expenses to build up, and one of the biggest costs can be the council tax, particularly if the home has been standing empty for a long time.
On top of insurance and maintenance costs, owners of empty properties could face huge council tax bills as part of a government drive to bring these homes back into use. Amid a national shortage of homes, the government wants to reduce the number of vacant properties so has given local authorities greater powers to charge higher council tax on empty homes.
If you own an empty property, read our guide to council tax to find out if you can stop your costs from building up.
Who has to pay council tax, the landlord or tenant?
If there are multiple tenants, such as in a House in Multiple Occupation (HMO), the landlord will usually pay the council tax and split the cost between the tenants by adding it onto their rent.
However, in most cases of rented properties, in single rented units, the bill will go to the tenant not the landlord as it is the occupier's responsibility to pay council tax. The council tax bill is subject to a 25% reduction if there is only one adult living in the property, and a 50% reduction if none of the occupants counts as an adult.
There are exemptions, for instance for students – although this only applies if everyone in the property is a full-time student. Citizens Advice has guidance to help council tax payers check if they can pay less council tax, for example if they are on a low income or are disabled.
If your property is empty, the responsibility for paying council tax falls to you as the owner, and can be one of the biggest expenses for a landlord whose property is untenanted. The longer your property remains empty, the more chance there is of having to pay a council tax premium and costs building up.
How long can a property remain empty before the council tax premium is charged?
Within government-set limits, local authorities have the power to set their own rules for council tax payments on empty properties so different charges will apply around the country. If a property is empty for a short period, there may be a discount on the council tax. However many local authorities, including the City of London Corporation, Manchester City Council and Birmingham City Council require owners of empty properties to pay the full amount. The local authority where your empty property is located will be able to advise.
If your property remains empty for a long period then the local authority has the power to charge you a premium on top of the standard council tax rate. The premium can be charged for long-term empty homes after two years in England, and after 12 months in Scotland and Wales.
What council tax can local authorities charge on a long-term empty property?
To reduce the number of empty properties, the government has given extra powers to local authorities to charge council tax premiums on homes which have remained unoccupied for long periods. The period applies to the property not the ownership, so if you have bought a property which has already been empty for a long period, you may face the premium sooner than you expect.
In England, Citizens Advice reports that local authorities have the option to charge the following council premiums on empty homes:
Vacant for between two and five years: up to 100%, in other words doubling the council tax;
Vacant for between five and 10 years: up to 200%, or three times the usual council tax;
Vacant for 10 years or more, a premium of up to 300%, which is four times the council tax.
While these premiums are optional for local authorities, according to the Council Taxbase 2020 in England, almost all English councils – 300 out of 314 – charged the premium on some empty dwellings in 2020.
Which empty properties are exempt from council tax?
Not all empty properties are liable for council tax. There are various exceptions, including for people who are in hospital among others, for properties which have been repossessed and those which have been compulsorily purchased and are due to be demolished.
For landlords and investors, the most common exemption is for homes which are derelict, although there are strict conditions which apply here – the property must be uninhabitable and require major structural works to make it 'wind and watertight'.
Do you have to pay council tax when refurbishing a property?
Even if a property is not classed as derelict, there may be discounts available if your property is undergoing major repair work or structural changes. Again, the relevant local authority will advise. The authority will also advise when council tax will become payable by sending you a completion notice once any work is finished. If you disagree with this assessment, you may appeal to one of the following organisations:
What are the rules about council tax on empty homes in Scotland?
Scottish local authorities may charge the full amount of council tax with no discount for empty properties. There may be discounts available for short periods of time for properties which are being renovated or which are for sale or rent.
Local authorities have the power to set their own discounts and premiums, so it is always worth checking. For instance, Dumfries & Galloway Council offers a six-month exemption for unoccupied and unfurnished properties.
In Scotland, a property is considered a long-term empty home after 12 months, half the length of time than in England. After a property has remained unoccupied for 12 months, a Scottish local authority may charge the full amount of council tax or decide to charge a 100% surcharge, doubling the usual council tax.
What are the rules about council tax on empty homes in Wales?
In Wales, a long-term empty dwelling is one which has been unoccupied and substantially unfurnished for a continuous period of at least a year – note that, like Scotland, this is a shorter period than in England. After this, local authorities have the power to set their own premiums, specifying different percentages based on the length of time the property has been empty. The maximum premium is 100% – in other words, they can double the usual council tax.
There are exceptions available, including for properties which cannot be lived in, sold or let, and a grace period of a year if the property is being marketed for sale or rent.
Do you need to pay council tax on a second home or holiday property?
There are different rules about council tax for second homes and holiday properties, even though they may stand empty for much of the year.
You will not usually have to pay council tax on caravan pitches, boat moorings, seasonal homes which cannot be occupied all year round or an annexe which is part of your main property.
In England, local authorities may grant a council tax discount for a furnished property which is not your main home. This varies according to the local authority as councils have the power to set their own discounts, up to 50%.
If your second home or holiday property is located in Scotland, the local authority may offer a council tax discount of between 10% and 50% if the property is not your main home, or choose not to offer any discount at all.
Due to the high number of second homes in Wales – one in every 10 houses in Gwynedd is now a second home – it is the only country within the UK where a council tax premium of 100% can be charged on second homes or holiday homes, as well as on long-term empty dwellings.
However, if a holiday home is registered as a business and is let to holidaymakers for at least 70 days a year and available to let for a minimum of 140 days, it can be registered as a business which means no council tax is payable, in what Plaid Cymru describes as a loophole which needs to be closed.
To address the impact of second home ownership, the Welsh government also plans to pilot new measures which could include changes to local taxes, government house purchase schemes and planning laws (BBC News).
How many empty homes are there in the UK?
According to latest Government figures, in September 2020 there were 479,000 dwellings recorded as empty for the purposes of council tax, of which 69,000 were being charged a council tax premium.
Of the 479,000 vacant dwellings, Action on Empty Homes defines 268,385 of them as long-term empty properties, having been empty for at least six months, and says this figure is growing in most local authority areas. The charity campaigns to return empty properties back into use and has launched a toolkit to help local authorities and communities begin the process of turning vacant dwellings into homes.
Selling an empty property
With the prospect of high council tax bills for long-term empty homes, you may decide that selling the property is the best course of action.
If you are selling a property on behalf of somebody who has died, council tax is not payable until you get probate, as long as the property remains unoccupied. Once probate is granted, a council tax exemption may be granted for up to six months as long as the property remains empty and owned by the deceased person (gov.uk).
If you are selling your own empty property in Scotland or Wales, you may be entitled to a council tax exemption. There is no such exemption listed on the government website for properties in England, although local authorities can set their own rules to an extent so it is always worth making your own enquiries.
If you own an empty property and are keen to reduce your costs quickly, selling a property on the open market may not be the quickest route, as the time from listing a property for sale to completion is currently around six months, according to a Home Owners Alliance report based on data from View My Chain.
In contrast, selling by auction can be much quicker and at SDL Property Auctions we have secured buyers in just one day. With the time from securing a buyer to completion being just 20 or 40 working days in most cases, this means your property could be saving you from rising council tax costs and making you money in just a few weeks.
Do you have an empty property which may incur additional council tax charges? We have a wide network of investors and developers ready to buy vacant properties so why not talk to our friendly team and request a free, no-obligation auction valuation? Click here or call 0800 304 7879.