19th October 2020
Meet 'the three auctioneers'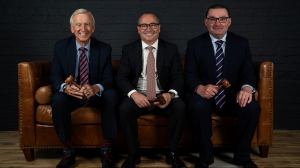 If you're familiar with property auctions then you may well be familiar with Andrew Parker, Rory Daly and Graham Penny. Their combined experience, knowledge and integrity has been at the beating heart of UK property auctions for decades, and we're proud to have their trusted insight at the heart of SDL Auctions too.
We grabbed a coffee and sat down to find out more about our auctioneers.
How did you become an auctioneer?
AP: After a career in estate agency I realised the private treaty process was broken and I wanted to offer a more secure sales process for my clients.
RD: We had a small estate agency and decided to expand into auctions. I was terrified at getting on the rostrum for that first auction and was focused on getting my gavel in time. I ordered it too late and ended up having to sell lot 1 with a BIC Biro! Typically, the gavel arrived the next day.
GP: I started my career with an agricultural firm of chartered surveyors who ran cattle markets and auctions. I was expected to become an auctioneer, although they didn't tell me that to start with.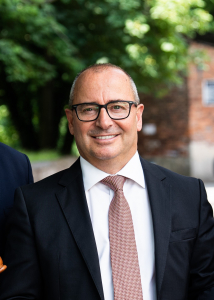 Out of all the property sectors you could work in and with all the knowledge you have, why auctions?
AP: It's the black and white transparency of it all. I love the fact it's quick and we can deliver tangible results.
RD: Auctions and I suit each other. We're both very similar – straightforward, no time wasting, just honest and transparent.
GP: It's the immediate results, the excitement and the prospect of being shocked that I love about auctions.
Have you ever sold a famous property or one for a celebrity?
AP: I've sold quite a few properties for premiership footballers, and last year I sold a property for TV presenter Stephen Mulhern.
RD: I did an auction for a charity that Princess Anne attended as a patron. I tried to get her to bid but didn't succeed.
GP: I sold Alton Manor in Derbyshire which belonged to the late Lady Hilton, wife of Colonel Sir Peter Hilton, who had been Lord Lieutenant of the County prior to his death. It sold for an impressive £2.245m.
What's the strangest lot you've ever sold?
AP: There's been quite a few of those. I've sold an air raid shelter, a houseboat, several on different Coronation Streets around the country and even 10 Downing Street – in Sutton in Ashfield.
RD: I sold a toilet block which I remember having some fun with, introducing it with: "this next lot is in a very convenient location, you will have to spend more than a penny on it and there's no chain!"
GP: Probably an underground bunker.
Where do you think you, and SDL Auctions, will be in five years?
AP: I think we'll still be at the forefront of bringing auctions to a wider market; offering peace of mind, speed, support and security.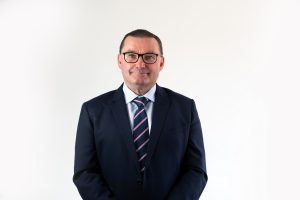 Do you think we'll ever see SDL Auctions holding auction events in a room full of bidders again?
AP: I don't think we'll go back to the way things were, but it would be nice to see people again. We'll look to do physical auctions in the future when guidelines allow but probably as part of larger property events.
RD: I would be amazed if any major auctioneer holds a room auction in the next six months, which would mean that we won't have held them for over a year! Maybe we never will go back to room auctions.
GP: Yes, I think we will – but who knows when!
What's your secret for SDL Auctions becoming the UK's most successful live-streamed auctioneer?
AP: It's having a great bunch of people all wanting to do the best for their clients.
RD: We were already very well established in selling property online pre-coronavirus, plus we had all the technology and systems in place, enabling our sellers to trust us to adapt quickly.
If you were interviewing for another auctioneer, what would be your most important interview question?
RD: I've lost count of how many people have said they could be an auctioneer. I'd get them to do a mock auction. It's a different ball game when you're on the rostrum!
GP: What do you consider to be the most important lesson you have learnt from your career to date?
Which would fetch more at auction – Pride Park or the Hawthorns?
AP: To be honest I'm not sure I would want to sell either at the moment!
RD: It pains me to say it but if you're talking about property value then it would be Pride Park. Pride Park would achieve the higher price, but Hawthorns would have a more attractive guide price.
GP: I'm guessing it would be The Hawthorns on present performance!
What's been your most nerve-wracking moment on the rostrum?
AP: I've had a few hecklers over the years. It doesn't worry me now but to start with it made me feel quite unsettled.
RD: I remember selling a lot where one of the bidders had bought some 'back up' with him who were trying to surround and intimidate the other bidder. I stopped the bidding to ask if the bidder wanted to move and I encouraged him to continue bidding. Luckily the lot sold without fuss.
GP: Undoubtedly selling the first three lots to the same gentleman on the front row, and then him bidding again on the fourth!
What or who is your inspiration and how has it helped shape your career?
AP: Graham. I knew him for several years before we worked together, and I feel fortunate to have then had that time working closely with him.
RD: My wife Sarah and my kids. When I first started as an auctioneer Sarah said: "I think you'll be really good at it. Finally, you've found something that suits your big mouth!" I did loads of mock auctions at home to practice which helped me in the early days.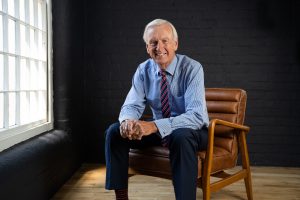 What's the most bonkers moment you've experienced during an auction?
AP: I'd have to say the time the fire alarms went off at Pride Park. We all got evacuated before the auction started and had to stand outside in the cold for half an hour.
RD: The fire alarm went off at Villa Park too and we had to evacuate. People were getting in their cars and trying to leave so we were running round the car park telling everyone we will be carrying on shortly!
GP: I can remember the fire alarm going off too! I also remember someone sending an office junior to the auction with a signed cheque to bid on their behalf – and they bought the wrong lot!
What do you remember as the most satisfying moment in your auctioneering career?
AP: There's been too many to mention. The most satisfying moments are when you realise you've helped achieve a life changing amount for someone who will really benefit from it.
RD: I love those times where you're not sure if a lot is going to sell and when it does it gives you a real buzz.
GP: Setting up Graham Penny Auctions in 2006 was my most satisfying moment – it was also the scariest!
2020 has been a strange year for the property industry, however auctions have thrived and helped the market continue to move. Why do you think that is?
AP: It's because auctions offer speed, support, security and peace of mind. In a period of uncertainty that's exactly what people want and need.
RD: I was expecting the first three months to be busy because of pent up demand but I'm amazed it's continued.
GP: Evidence shows that whenever the general economic state is depressed or restricted – like a financial crash – the auction market flourishes. It's difficult to put a finger on why, though in this instance the stamp duty holiday has definitely contributed.
Of all the changes that the auctions sector has had to make during 2020, what positives do you think we can take into 2021 and beyond?
AP: We've all learned a lot very quickly. Whilst we will continue to miss interaction with people on a day-to-day basis, I think we'll all do a lot less travelling and become more efficient. Hopefully that will lead to a better work/life balance.
RD: Auctioneers now don't have any geographical restrictions. We can hold a nationwide auction and people can easily bid without having to travel. Bidders no longer have to visit a venue and wait for their lot to be offered; they can plan their day around the lot they're interested in.
Is there anything you would do differently if you could go back to the beginning of your auction careers?
AP: I don't think so, I just might have done it sooner.
GP: Me too. I'd have set up Graham Penny Auctions 10 years earlier.
RD: I'd have ordered my gavel earlier!