11th February 2019
Leading auctioneer comes back to the job he loves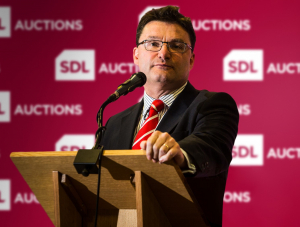 One of the country's leading property auctioneers is going back to the job he loves this week as he takes to the rostrum once again at Villa Park following an absence of 12 months.
Rory Daly, Auctioneer at SDL Auctions, took time off from his job last year after he was diagnosed with bowel cancer. Thankfully Rory has made a full recovery and has now been given the all clear to return to work and what better day to return to his passion than Valentine's Day.
The first SDL Auctions Bigwood auction of the year takes place this Thursday 14th February at Villa Park football ground and with a catalogue totalling 136 lots there's likely to be plenty of love in the air. Even the BBC 1 Homes under the Hammer film crew are coming along to play property matchmaker!
Rory commented: "I'm really pleased to be coming back to work after a long period of recovery, and I'm particularly looking forward to taking to the rostrum in my first week.
"As an auctioneer, auction day is the most exciting day of the whole auction sales process. Being able to achieve the best price for our sellers and see the happy faces of our buyers who have just secured their new purchase is what I love."
Rory will now be refocusing his time on SDL Auctions' corporate relationships across the West Midlands and the rest of the UK, as well as taking to the rostrum as lead auctioneer for the 2019 calendar of 40 room auction sales alongside Andrew Parker and Graham Penny.
Rory has more than 30 years' experience as an auctioneer in the property sector and was CEO of CPBigwood prior to its acquisition by the SDL Group in 2015. SDL Group then acquired Graham Penny Auctions the following year and created SDL Auctions. Over his career, Rory has raised over £1.5 million via regular charity auctions and his other passion is West Bromwich Albion FC where he is a season ticket holder.
Rory added: "We're starting 2019 on the back of a hugely successful 2018 where we not only sold more than 725 lots in our Villa Park auction room – the most of any auctioneer in the region – and were named Company of the Year at the Birmingham Post Business Awards, we also raised a fantastic £210m in sales for our happy sellers across the UK.
"It is hugely important for us to put our customers at the heart of everything we do so to hold our first 2019 Birmingham auction on Valentine's Day is particularly apt."
To view the catalogue for the Thursday 14th February auction at Villa Park FC click here and to see the full 2019 calendar of auctions click here.