9th December 2020
Is Christmas a bad time to sell a house?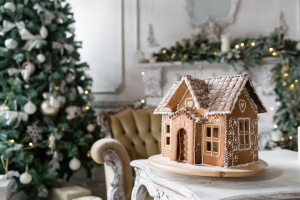 Christmas is a terrible time to sell a house, right? Surely everyone is too busy planning meals, buying presents and getting into the festive spirit to be looking for a new home, right? Wrong, on both accounts. Of course, many people see the festive season as their busiest time of year, but that doesn't mean they aren't still searching for their perfect property.
Whether they're spurred on by the goal of settling into their new home before Christmas Day, taking resolutions to the extreme by searching for a fresh home to welcome the New Year in or simply looking for somewhere new to call home, there are plenty of people on the lookout for their perfect property this December, Christmas and New Year.
Don't believe us? Read on to discover why this festive period could be the perfect time to sell your property.
Increasing property search trends
Despite the common myth that trying to sell a property close to Christmas is a bad idea, statistics show that plenty of buyers are in the market for their perfect home this time of year. While these statistics come from all over the internet's collection of property searching websites, perhaps the most impressive numbers come from Rightmove.
By looking at Rightmove's traffic over the Christmas season, we can see that, while page visits were understandably low on Christmas Day, there was a sharp increase of traffic over the following week as property searches doubled over the Boxing Day and New Year's period. This trend is not restricted to rightmove either, with other property listing websites such as Zoopla and Your Move reporting similarly encouraging figures.
Rightmove Page Visits | Credit: your_move.co.uk
From these statistics, it seems that selling your property this season, especially if it is residential, can cause a dramatic increase in the number of potential buyers for your property.
SDL Property Auctions Christmas period success
While it is encouraging to see high search volume from potential buyers on property listing websites and estate agents, such as Rightmove, Zoopla and Your Move, it's important to consider if this trend is also present in the property auction market.
As one of the biggest property auctioneers in the UK, we are pleased to report similarly encouraging figures in our own auctions from previous years. Last year, for example, in our last auction before Christmas Day which was held in Nottingham on 19th December 2019, eight of our sold properties fetched figures above the guide price. This was not a negligible difference either, with these properties averaging £15,937.50 above the guide price.
One of the most impressive sales made at this Christmas period auction was a Detached Bungalow in Nottingham. This spacious 4 bedroom property sold for £170,000, a huge £42,000 above the guide price of £128,000.
Overall, SDL Property Auctions has an impressive record for selling properties over the Christmas period, showing sellers that Christmas is not the 'avoid-at-all-costs' season you might think it is. Potential buyers never stop looking for their dream property, with one of them even previously purchasing a home on Christmas Day itself in our online timed auctions!
Why people search for their dream property over Christmas
Even with such encouraging statistics from both SDL Property Auctions and property listing companies on the internet, it can be difficult to estimate just what draws in potential buyers over this busy season. Whether they're influenced by the festive spirit and want to find the perfect place to set down their Christmas tree or want to achieve their New Year's resolutions in a whole new space, people can't seem to stop their property search over Christmas.
Whatever the reason, smart property sellers will be getting ready to make the most of the festive property search boom. Not only are you likely to have more potential buyers viewing your property this season, but if those searches turn into bids, you could also achieve a higher selling price for your property.
Sell your property this Christmas with SDL Property Auctions
Make sure you don't miss out on the opportunity to sell your property this Christmas, you could be more successful than common misconceptions have led you to believe.
To get your property listed in one of our upcoming Christmas and New Year auctions, or to request a free, no-obligation auction valuation, click below or call us on 0800 046 5454.