21st July 2022
How to find out who owns a property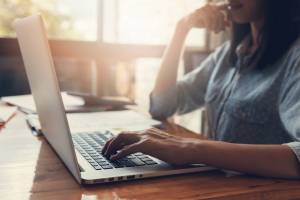 When it comes to the task of finding out the owner of a property or a piece of land in the UK, the process is significantly easier and more straightforward than you might think. There's no need to fill out piles upon piles of forms and you needn't set aside hours of time – simply grab your laptop or phone.
There are a number of ways to find out who owns a property but, for most of us, the easiest and most inexpensive way of doing so is by using HM Land Registry. Requesting information, such as the history of ownership of a property, comes at a small fee but is a simpler option than other methods of finding out who owns a property.
In this blog, we'll be sharing with you our expert insight into why it can be useful to know additional information about a property, such as the owner and the price they paid, before making an offer on, or bidding for, a property. We'll also take you through the best and safest ways to find out who owns a property or piece of land so that you can access trustworthy and accurate information with ease.
Why would I need to know who owns a property?
There are plenty of reasons a person may need or want to find out who the current owner of a property is. These reasons range from the commonplace to the utterly obscure and, to help you figure out if this information could be of use to you, we've listed just a few examples of what motivates people to seek out the owner of a property.
The most common motivators for people seeking this type of information are people whose jobs require it. Positions such as surveyors, property developers, investors and even estate agents will utilise this in their day-to-day tasks and applying for information from HM Land Registry is part of their researching duties.
Outside of job motivated searches, civilians are another grouping of people that commonly access this type of property information. Whether it's out of simple curiosity or as part of pre-property purchasing research, civilians are free to access this information whenever they wish about their own property or any other.
For those people who are spending a little additional time and effort researching a property they're considering purchasing, whether on the open property market or in an auction, knowing who owns the property can be useful. Moreover, accessing a Title Register document (which we'll explore more in the following section) can also provide useful information such as a record of historical sale prices. This can reveal how the prices have changed over time and even suggest something is wrong with the property if it has had many owners within a short period of time. In most cases, you'll only need your own common sense and not an in-depth understanding of the property market to interpret the information in a land registry report, meaning you won't need to seek additional, or expensive, professional guidance.
On rare occasions, people will search for this information in order to find official proof of ownership for a piece of land or a property. There are a number of reasons someone may need this information, the most common being to use as evidentiary support in a court case. Unfortunately, the usual Title Register document cannot be used in this way as it is not an 'official copy', which must instead be applied for directly to the Land Registry by filling in Form OC1 and sending it in the post with the relevant fee.
When selling a property, some estate agents and auction houses will request access to a title register and title plan. Depending on the location of the property, sellers may also be asked to provide a flood risk indicator report, but only if the property in question is in a known flood risk zone. When selling with SDL Property Auctions, it is expected that these documents will be provided where appropriate, for example, when selling a registered property.
How to find out who owns a property or piece of land
HM Land Registry offers a few different services at varying price points, all of which offer useful information. These services start with a Title Summary service which is entirely free to use but, if you're looking specifically for the owner of a property of piece of land, you'll need to purchase a Title Register document for a small fee.
To help you figure out which service you require, we've listed the costs of each service, and a rundown of the information each provides you with, below.
While the above services are available for properties within England and Wales, Scotland and Northern Ireland have their own registries. If you're searching for information regarding the owners of properties within the borders of Scotland or Northern Ireland, you'll need to go directly to their registries and fees will also differ.
For Scotland, you can access property information including the owner of the property and property prices for free, and further information can also be bought for a small fee. The link for the Scottish Land Registry search can be found here.
For properties in Northern Ireland, a wider range of fees apply to search and copy registry records but, if all you're looking for is the current owner of a property in Northern Ireland, you can pay a £5 fee to see a property folio, or a £7 fee to take an uncertified copy of that folio. The process for these services can be started with a postal address from here.
Find properties and land in the UK with SDL Property Auctions
At SDL Property Auctions, we're proud to offer a wide range of property and land types across England, Scotland and Wales and welcome all of our sellers and buyers to conduct research before placing a bid on their chosen lot.
Whether you're looking to sell your property by auction or are on the lookout for your perfect investment, our auctioneers are ready to answer any questions you may have. Contact us directly by calling us on 0800 046 5454 or send us an email at enquiries@sdlauctions.co.uk.