31st May 2023
How to buy an unsold auction property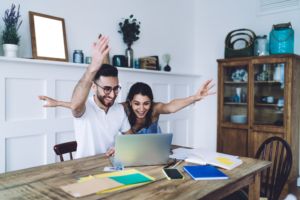 Purchasing an unsold auction property can be a fantastic way to secure a house or plot of land, or to invest in residential and commercial properties at a price you're comfortable with, because when a property fails to sell at an auction, this doesn't mean that it cannot be sold at all. In most cases, this simply means that the reserve price was not met. However, these properties still showcase great potential, and can often make for lucrative investments for experienced investors or affordable options for those looking to buy a new home.
If you are curious about the process of purchasing an unsold property, keep reading as we discuss what happens after the auction, and how you can still have the chance to pursue a property that you may be interested in adding to your portfolio. Furthermore, it is worth mentioning that you don't need to attend or watch an auction to know which lots are unsold as we publish the results of our auction events as they happen. Alternatively, we also publish a collated list of our unsold properties that are available for purchase and are accepting enquiries.
What happens if a property doesn't sell at auction?
If a property fails to sell at auction, then it is withdrawn from that particular auction event. In many cases, a property fails to sell because the reserve price is not met. Therefore, after the event has finished the auctioneer will usually invite interested parties to put forward their best offers in hopes that a sale can be negotiated with the seller. Often, those who choose to sell at auction do so because they want a quick and easy method of selling their property, so they may be more inclined to accept an offer that is lower than the initial reserve price. However, the seller is not obliged to sell the property to the potential buyer with the best offer and the property can remain unsold. Another reason that a property may remain unsold is that the legal pack was not ready in time for the auction or because prospective buyers were unable to view the property and conduct enough research to inform their decision, but this does not affect the future saleability of the lot.
In the case that these properties do go unsold in a scheduled event, they remain on the auction house's website and are then opened up to the general public with a set sale price. This price is often the original reserve price, and interested parties are invited to download the legal pack, arrange viewings, and make enquiries about the property they wish to buy. These lots can be found in a dedicated section on the SDL Property Auctions website, alongside the original date that they did not sell at auction. Some sellers choose to keep their properties listed for sale in this way, but some may wish to re-enter the property into a subsequent auction with an adjusted reserve price.
Typically, the post-auction market for unsold properties performs well as potential buyers have more time to conduct their research before making an offer, and the auction house will have an exclusivity period to continue marketing the property in order to make a sale. This may not be as prompt as the seller had hoped but does generate a fair price for both buyer and seller.
What does 'reserve not met' mean?
A reserve price is set by the seller before the auction takes place and this is the minimum amount that they are willing to accept for their property. This reserve price is known to the auctioneer but it is not disclosed to the public. If the highest bid on the day of the auction is below this reserve price, then the property cannot be sold and the reason given would be 'reserve not met'. Typically, the reserve price can be adjusted during the marketing period of the property but it needs to be fixed before the auction, and it cannot be changed on the day to reflect the interest in the property.
Reserve prices ensure that sellers are under no obligation to sell their property at a price they are not comfortable with. However, in some cases, after the bidding has ended, sellers may choose to accept an offer that is just under or close to the reserve price in order to make a quick sale.
How to start the process of buying an unsold auction property
As mentioned before, we list all of our unsold properties in a dedicated section which makes it easy for you to browse through each listing and the asking prices. All of the information needed to make an informed choice about any property you may be interested in purchasing will be detailed in the legal pack, and on the listing. This includes key considerations such as the EPC rating, council tax band and potential rental yield. 
If after reading the legal pack and associated information thoroughly, you'd like to make an offer on the property, you can enquire with us by clicking the 'send enquiry' button or calling us and quoting the lot number.
Are there fees involved when buying an unsold auction property?
Since many people like to buy and sell properties at auction, it's important to keep prices transparent so that buyers can make an informed decision and sellers can get a prompt and fair sale for their property. There are still fees involved when buying an unsold auction property as the process is the same as if you had purchased in the auction room. Fees can vary between different properties, but will always be detailed on the listing. If any additional fees are incurred, they will be written in the legal pack so it's important to read this carefully when you are pursuing a property and placing an offer. When buying an unsold auction property from SDL Property Auctions, our prices are kept clear to avoid unwanted financial surprises.
Where to buy an unsold auction property lot
SDL Property Auctions are experienced national auctioneers with properties for sale across the UK. As such, you'll be able to find an unsold lot in a location that suits you, and at a price point you're comfortable with. We cover a wide range of property types, including residential, commercial, land, garages, mixed-use, and more. Simply browse through our list of unsold auction properties to find your next investment opportunity.
If you have any questions about a particular property, or about the process of buying an unsold lot, feel free to contact us and one of our knowledgeable team members will be happy to assist you and answer any queries you may have.