23rd September 2021
How the rise in partnership working is breaking down business silos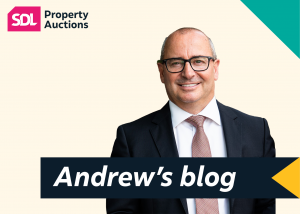 Andrew Parker, Managing Director and Auctioneer at SDL Property Auctions, welcomes a new age of partnership, as property businesses reject the idea of business silos in favour of collaborative working.
This feature was published on the negotiator.co.uk. To see the full article click here.
Within our individual organisations, we all know we can achieve much more when we work together in partnership and allow people to play to their strengths.
At SDL Property Auctions, we have taken steps to keep our people working together effectively as teams throughout the pandemic. One of the risks of working remotely is that this can create a silo mentality; where individuals begin to operate within their own little bubbles, failing to collaborate and share. This is not always intentional but can be an unfortunate side effect of working from home which can all too easily become a habit.
We know silo working is not the path to success so during the pandemic have encouraged our people to collaborate as much as ever, not only to keep the wheels of our business turning but to counteract feelings of isolation. We know we are not unique in this; many businesses took the same approach. Because everyone was thrust into the same boat during lockdown, I believe there was a stronger-than-usual drive to foster teamwork among people working from home.
Collaborating outside of your own business
The advantages of working as a team within an organisation are well known. However, these benefits are not limited to individual staff members and departments within a particular company. This same strategy of collaboration can – and in my opinion should – extend beyond the walls of our businesses. If we are stronger working together within an organisation, we can also be stronger together when collaborating with other companies – even those which we may have traditionally seen as our rivals.
A great example of this is the way we at SDL Property Auctions work in partnership with estate agents around the country.
Link to auction newsPreviously, when selling a property, people had a clear choice between a private treaty sale or an auction. When considering an auction sale, they had to turn their backs on their local estate agents. For sellers, this meant a rejection of the familiar and a leap into the unknown. For auctioneers and estate agents, it created a level of competition for instructions and an informal division of properties for sale. The smart family homes generally went to the estate agents, while the doer-uppers or 'challenging' properties usually went to auction, reinforcing the view that auctions were just for a certain property type.
I'm happy to say that this division of properties has been significantly blurred in recent years. As auction methods have evolved for the 21st century, to encompass modern methods such as Timed Auctions and Buy It Now sales, we have seen a growing number of smart family homes being offered for sale by auction. The pandemic has hastened this evolution; when estate agents were forced to close in March 2020, many homeowners turned to auction to sell their smart family homes and discovered they could do so quickly and easily, with a fixed completion date and no hassle.
Not an either-or situation
Best of all, people learned they can choose an auction sale without turning their backs on their familiar high street estate agent.
This is because an increasing number of estate agents no longer work as silos, operating in bubbles competing for the same properties as auctioneers. Agents can instead refer properties to auction without losing the sale; we can sell properties for them under their own branding and even create a bespoke auction website for them to display their properties.
This gives the agent an extra sales route to offer to their customers, costs them nothing and can create a healthy income for their branch. One of our partner agents earned £10,000 in a month from just three auction sales – and this income is paid within just seven days of a sale being agreed.
It's not just income for the branch; the referring agent receives personal rewards, too, from hampers to holidays; a perk our partner agents tell us they love.
Our partnerships with estate agents mean everyone is a winner. As well as the benefits for the branch and individual agent, sellers are happy because they get a quick, hassle-free sale for their property while working with their familiar estate agent – and they'll be more than happy to spread the word about their great result.
Naturally, we benefit from the extra instructions, too – that's how partnerships work – and they are now the fastest-growing area of our business. We now work with more than 1,500 estate agents across the country and see them as an extension of our own auctions team.
When we work together, everyone wins. And by working together in partnership, we all become stronger for it.