23rd August 2017
Five flats in Port Glasgow to be auctioned from £6k each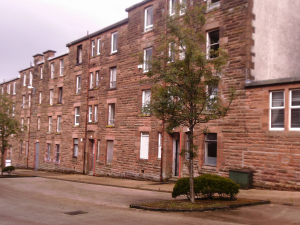 A rare opportunity to buy up to five flats in Port Glasgow for as little as £6,000 each is coming up at auction next month.
Four of the Renfrewshire flats were each previously let at £4,200 per year, and one is still rented out at that rate.
The one-bedroomed flats are all based on residential roads in Port Glasgow, within the Clune Park Regeneration plan.
They are just five of a total of 150 lots at SDL Auctions Bigwood's next auction at Villa Park, Birmingham on Wednesday 6 September.
The flats include: Flat 2/3, at 2 Caledonia Street, a second floor flat currently rented out; Flat 1/1, 1 Bruce Street and Flat 1/2, 4 Clune Park Street, both vacant first floor flats; Flat 2/2, 7 Robert Street, a vacant second floor flat; and Flat G2, 4 Clune Park Street, a vacant ground floor flat.
All five flats are feuhold (Scottish freehold) and each come with *guide prices of £6,000 each.
Gurpreet Bassi, head of residential auctions at SDL Auctions, said: "There is already quite a lot of excitement in the Scottish market about these five Port Glasgow flats which would all make attractive investment opportunities.
"They are close to local shops and amenities and near various green open spaces, including the Clyde Muirshiel Regional Park.
"While the auction is taking place in Birmingham, we have a wide range of properties available from across the UK at what we predict will be a busy auction next month."
As well as the Port Glasgow flats, other star lots at the Birmingham auction include:
The auction takes place in the Holte Suite at Aston Villa FC from 10.30am on Wednesday 6 September.
The full auction catalogue can be found here, and lot details can be viewed at www.sdlauctions.co.uk.