21st September 2017
A coffee with…Robert Stone, Senior Valuer at SDL Auctions Graham Penny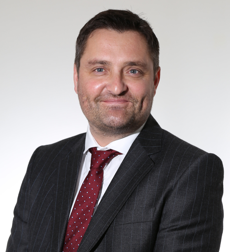 Robert has more than 20 years of experience in the property market and has a thorough understanding of house building, architecture and surveying through several jobs in estate agency and auctioneering.
As senior valuer, Robert predominantly works as part of the SDL Auctions Graham Penny Derby team taking instructions from vendors across Derbyshire and beyond. He has earned a reputation for honest, straightforward advice and excellent customer service. 
What is your business motto?
The business rule I always try to live by is to keep myself busy. I believe you need to be proactive; pick up the phone and call people as business won't always come to you.
What is the best quality of SDL Auctions, and how is it different to other auction businesses?
There are a number of things which make us stand out from the crowd and I think one of the key things is that we always price attractively. We get our guide prices right to attract bidders to the auction room and ultimately secure the best price.
In addition, we're an innovative business. With our membership card scheme and our online bidding options, we make buying and selling at auction a genuinely accessible thing for everyone.
I also think our auction day experience is really impressive. From the moment you walk into our auction room at Pride Park, you feel a real buzz of excitement – as a team member and an attendee.
What is office life like for you and your team?
Our office is a great place to be. We're lucky to have a superb team across the business and in Derby in particular we have an experienced team of familiar faces who people love working with – customers and staff alike. Our team maintain the high standards people have come to expect from the Graham Penny name in Derby and can be trusted to do a good job.
What is your approach to work / life balance?
I work hard during the week to achieve the best that I can for our vendors, our buyers and our business overall. It can be quite an intense time in the days preceding auction so I try to take holidays or short breaks every few months to recharge my batteries and get ready for the next auction cycle.
What is your approach to making contacts which are useful for the business?
Local networking is really important. I regularly meet with our commercial agent and solicitor contacts to develop and build relationships. It's engendering that trust with our corporate partners, individual sellers and property investor clients which helps us continue to be the one of the UK's leading auction networks.
Who has inspired you most in your business life, and why?
There are a few people who have helped me along the way in my career. The first person I have to mention is Graham Penny. He is incredibly articulate, has such has high standards and what he doesn't know about auctions isn't worth knowing!
My family has also been a real inspiration to me. My Dad set up our family property business over 40 years ago which my brother is now successfully running and my now retired uncle was a leading chartered accountant.
What is your proudest achievement in business?
I would have to say making the transition from working in estate agency to auctions. The skills I learned valuing properties for the private treaty market has undoubtedly helped me in my auctions role and more importantly, I believe helped increase the for sale to sold conversion rate.
What drives and motivates you?
The feeling when a sale has completed and the vendor is so happy with the outcome is definitely what drives me. The motivation for an auction sale can often be an emotional one and many vendors need persuading to try a sale by auction. But when that gavel falls on a higher price than they expected to get, the look on their face makes all the hard work worth it.
If you hadn't been Senior Valuer for Derby, what would you do instead?
I love skiing so I'd have to say a ski instructor in an exclusive resort in the Alps.
What time of day are you at your best, and why?
To be honest I'm not really a morning person. However, once I've got my first cup of coffee in my hand and we're having our daily morning meeting I'm up to speed. I'd also have to say I'm at my best on auction day, as soon as the gavel sounds to signal the start of the auction.
Do you use Facebook, Twitter or other social media?
I use Facebook quite a bit. I've never really got into Twitter. What I use the most is Instagram. It's great for catching people's attention; it's definitely true that a picture tells a story.
If you could have a coffee with anyone, who would it be, and what would be your choice?
It would have to be Winston Churchill. I'm really interested in the war and to be able to sip on an Americano while asking him why he made the decisions he did and how he felt at the time would be amazing.
How do you relax outside of work?
I enjoy walking in the Derbyshire countryside at the weekends with family and friends, maybe stopping at a country pub for a cheeky glass of Rioja. You'll also usually find me reading about or researching my next ski holiday!
Rob's #funfact
Ambergate in Derbyshire is the only place in the UK where you will find a road, train line, canal, footpath and river all running in parallel!