6th October 2017
A coffee with…Carl Finch, Senior Valuer at SDL Auctions Graham Penny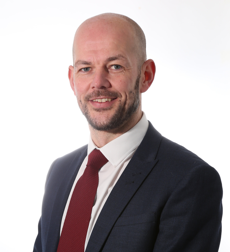 As senior valuer for our Leicester auctions, my main role is visiting clients and properties across Leicestershire and other parts of the Midlands. These can range from small residential investments to commercial building a development sites, all with the aim to sell in a speedy and secure way while achieving the best price possible.
I have worked in estate agency and property auctions in Leicestershire for 20 years so am able to use a wealth of experience and contacts to help vendors achieve their sale goals and help investors built their property portfolios.
Outside of work I live with my wife Kerry, our 3 children and our dog Bella. I enjoy the outdoors and of course follow Leicester City and Leicester Tigers! 
What is your business motto?
To always give our clients good, honest advice by telling them my professional opinion and not just what they want to hear.
What is the best quality of SDL Auctions, and how is it different to other auction businesses?
We have a great team and people make a company. Each member is fully committed to give the best service and get the best results for our clients. Due to our rapid growth we can now also offer our great auctions service all over the country.
What is office life like for you and your team?
I spend most of my days out of the office visiting properties and clients, mainly in the Leicestershire area. We have a great team in the office who deal with everything from the initial valuation of a property, to running the auction to finally handing keys to the new buyer.
What is your approach to work / life balance?
My work life and social life sometimes merge into one. With access to emails on my mobile I'm often sending messages in the evenings or during family time, which sometimes drives my wife crazy! However, we have recently just had twin so I think my life outside work may now get a little busier!
What is your approach to making contacts which are useful for the business?
I spend lots of time visiting clients such as local estate agents and solicitors around Leicestershire… mainly concentrating on the ones who offer the coffee and biscuits!
Who has inspired you most in your business life, and why?
I started in the property business as a junior negotiator around 20 year ago for a company called Fallowell & Partners in Coalville. Mike Fallowell was the owner of the business who gave me my first job so I owe him a lot as without him I may not have got to where I am today.
What is your proudest achievement in business?
I'm very proud of setting up and launching the SDL Auctions Graham Penny Leicester auction centre. In the very first year we were the number one auctioneer in the city and have now been successfully selling properties in Leicester for four years.
What drives and motivates you?
I love property and enjoy what I do so I don't need too much motivation, although there's a lot of satisfaction in seeing a busy auction room and getting good results for our clients.
If you hadn't been Senior Valuer for Leicester, what would you do instead?
Good question. Like most young boys I always wanted to be a footballer, however now I would probably be in our action room as a buyer doing property renovating.
What time of day are you at your best, and why?
Normally I would say I'm good in the mornings as I'm usually up, eaten breakfast and walked the dog by 7.30am. However, now the twins are here there's plenty of sleepless nights so I'm a bit less bright eyed and bushy tailed.
Do you use Facebook, Twitter or other social media?
I've never used Facebook but I do use Twitter as I find it more informative and less gossipy!
If you could have a coffee with anyone, who would it be, and what would be your choice?
I do like listening to ex-sports people at after dinner events but, it would have to be Sir Winston Churchill. An amazing man who was Prime Minister twice, an Officer in the army, historian, writer and who led us to victory in World War Two.
How do you relax outside of work?
I'm a big Leicester City fan so enjoying good times at the minute. Apart from that I'm married with now three children and a Beagle so family life keeps me more than busy!