5th April 2022
Buyers and sellers alike are loving the new Soho of the North – Stockport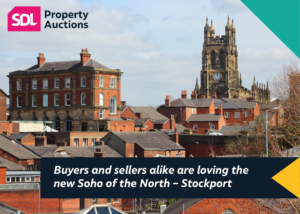 We love Stockport – the growing independent scene in the area as well as its flourishing cultural capital are helping it feature as one of the top places to move to in the UK. It has growing significance as an area of great property potential, at SDL Property Auctions the number of properties we've listed in the area has increased by 120% when comparing 2020 to 2021.
There's a great number of reasons the area is so special to those living and working in the area, so what it is that puts Stockport at the top of their list, every day of the week?
One of our valued partner agents in the area is Impey and Company, one of Stockport's leading property companies with over 40 years' experience, making their knowledge of the local economy second to none.
We spoke to Norman Benton, Executive Director at Impey, who told us how exciting it's been to witness Stockport's regeneration over the years, which has been supported by the proactive work of Stockport Metropolitan Borough Council in a proposed £1 billion investment in the future of the area. There's a transformational vision for the town, which includes proposals for 1 million square feet of mixed employment space, which Norman says he is excited to see develop over time. They've also spotted trends too, with a lot of businesses looking to Stockport as an opportunity to downsize to smaller offices, post Covid-19.
This has been seen in their recent sales in the area. Through their partnership with us here at SDL Property Auctions, we were recently able to secure the sale of Petersgate House in the city centre, which achieved a final sales price of £1.8 million through our partnership with SDL Property Auctions.
Our very own Andy Thompson also knows the area well. Having lived in the area for over 16 years, he's had a front row seat to the regeneration programme getting underway, playing witness to it as a resident instead of a property professional. Having the industry knowledge that he does only makes it a more positive sight, with a great number of properties being sold in the area over the past 12 months which have gone on to be great homes for families and young professionals alike.
The area itself also has a feel-good factor due to the recent successes of Stockport County, who are top of the National League at the time of writing. This has injected a real bounce into the town, and with property professionals at the helm, there's no surprise they're investing their time and money into the team. This coupled with the rise of independent businesses in the area, and the rich cultural capital the area is building through bands such as Blossoms, it could really be a hotspot town in the months and years to come.
Taking all of this into account, now could be the perfect time to invest in the area. We regularly list properties for sale in and around Stockport which you can discover through searching on our Property Finder.
For more information about buying and selling at auction take a look at our buying and selling guides or get in touch with the team today to request your free sales valuation on 0800 046 5454.