12th February 2019
Bumper catalogues and TV fame launch a year of intense auction activity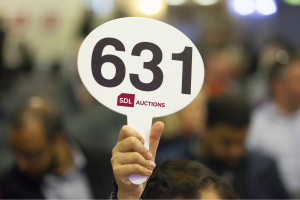 Some 288 lots, six room auction sales, 24/7 online auctions, three bumper catalogues and one returning auctioneer are the signs that SDL Auctions is back on the road for another year of exciting property sales – and the TV crews will be there to capture the action on camera.
The first of 40 room auction sales to be held in 2019 gets under way this week, as the SDL Auctions team begins in Leicester before heading off to Derby, Birmingham and Nottingham. Next week the team are in Chester and Manchester.
It will be a particularly welcome return to the auction room for SDL Auctions lead auctioneer Rory Daly, who is delighted to be taking to the rostrum in Birmingham on Valentine's Day after making a full recovery from bowel cancer.
In keeping with the celebratory nature of Rory's return, the Homes Under the Hammer crew will be filming in the auction room, ready for their next BBC1 TV series. They will also be filming in Derby on Wednesday.
Rory said: "I'm really pleased to be coming back to work after a long period of recovery. Auction day is the most exciting day of the whole auction sales process. Being able to achieve the best price for our sellers and see the happy faces of our buyers who have just secured their new purchase is what I love."
Elsewhere, Andrew Parker and Graham Penny will also be wielding in the gavel. Andrew, managing director at SDL Auctions, said: "It's fantastic to be back in the auction room again, and it's always exciting to have the TV crews along, as they highlight the speed, efficiency and transparency of the auction process to a wider audience."
As well as the Homes Under the Hammer cameras in Birmingham and Derby, a crew from Channel 4 will be at the Leicester auction on Tuesday, filming a new TV series called the Great House Giveaway which will be aired in the autumn.
Some of the most notable lots being sold over the course of two weeks' intense activity include a luxury apartment block in Solihull, a former nightclub in Hinckley, a prestigious seaside penthouse on Anglesey and the 400-year-old Jacobean House in Derby. There are also dozens of terraced houses, which would make excellent buy-to-let properties, plus family homes, commercial properties and many development opportunities, including building plots.
Andrew added: "After a successful 2018, we're looking forward to another strong year of achieving great results for our vendors and allowing buyers to complete on their purchases within the month, rather than risking a potentially drawn-out process that can occur when buying and selling through private treaty. If you're thinking of selling a property, why not come along to one of our auctions and see how easy it can be?"
The February auctions are:
Tuesday 12 February – Leicester, King Power Stadium
Wednesday 13 February – Derby, Pride Park Stadium
Thursday 14 February – Birmingham, Villa Park
Friday 15 February – Nottingham Racecourse
Thursday 21 February – Cheshire & North Wales, Chester Racecourse
Thursday 21 February – North West, AJ Bell Stadium, Manchester
To view the lots in any of the room auction sales and to see the full calendar of 2019 auctions, click here. To view the dozens of lots being offered by online auction, click here.
* Each property is subject to a Reserve Price which may be different from the Guide Price. For full definitions see www.sdlauctions.co.uk/glossary.