21st August 2020
Asbestos in your property? Don't do anything until you've read this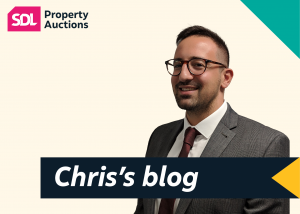 Commercial valuer Chris Theocharides continues our series of blogs highlighting property problems by examining the challenges of asbestos.
Many of us live with asbestos in our properties, our workplaces and our homes – and, as long as it remains undisturbed, it is considered to be safe.
It is only when asbestos is damaged that its dangerous fibres are released into the air, posing a serious health risk if inhaled.
Exposure to these tiny fibres can eventually lead to mesothelioma, a type of cancer which usually affects the lining of the lungs but can also affect other areas of the body.
Therefore, asbestos in a property is something which must be taken seriously, not just for health reasons, but to stay on the right side of the law.
Which properties can have asbestos?
Asbestos was not banned in the UK until 1999 so if your property was built from 2000 onwards, it should not be present. But if your property was built or refurbished before 2000, it could contain asbestos – although the risks are likely to be greater in a building constructed or refurbished before 1985 due to the different materials used.
Up until the end of 1999, asbestos was used in various building materials, including pipe lagging, water tanks, ceiling tiles and insulation. The Health and Safety Executive has helpful diagrams showing its most common uses here.
What do you have to do about asbestos?
As a property owner, even if that property is vacant or derelict, you have a duty to manage any asbestos in the building, which may simply mean having a plan for managing the risk. As I've already mentioned, asbestos is generally only a problem if it is disturbed so in most cases, the best course of action is to leave it untouched.
These duties may also extend to the tenant or managing agent of a commercial property, depending on the contract or lease, although it ultimately remains the owner's responsibility if they fail to fulfil their duties.
The duties include finding out if asbestos is present, usually through an asbestos survey, and carrying out a risk assessment. There are two types of survey:
A management survey: This checks if asbestos is present, in good condition and if it is likely to be disturbed through everyday activities. In simple buildings, you may be able to carry these checks out yourself – the HSE has a photo gallery of some common asbestos-containing materials (ACMs) here – although this is not advised. For peace of mind, you can find an accredited survey through the United Kingdom Accreditation Service, UKAS. The survey must be provided to anyone who is likely to carry out any work on the property.
A refurbishment/demolition survey: This is required if you are planning any work on a building and will require a surveyor. The survey will locate and identify all asbestos-containing materials before any work begins and will set out steps to ensure the work is carried out by the correct professionals and nobody is harmed in the process.
These duties are not to be taken lightly as, if you don't have a plan in place to deal with asbestos and put it into action, you could face a £20,000 fine or even 12 months in prison. The penalties for serious breaches are even higher, with unlimited fines and prison for up to two years.
Working on a property with asbestos
Small jobs – such as painting or the easy removal of asbestos insulating board (AIB) or roofing – and those involving lower-risk ACMs are classed as non-licensed work with asbestos, but the criteria is quite specific and is listed here. If your work qualifies, then you do not need a licensed contractor, although they must be considered 'competent' – it's absolutely not a DIY job.
It is important to know any ACMs removed from a property cannot be sold or given away by law and must be disposed of as hazardous waste; your local authority will have information about disposal points or collection.
Some of these jobs will require additional record-keeping and are considered notifiable non-licensed work (NNLW). This means the work does not require a licence but the relevant enforcing authority must be informed. This is the local authority for shops, offices and churches, and the HSE for factories and factory offices. Find out more about (NNLW) here.
Dealing with high-risk materials, such as pipe insulation and asbestos insulating panels, or larger-scale jobs is classed as licensable work and must be carried out by a licensed contractor; you can find one here.
As you can see, the presence of asbestos in a property is definitely something to be taken seriously. If you need to refurbish or demolish a property containing ACMs, you should expect it to take longer and involve a lot more red tape than normal.
It is understandable that you may simply not have the time and resources – or even the inclination – to tackle the problem, in which case we are happy to help you move your property onto another owner. While the presence of ACMs must be declared in response to any enquiries from potential buyers, we have a wide network of serious investors who have experience in this area and will not see this as a deterrent.
Selling your property in one of our auctions gives you the best chance of getting the best price for your property so, to request a free, no-obligation auction valuation, please get in touch by clicking here or calling the team on 0800 046 5454.