14th February 2022
All kinds of sellers in the North West are turning to SDL Property Auctions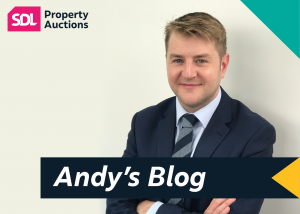 As January turns into February, I'm taking a few minutes to reflect on what has been an incredible month in the North West. With over 15 years' experience of property sales in the area, achieving great results by auction is the bread and butter of what we do, but some of the properties we've sold over the past few months truly prove that we can sell just about anything under the hammer.
We kicked the month off (pun not intended) with the sale of Flixton FC's former ground for an undisclosed fee. The site comprised of the stadium and pitch, as well as two clubhouses totalling 9,000 sq. ft and a 5,000 sq. ft changing facility. The purchaser, Manchester-based property developer Atif Malik, has grand plans for the site, including 12 houses, a wedding venue and sporting facilities, allowing for the site to be brought back into community use again in the coming years.
Remaining on the footballing theme, one lucky bid sealed the purchase of 50 Anfield Road in Liverpool in our Timed Auctions. With the property currently achieving a rental income of £525pcm, this makes an excellent return on the final purchase price of £78,000 – a rental yield of just over 8%. Regardless of the new owner's plans for the property, the location is unbeatable and opens the door to many uses, such as a match-day Airbnb let or holiday accommodation.
We were also able to tie up the sale of St Gwawrs Church near Bala in North Wales prior to our January National Property Auction. The church, in the small hamlet of Llangower was offered at a guide price of £45,000+ plus fees and dates back to the 13th Century. Opportunities to secure historical buildings like this don't come about very often, so it's of no surprise to me that a sale was secured quickly. With bags of potential for redevelopment into a variety of uses, it will be exciting to see what becomes of the site over the coming months.
By the time our January National Property auction rolled around, we already had a good number of sales in the North West under our belts, but we weren't stopping there! One of the highlights of the day was the sale of 16 & 18 Russell Street in Bolton, a block of four, fully occupied self-contained flats producing a rental income of £20,700 per annum. This was offered at a guide price of £185,000+ plus fees, but competitive bidding on the day produced a final sale price of £312,000. Any landlords in the North West looking to realise their assets should be sure to consider auction as an option with results like these.
If you're not quite ready for an investment of that size yet, then how about a parking space? Also in our January auction was a single parking space at 35 Gisburn Road in Nelson, which was offered at auction with a guide price of just £1+, selling for £100 on the day – what a bargain!
Before we knew it, we'd blinked and January was over, but there was time for one last sale. Petersgate House in Stockport is a six-storey office building, which benefits from secure parking as well as a great central location in Stockport town centre and was entered into one of our daily Timed Auctions towards the end of 2021. With a guide price of £1.7 million+ plus fees, we were thrilled to be able to orchestrate a sale for a price of £1.8 million before the auction came to an end.
I'm really excited to see what other results we can achieve this year – no matter your property or circumstances, here at SDL Property Auctions, we're on hand to help you achieve a fantastic result. To find out more about what's involved with selling by auction, take a look at our selling guide or get in touch with the team today to request your free sales valuation on 0800 046 5454.