18th January 2019
A guide to buying land at auction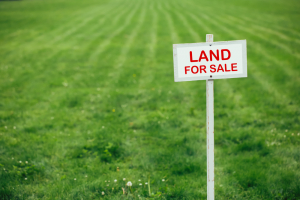 Whether you're looking for a plot of land in order to to develop, simply to own or even to build your dream home on, , it's important to both know what to look for in a piece of land and what to expect when buying land at auction.
Location, size and build potential
A common mistake made when purchasing land is to focus more on the location and size of the plot than its suitability for construction.
If the lot you are interested in bidding on comes with planning permission, then this will be listed in the lot description and you will be able to access full details in the information pack.
Should the lot you are interested in not come with planning permission, then read through all of the listing information carefully and seek professional advice on whether the composition of the land will make it suitable for building and make enquiries with the local authority as to whether planning permission is likely to be granted.
Look for nearby clues
Before you make the journey to go and view the land, make use of Google Maps and even Streetview to take an initial look at the plot and nearby area. By doing this you'll soon be able to identify whether the land could be perfect for development.
Types of plot that could make for a great development investment include:
Large gaps between, behind and close to other houses. It is usually easier to get planning approval for development in between, or next to, existing houses. If there is space beside a house, and especially if it has easy access to the road, then it could be a potential plot. If there is a big back garden, and access for vehicles to get to it down the side of the house, it may be possible to build at the bottom of it.
Land containing an existing building. If there is already a residential structure on the land, then this could be a good sign that you could start again or re-develop it with your own plans. For example, you may want to purchase a bungalow that comes with lots of land and apply to construct a larger property. Of course, there is no guarantee that you will be granted permission. Should you want to look for land attached to an existing property, then make sure that you are looking at property auctions as even if the property is vacant and has been for some time, it will be listed as a property auction rather than a land auction.
Land that is not overlooked if building close or attached to another house. If you are buying land and planning to build very close to another property, then ensure that the access to and windows of the houses either side are not affected.
Look for houses of a similar size and quality to the one you wish to build. The way that houses are valued means that it is less economic to develop a house that is massively disproportionate to those surrounding it. You can end up over-developing, that is spending far more money on a house than you could ever sell it for; or under-developing, that is building too small a house and failing to realise the full potential of the site.
Vehicle and service access. Whatever land you find, there must be a way of both vehicles and services (water, electricity, waste disposal) to access it. Constructing a property from scratch is not for the faint hearted, so proper access to the site is a must.
Don't feel constrained by existing planning permissions
Just because a plot comes with planning permission for a specified development, don't think you can't scrap those plans and re-apply with your own plans.
Ultimately, if a plot comes with planning permission it gives you the confidence that some kind of plan will be approved by the council that gives you consent to build on the land. This can sometimes be an indicator that your version of these plans might be accepted – particularly if you had something similar in mind.
Check for wildlife
Whether or not you will be granted permission to build does not only depend on the location and suitability of the land, it also depends on the local wildlife.
If your construction could potentially harm protected species (whether of animals or foliage), then you may be refused planning permission. This makes it very important that you read through the legal pack carefully and also carry out your own research into whether you could potentially face issues with building because of local wildlife.
Research other local planning applications
Looking at historic local applications for planning permission and analysing which have been successful (and unsuccessful) and why will give you a good idea of whether your potential plan would be successful when submitted to the council.
Preparing for the auction
To prepare for the day of the auction (whether you plan on buying at an auction event or at an online auction), it's important to follow several important steps:
Set your budget – it can be easy to get carried away on the day as the adrenaline is flowing. That's why it's important to set your budget in advance. This can be especially true when buying a piece of land, as you will need to keep your budget for construction intact.
Do your research – look through auction catalogues, online listings, Rightmove, Google Maps and other excellent free resources to get a feel for the plots of land currently available.
Have your funds in place ahead of the day – this includes your deposit, any associated fees and the final balance.
Check the lot is still available – remember, it is sometimes possible to bid on a property before the auction and for that bid to be accepted, and so the lot would consequently be removed from the auction listing. If you are not making a bid before the auction, then be sure to check that your lot is still available before arriving on the day.
For a complete list of what you need to prepare before the day, visit our buying at auction page.