1st March 2020
A coffee with Neal Hume, Residential Valuer at SDL Property Auctions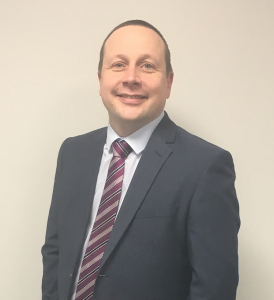 I am a family guy with a brilliant wife and two boys who both enjoy their sport. I spend most of my time outside of work being a taxi service to cricket, rugby and hockey matches.
What is your business motto?
Work hard, treat others as you wish to be treated yourself and your efforts will be rewarded.
What is the best quality of SDL Auctions, and how is it different to other auction businesses?
We are a modern company with lots of experience and knowledge that specialises in many different areas of the property industry. So, whether it be selling via the traditional auction method or selling via the modern online auction method we can help the customer to achieve the best selling price for their property. When you compare our service to our local competitors we stand out as being the market leaders, operating afully transparent and professional auction.
What is office life like for you and your team?
Being a residential valuer, my working day varies from day to day. One day I could be in a lovely three bedroomed terrace property and the next I could be in a property that needs a full refurbishment. Followed by a property in the countryside with beautiful views.
What is your approach to work / life balance?
I take pride in my work and always try to do the very best for the customer, so I am always contactable on my phone. I will then make a judgement call if the call needs to be address straight away or if it can wait until the morning.
What is your approach to making contacts which are useful for the business?
You must get out there and meet new contacts as you don't know where they will lead too.
Who has inspired you most in your business life, and why?
An ex-colleague Gary was an inspiration to me. His approach to man management was amazing; he was supportive and he had the ability to get the very best of everyone, whilst having fun. He went on to be a mentor for the The Princes Trust.
What is your proudest achievement in business?
Since leaving school I have had three different careers, the first being a photographer, then a landlord of a pub and now a valuer. I think my ability to change and learn new roles is a great achievement.
What drives and motivates you?
It might sound cheesy but my family drives and motivates me, so that I become the very best valuer, father and husband that I can be.
If you hadn't been an Auction Valuer what would you do instead?
I would love to be a fly fishing guide, teaching the art of 'fluff chucking' to all ages.
What time of day are you at your best, and why?
I love the morning, it's the start of a new day, there is always more optimism. I just can't understand how people sleep in.
Do you use Facebook, Twitter or other social media?
I use Facebook and LinkedIn, there are many positives factors that can be gained from social media.
If you could have a coffee with anyone, who would it be, and what would be your choice?
I think to spend time with Seve Ballesteros would have been amazing. He was a true sporting gentleman; he was passionate and a fierce competitor. His performances in the Ryder Cup when I was growing up were amazing.
How do you relax outside of work?
I run a boys section of Four Oaks Saints Cricket Club so in the Spring and Summer most of my time is spent on the wicket umpiring. I also really enjoy being in Sutton Park with the family walking the family Cockerpoo Millie. I also enjoy fly fishing on rivers or reservoirs, and I have just picked up my golf clubs again after a long sabbatical off. So hopefully I will spend most of 2020 walking around the golf course, hopefully not diagonally across the fairway.