26th September 2019
A coffee with… Chris Theocharides, Valuer at SDL Property Auctions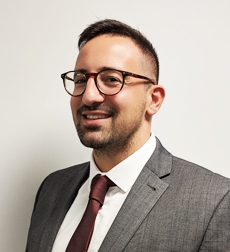 I studied Real Estate at Birmingham City University and have worked in property ever since. I originally worked at a cost consultancy firm based in the Jewellery Quarter valuing affordable housing units, after which I moved to a company based in Cannock where I managed commercial industrial properties. Prior to joining SDL Auctions, I worked at Connells where I was a senior valuer.
What is your business motto?
My business motto is 'Get on with it'. I like to get the job done with no messing about.
What is the best quality of SDL Auctions, and how is it different to other auction businesses?
We are honest with our clients. Unlike other auction businesses we give good sound advice with regards to guide prices and manage a vendor's expectations well. In the long term this has helped give SDL Auctions a well-respected name within the auctions industry.
What is office life like for you and your team?
Life in the office is busy! We are always working towards the next auction to make it successful for our vendors. The team work extremely hard to ensure support is there for the valuers and our clients. We all work together to ensure the job gets done.
What is your approach to work / life balance?
I enjoy what I do, so working hard comes easy to me. I like to stay focused in the week to get everything done. However, I do like to switch off at the weekends and enjoy my social time with family and friends.
What is your approach to making contacts which are useful for the business?
I try to be as approachable as possible. I go out of my way to try and get to know something about everyone I deal with. Having that helps me build a good relationship with people I meet and this helps them to feel like they can pick the phone up and contact me whenever they have potential business.
Who has inspired you most in your business life, and why?
My mother and father have inspired me to be the way I am. My mother was quite a strict and disciplined parent and my father was a business owner and property developer. He was very good at spotting a bargain. I like to think I have taken both these qualities from them.
What is your proudest achievement in business?
My proudest achievement was listing and selling an investment property for £625,000 in my second auction at SDL Auctions Bigwood. It is a great feeling knowing that your hard work has paid off and there has been a successful sale for a vendor.
What drives and motivates you?
I am motivated by the desire to learn and to be better at what I do. I want to be the go to person when it comes to property and I want to help vendors achieve the best possible price for their property. Helping someone and achieving a good sale for them in the auction room really motivates me to sell more.
If you hadn't been a valuer, what would you do instead?
When I was younger I always wanted to be an airline pilot and to fly long haul flights. I think it would be amazing to travel the world while you work, it would be interesting and exciting to wake up in another country several times a week.
What time of day are you at your best, and why?
I am not a morning person. I definitely work better in the evening and into the night. In fact, a lot of my coursework at University was done late at night.
Do you use Facebook, Twitter or other social media?
I use Instagram quite a lot, but I don't really interact with other social media channels these days.
If you could have a coffee with anyone, who would it be, and what would be your choice?
I would like to have a coffee with Jeremy Clarkson. I like his direct approach and how he isn't afraid to say it how it is.
How do you relax outside of work?
Outside of work I like to go to the gym a few nights a week and at the weekends I tend to see family and friends and enjoy going out for meals and drinks. I also like to travel and occasionally take short breaks in different countries.