30th September 2021
Benefits of estate agents partnering with an auctioneer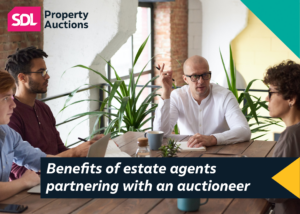 Overworked estate agents can ease their workloads, generate more income and offer great customer service by partnering with an auctioneer – a trend which has grown rapidly in 2020 and 2021 amid the challenges of the coronavirus pandemic. At SDL Property Auctions we have doubled the number of partner agents and tripled the amount of income we have raised for them in the 18 months to August 2021.
What are the benefits for estate agents partnering with an auctioneer?
There are many benefits for estate agents partnering with an auctioneer such as SDL Property Auctions to offer auction sales to their sellers. These include:
An additional income stream for their estate agency branch
Higher commissions on each sale
No set-up costs
Personal rewards for the estate agent
Estate agents get paid within seven days of the sale being agreed
An increased property turnover, thanks to fast sales
Getting the best price for properties in a fast market
Fall-throughs on auction sales are reduced to less than 1%
A reduced workload because the auctioneer handles the sale.
This list of benefits for estate agents partnering with an auctioneer may sound too good to be true. However, the benefits are very real and our testimonials from estate agent partners on Kerfuffle speak for themselves.
Here is our guide to the benefits to estate agents, buyers and sellers – and how to get started.
How can estate agents generate more income?
By partnering with an auctioneer such as SDL Property Auctions, estate agents can create an additional income stream for their branch, at no cost to the agency.
Just as they do when selling by private treaty, estate agents earn commissions on every property sold. The difference with selling by auction is that the commissions are paid within just seven days of a sale being agreed, instead of on completion.
And commissions are higher than with a private treaty sale, too. The estate agent partner earns an average of 1.5% to 2% of the final selling price.
One of our recent high-profile properties was 60 Stradbroke Drive in Chigwell, Essex, a luxurious five bedroomed detached property which earned commission of £26,175 for the estate agent after selling for £1,745,000 from its *guide price of £1.5million+.
Most properties are much more ordinary but can still attract fierce bidding, such as 10 Penarth Rise in Nottingham, which drew 80 bids and sold for £178,500 from a guide price of £125,000+. The agent earned £3,570.
These high commission rates mean that selling just two or three properties a month by auction could boost an estate agent's branch income by around £100,000 a year. Estate agents can get a rough guide to how much they can earn using SDL Property Auctions' instant income calculator.
There are personal rewards for the referring agent, too, from hampers to holidays.
How does partnering with an auctioneer reduce an estate agent's workload?
Estate agents have never before experienced the market conditions of 2021, after the pandemic threw everything into disarray. Workloads are higher than ever and estate agents are struggling under the strain. ARLA Propertymark warned in The Negotiator in May 2021 that estate agents are under huge pressure to meet ever-growing targets, which is affecting their mental health.
The good news is that partnering with SDL Property Auctions can help to reduce an estate agent's workload, because we do all the work. There are no costs to the agent and all they have to do is refer properties to us after identifying which are suitable for an auction sale, and we help agents to learn which properties and sellers would benefit most.
To refer a property for auction, all the estate agent has to do is send us the address, the seller's contact information and a little background information. Then we take over. We will keep the agent informed of progress throughout but the agent will be free to pursue other leads and win more business for their agency.
How does partnering with an auctioneer get the best prices for properties?
In a competitive property market, a growing number of estate agents are asking for sealed bids to get the highest price, as reported in The Guardian. However, sealed bids mean potential buyers could miss out by playing it safe and there is still a risk of the sale falling through. Estate agents can instead channel this high demand to everyone's advantage by offering the property for sale by auction, opening up the bidding so it is fully transparent and increasing the chance of the price being driven up.
How can estate agents get faster sales by partnering with an auctioneer?
Time to sell a property may be down to 37 days, from 65 days at its 2021 peak in January, according to Rightmove's latest house price index, but this is just the time from listing a home to the sale being agreed and does not include conveyancing, exchange or completion.
As estate agents know only too well, selling a home by private treaty can take many months even after an offer has been received. Earlier this year, Zoopla reported that it was taking nearly four months between agreeing a sale and completing the transaction.
Selling a property by auction is much faster with completion often taking place just 20 working days after the sale is agreed.
And because sellers can choose their own timetable, they can open bidding immediately if they wish and end the auction as soon as they receive an offer they are happy with. In this way we have sold some properties in less than a day, as reported in Property Investor Today.
The other major benefit for estate agents partnering with an auctioneer is that the sales are hassle-free and certain, with the fall through rate for properties sold by SDL Property Auctions at less than 1%. In contrast, many property sales fall through on the open market, with latest figures reported by Introducer Today showing a fall-through rate of 39% for the second quarter of 2021.
In an auction sale, there is almost no risk of the sale falling through, with no gazumping or gazundering because the buyer enters into a legally binding commitment.
How do buyers and sellers benefit when estate agents partner with an auctioneer?
The rewards of partnering with an auctioneer are clear for estate agents but buyers and sellers benefit, too.
What are the benefits of selling by auction?
Sellers reap many of the same rewards as estate agents. They love the speed and certainty of auctions and the fact that their buyer cannot pull out without a financial penalty. They have the choice of different auction types and the expert team at SDL Property Auctions will discuss with them the most appropriate method. They can even offer their property at a fixed price with a Buy It Now sale.
Sellers can even choose not to pay any estate agent fees; the buyer's reservation fee can cover these so it doesn't cost the seller a penny.
Sellers will thank their estate agent for guiding them towards auction as a sales option and appreciate how quick and easy it is.
What are the benefits of buying by auction?
Buyers love the certainty of auction because once their offer has been accepted they know they cannot be gazumped and the seller cannot pull out. They don't have to be cash buyers and can buy a property with a mortgage, just as they would on the open market.
SDL Property Auctions has helped thousands of estate agents around the country to set up their own white-labelled auction department. To find out more, click here or chat to the friendly team on 0345 222 0197.